Last Updated on May 13, 2023 by Rebecca Lake
Looking for some creative money gift ideas?
Cash can be an awesome gift any time of year. Money makes a perfect graduation gift, birthday gift, Christmas gift, wedding gift, baby shower gift or for any other special occasion.
But how do you find a fun way to give money to someone without it seeming like a boring or thoughtless gift?
If you need some creative ideas for gifting money, you're in the right place. Keep reading to learn the best ways to give money as a gift that are simple and fun.
Related post: 30 Inspired Gifts for Single Moms (Thoughtful, Fun and Practical!)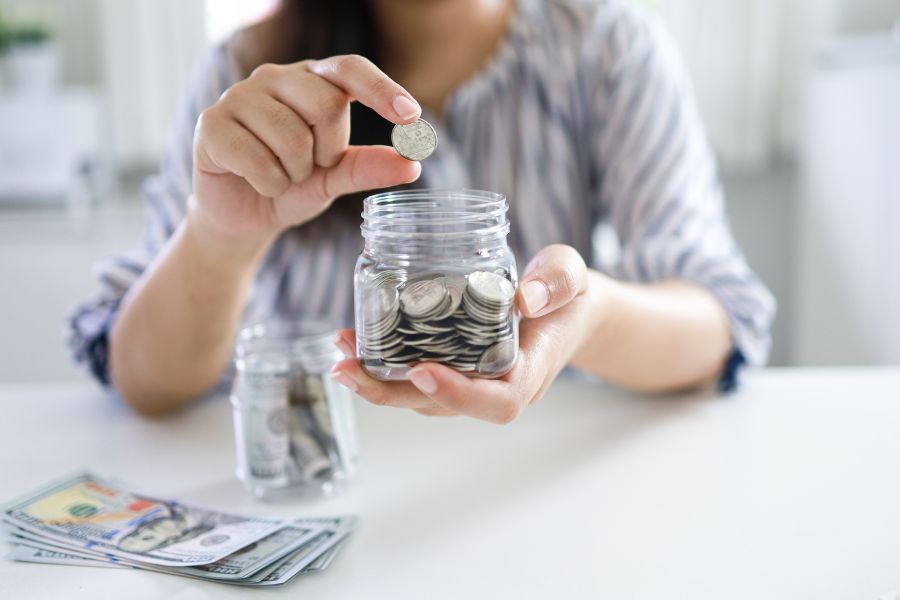 Table of Contents
Best Money Gift Ideas (for Graduation, Holidays, Birthdays)
If you're planning to make a gift of cash for graduation, over the holiday season or any time of year, it's all about the execution. After all, you want your gift to be appreciated but you don't want it to be boring.
Here are some of the most unique ways to give money as a gift.
1. Stash some cash in a tissue box
Tearing open a tissue box isn't likely to cause too much excitement. That is until your gift recipient takes a closer look.
All you need to make this creative money gift idea work is a Kleenex box, some tape (this painter's tape works well) and some dollar bills. This is a fun gift idea for giving Christmas cash that doesn't require a lot of hard work to put together.
Here's a step by step tutorial for making a cash gift box!
2. Roll it up
Got some spare toilet paper rolls lying around? Instead of tossing them, you can use them to roll up cash as a gift.
This is a cute way to make a gift of money to kids or high school students who are graduating, or anyone else who has a sense of humor.
3. Make a money pizza
This creative gift is a fun way to give money for teens, hungry college students or anyone who loves pizza.
You'll need a clean pizza box, cash and coins–but it's a simple and unique gift to put together/
Learn how to make a money pizza box!
4. Cash business cards
Here's another fun addition to the list of cash gift ideas: Fill up a business card holder with dollar bills.
You can tuck in ones, fives, tens, twenties–whatever amount of money you want to give!
And this also works with gift cards as well if you'd rather give gift certificates instead of cash.
Related post: Gift Cards for Surveys: Get Paid to Answer Question
5. Money balloons
This definitely belongs on the list of creative money gift ideas!
You can make money balloons with cash or rolled-up paper gift certificates. The dollar store is a great place to buy balloons cheap.
Add some confetti or glitter and tie them off with a pretty ribbon–voila! A fun and clever idea for gifting money!
Here's a video explaining how to make money balloons.
6. Money tree
Money doesn't grow on trees. But you can give someone a money tree, which is the next best thing.
Not sure how to make one to give a cash gift? Here are some fun and simple money tree ideas!
7. Money lei
A money lei is a fun and cute way to gift cash to someone. It's a super cute idea for graduation!
It doesn't take long to make either, so it's a simple way to DIY a creative money gift when you don't have a lot of time. And your grad will love draping dollar bills over their gown!
8. Money gift wrap
Cash as gift wrap?
It's one of the more creative ways to make a gift of money. Just be sure to use the right tape so your cash gift doesn't tear.
You can try this painter's tape or gift wrap tape to put together your cash wrapping paper gift.
9. Mason jar of cash
Chances are you've got a mason jar or two hanging around the house. So why not use it to make a thoughtful gift of cash?
Mason jars are a cute idea because there are so many ways you can customize them. You can use ribbons, stickers, twine, decals and other odds and ends to create a fun and cute cash gift.
Here's a tutorial to make a money jar.
10. Chocolate box
A box of chocolates is a sweet gift. But it could be even sweeter if you sneak in some cash as a surprise.
The best part about this cash gift is that the person you're giving it to gets money and chocolate. It's a win-win!
Here's how to make a chocolate box of money to give.
11. Emergency cash box
Know someone who could use some help building their emergency fund? If so, they might appreciate a "Break in case of emergency" cash stash.
You can get a mini First Aid Kid or another small box, fill it with cash and include some strict instructions to only break glass in case of a financial emergency.
12. Money bouquet
I love getting flowers any time of year but a flower bouquet could be a cute idea for a graduation gift, Valentine's Day gift, Mother's Day gift or birthday gift.
If you're getting flowers from a florist you could ask for some extra cardholders, then tuck them in among the blooms with cash in place of cards.
13. Make a money cake
A cake made out of money is another great way to give cash to a family member, friend or someone special.
You can use a simple cardboard box as the base, then wrap dollar bills around it. Or if you want to bake a real cake instead, you could give this cake money pull out kit a try.
14. Hide cash in a fortune cookie
Reading fortune cookies is so much fun by itself but it's even more fun if a cash gift is in your future.
You can make origami fortune cookies and tuck cash inside. Or you can make the fortune cookie out of cash instead!
15. Treasure hunt money box
Want to make finding a cash gift a little more challenging?
You could "bury" a treasure box of cash somewhere around the house and have your gift recipient follow clues or a simple map to follow it.
This is a fun way to gift cash (or gift cards or lottery tickets.) Just remember to make sure your clues or map point to the right place so they can find the hidden treasure!
16. Graduation cap cash
Need some fun graduation money gift ideas?
A cash cap is a fun graduation gift for high school or college students.
Don't have time to make a cash cap for graduation? You could gift an Amazon gift card in a cute gift box that looks just like a graduation cap instead.
For more inspo, check out these cute and fun graduation gift ideas from The Crafty Blog Stalker!
17. Pez dispenser
Who doesn't love Pez?
If you have someone who collects Pez dispensers (or just likes candy) you can swap out Pez for cash with this unique money gift idea.
Just roll up dollar bills and slide it in for a simple and fun cash gift. Here's how it works!
18. Money candy jar
A clear jar + candy + cash = the best gift for satisfying a sweet tooth and giving someone cash.
You can pick up clear jars online, tuck in some cash and fill them up with your gift recipient's favorite candy. Or you can roll up quarters to look like candy, a la this money gift idea from Martha Stewart.
19. Money rosette
Looking for more diy money gift ideas? In lieu of a money flower bouquet or money lei, you might give a money rosette instead.
This is a perfect way to put your crafting skills to work and make a gift out of real money.
Here's a complete step by step tutorial on how to make a money rosette. Or you can check out the video below to learn how to make a cash rosette for graduation!
20. Coffee can of cash
Interested in funny ways to give cash? You could stash it in an old coffee can and present it as a gift.
You'll get a laugh at watching them try to figure out why you've given them a can of coffee. And they'll be surprised to see what's inside.
21. Money notepad
A money notepad is another funny way to gift money to kids, teens or adults who could use a laugh.
All you need is some cardboard, some crisp dollar bills and rubber cement to put this simple money gift idea together.
Here's how to make a money notepad in no time!
22. Exploding money box
An exploding money box is a fun graduation gift idea but it can also work for any special occasion.
You'll need some cash, foam tape, garden wire or string and a box. It's one of the most fun money gift ideas that's sure to make a bang!
23. Gift card snow globes
Snow globes are a fun addition to a cash gift list.
You'll need some small jars, cash, a little glitter and voila–instant money snow globe!
Related post: Gift Card Exchange Kiosk Near Me Turn Unwanted Gift Cards Into Instant Cash!
24. Put it in the bank
Piggy banks aren't just for little kids. These personalized wooden piggy banks are great for graduation or any time of year if you want to give bills or coins as a gift.
25. Pack a budget binder
Budget binders are a handy gift for anyone who learns how to make a budget. If you've got a teen who's graduating high school or an older child graduating from college, this is one of the best money gift ideas for helping them get a grip on managing money.
You can buy a money binder with cash envelopes and fill them up as a gift. It's a perfect introduction to budgeting!
26. Money Puzzle Box
Want a unique way to gift money that challenges the recipient's thinking skills?
This Money Maze Puzzle Box makes a perfect money gift for any occasion! You can slip in cash or coins, then sit back and watch as the recipient tries to solve the puzzle!
It's definitely one of the most fun money gift ideas since it comes with a challenge.
27. Slip them some coffee money
Know someone who loves Starbucks?
You could make a simple and fun money gift by putting some cash–or gift cards–into this cute Starbucks tumbler. If they prefer to make their own brew at home, you could buy a bag of their favorite coffee and wrap it in cash instead.
28. Give a money bookmark
One of the best money gift ideas is something that's also functional–a money holder bookmark.
Why is this a great gift? Because you can tuck it inside a great book about personal finance to help them further their financial education.
Is Money the Best Gift to Give?
Money can be a great gift idea for a few reasons.
First, money can be one of the best gifts since the odds of your gift recipient returning it or regifting it are low.
So it's fairly certain that the person receiving a cash gift is likely to make good use of it.
Cash doesn't expire, so your gift recipient can spend it as they need or want to. And you don't have to worry about cash or gift cards being a size too small so it's great for Christmas presents, birthday presents or anything in-between.
Sixty-two percent of Americans say they've lied about liking a gift at least once. And an estimated $15.2 billion is wasted on unwanted Christmas gifts each year.
Chances are you've received at least one gift in the past that left you scratching your head. And you may not want to make a gift goof when choosing a present for someone else.
Money can be a perfect gift that's likely to be appreciated by the person who's receiving it.
Related post: 25 Ways to Get Free Gift Cards With Little Effort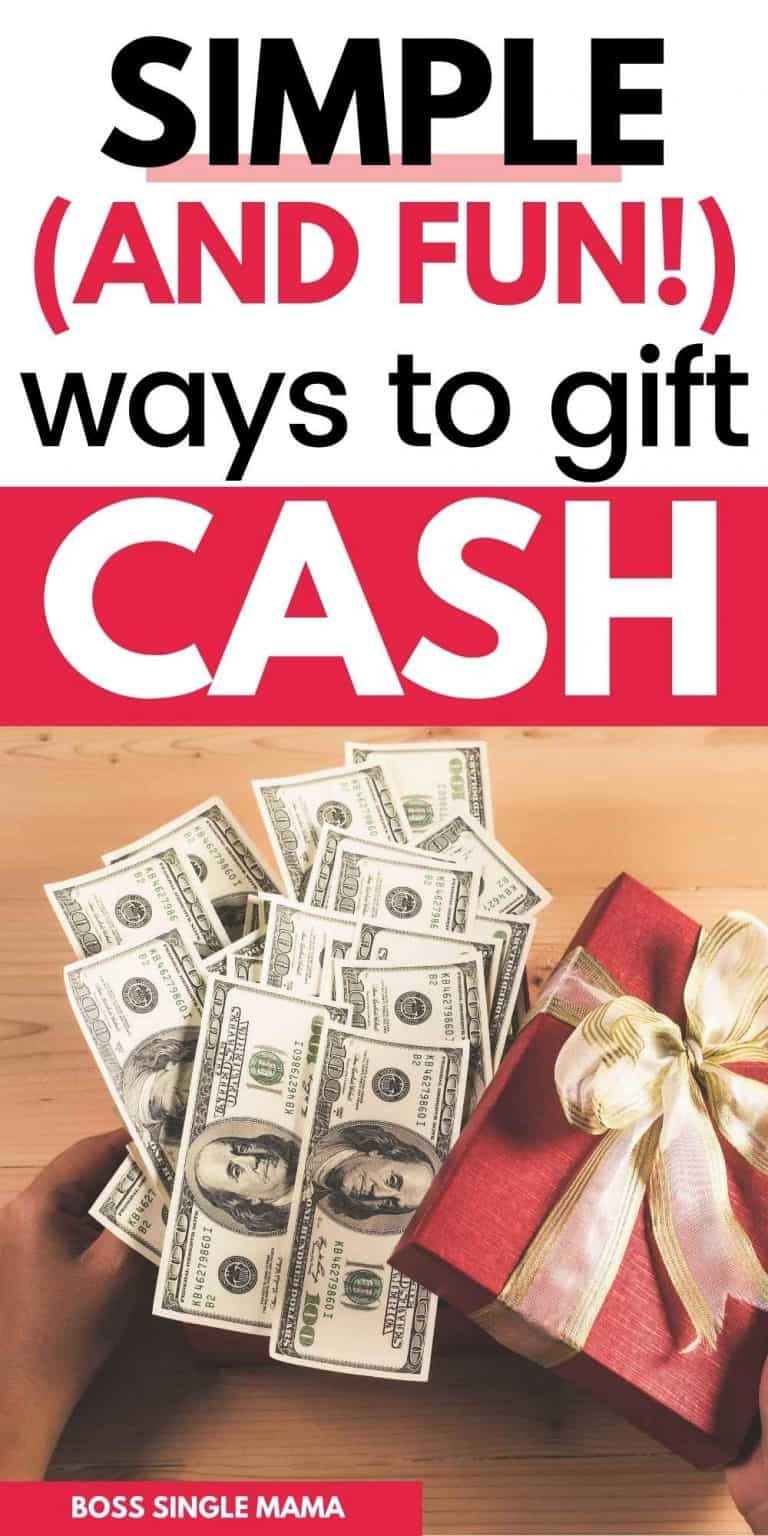 Tips for Giving Money as a Gift
Consider whether a money gift is appropriate
If you ask some people, gifting cash is a perfectly good idea when you're stumped about what to buy or you want to give someone money so they can put it to good use.
But other people might say cash gifts are a no-no. (Good Housekeeping is in the "no" camp when it comes to asking for cash as a wedding gift, for example.)
So before gifting cash, consider whether it's on the wish list of the person you're planning to give it to. And if you're thinking of giving a money gift to kids, you may want to check ahead with parents to make sure it's okay.
Choose the right amount of money to give
If you're giving cash, the next question to ask is: How much money is appropriate to give?
The answer depends on who you're giving cash to and the occasion.
For a child's birthday, for example, $20 might be sufficient. But if you're giving cash as a graduation gift to a high school student, then $100 might be the right amount.
The amount of money you give should be enough so that the person feels that it's a thoughtful gift without being overwhelming.
Decide if you want to do a simple money gift idea or a more involved one
This list of money gift ideas includes lots of creative ways to give money. But some take more time and effort to put together than others.
So think about the best way to gift money, based on how much time and energy you want to spend and how much it might cost.
Make it fun!
The best part about giving money to someone should be creating a memorable experience.
Handing someone $20 isn't the same as surprising them with a cash chocolate box or a money cake. So as you decide on how to give someone cash, stick with unique money gift ideas that are fun for everyone!
Bottom Line: Creative Money Gift Ideas Can Make Giving Cash Fun!
When you can't come up with a perfect gift idea to buy, money can be the next best thing. And cash is a great gift idea if you know the person receiving it will put it to good use.
This list includes some of my favorite clever ways to gift money for any special occasion or just because. If you need a fun idea or two for gifting cold hard cash, these money gift ideas are the perfect inspiration.
Looking for some busy mom gift ideas? Check out this list of 50 amazingly thoughtful gifts for busy moms!
What are your favorite money gift ideas?