Last Updated on October 2, 2022 by Rebecca Lake
Best Gifts for Busy Moms
Looking for busy mom gifts for the holidays, a birthday or another special occasion?
The best gifts for busy moms are thoughtful, unique and something a mom truly needs or wants. And it's a plus if they're budget-friendly as well!
Shopping for gifts — whether it's for the holidays, Mother's Day or any other occasion — can be stressful, right?
But I want to save you some trouble. So I've rounded up some of the best gift ideas for busy moms who are doing it all!
Everything on this list is something I use, have bought for another busy mom or would love to receive as a gift.
If you're looking for some ideas for busy mom gifts–whether it's for your mom, sister, best friend or someone else– I've got you covered.
Here are 50 fantastic gifts for busy moms for every budget that I think you'll love!
Relat post: 30 Inspired Gift Ideas for Single Moms
Best Gifts for Busy Moms With Toddlers
What do you get a busy mom who's got toddlers at home?
My kids are just 20 months apart so I know the stress of juggling the terrible twos and newborn needs.
And that's why these super helpful gifts are my top gift picks for busy toddler mamas!
1. Gro-Clock Sleep Trainer
Two things busy toddler moms can always use more of are sleep and quiet time.
If your littles are super early risers or extreme night owls, this Gro Company Gro-Clock Sleep Trainer can help them learn a healthy sleep routine.
It's a perfect gift for busy moms (and toddlers) who could both benefit from better rest!
2. Baby-Proofing Locks
Once kids reach the toddler stage, they are into EVERYTHING!
Or my kids were anyway. And if your toddlers are the same, then these magnetic locks are a must-have for keeping them safe at home.
3. Oilogic Roll-on Essential Oils for Kids
Essential oils can help with soothing toddlers when they get tired, cranky or out of sorts.
This roll-on essential oil from Oilogic is designed just for kids and it can help bring some calm into your busy mom day when life gets hectic.
4. Creative QT SlideAway Toy Storage Bag
Starting a toy rotation can help keep your kids' rooms (and the rest of your home) from becoming a cluttered mess.
But if you don't have time to get a toy rotation going, these SlideAway toy storage bags from Creative QT are a genius way to keep toddlers' stray toys in one pace!
5. Raising Tiny Humans Wine Glass
Being a toddler mom is hard and sometimes you need a glass of wine at the end of the day to wind down.
This Raising Tiny Humans Ain't Easy wine tumbler is a cute and inexpensive holiday gift for busy toddler moms who could use a break (and a laugh).
6. Pockit Stroller
If you've ever been a toddler mom, you know the pain of trying to juggle a kid, a diaper bag, purse and a stroller all at once.
That's why I love the Pockit Stroller for busy moms — this baby folds up into a compact, handbag-sized shape in seconds. It's lightweight and can go just about anywhere!
7. Infinity Collection charm bracelet
If you want to get the busy toddler mom in your life some inexpensive bling, these Infinity Collection charm bracelets are a perfect choice!
There's a charm bracelet for boy moms and an equally cute option for girl moms.
8. Breathe, Mama, Breathe
Sometimes in the middle of a hectic day of raising toddlers, you just need to hit pause and slow down for a minute.
"Breathe, Mama, Breathe" is a great gift for busy moms who want to inject a little relaxation and mindfulness into their daily routines.
9. YALUXE Leather Tote
When my kids were toddlers, I always preferred a big purse to the standard diaper bag. And I still love a big bag today for storing all my stuff.
This leather tote from YALUXE is a functional and stylish gift idea for busy toddler moms on the go.
10. Amazon Prime Membership
Amazon Prime is a great gift idea for busy toddler moms who need to save time and money shopping online. I've been using it since my kids were little and I don't know how I ever did without it!
Plus, Amazon Prime membership includes streaming for thousands of TV shows and movies for toddlers and moms alike.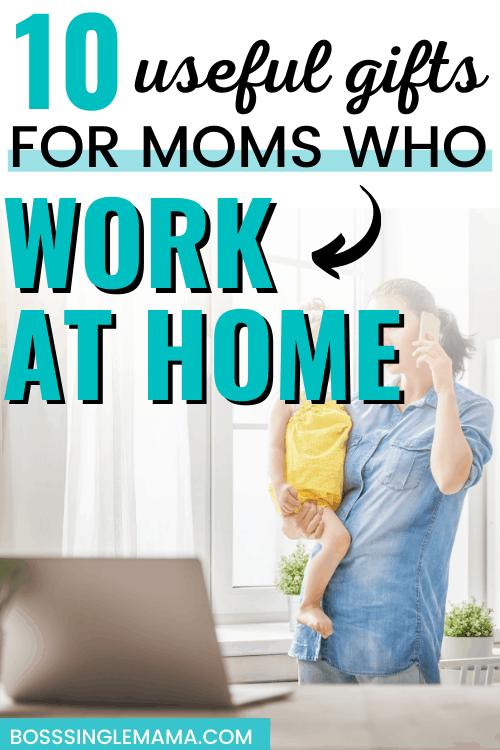 Best Gifts for Busy Moms Who Work at Home
Being a work at home mom is challenging, especially if your kids are home with you all day like mine are.
If you're shopping for the best gifts for busy moms who work at home, here are 10 ideas they're sure to love!
11. AirPods
Listening to music can help boost your productivity as a work at home mom. And sometimes you just want to tune out distractions so you can get some work done.
AirPods are a perfect gift for the work at home mom who's into tech (and staying productive!)
12. Amy Knapp Family Planner
As a busy work at home mom, I can't live without my planner!
Amy Knapp's Family organizer is one of my favorite planners for moms. It's a perfect busy mom gift option for the mom who likes to stay organized.
13. Boss Lady PopSocket
PopSockets are super handy for the work at home mom who spends a good part of the day on the phone.
I love this Boss Lady version that's simple and stylish!
14. HappyLight
Did you know that having the right lighting in your work at home office can help you stay focused and energized?
The HappyLight is a great gift idea for busy moms who work at home since it promotes the benefits of light therapy. It can encourage better moods, better sleep and help increase productivity!
15. USB Hub Adapter
Being a work at home mom sometimes means switching back and forth between multiple devices.
This USB hub adapter could make a perfect gift for work at home moms who need a simple way to keep all their devices charged and ready to go.
16. Amazon Echo Dot
Amazon Echo Dot is a genius gift idea for busy work at home moms who need to stay connected to clients or coworkers.
It makes hands-free calls simple, plus it's also great for home management since you can sync it up with other devices to set your thermostat, control lighting and lock or unlock doors.
17. PowerSheets Intentional Goal Planner
Setting big goals is part of why I've been able to grow my freelance writing and blogging business as much as I have.
And if you know a work at home mom who's also into goal-setting, then the PowerSheets Intentional Goal Planner is a must-have gift!
I also love this undated Law of Attraction goal planner too.
It's great for setting goals, jotting down financial affirmations or mapping out your big dreams!
18. Blue Light Blocking Glasses
Staring at a computer screen or phone all day for work can take a real toll on your eyes.
These blue light blocking glasses are a cute and affordable work at home mom gift idea for the holidays or any time of year!
19. Do Less
As a work at home mom, it's easy to fall into the trap of thinking you have to do it all. But that's a guaranteed way to end up burned out!
"Do Less: A Revolutionary Approach to Time and Energy Management for Ambitious Women" could be an excellent gift for busy work at home moms who could use a new perspective on how to approach their days.
20. Nest Diffuser
If you're going to be working at home all day having some soothing scenes to breathe in can help ease stress.
I love this lemon and mint diffuser set from NEST for keeping my house smelling great!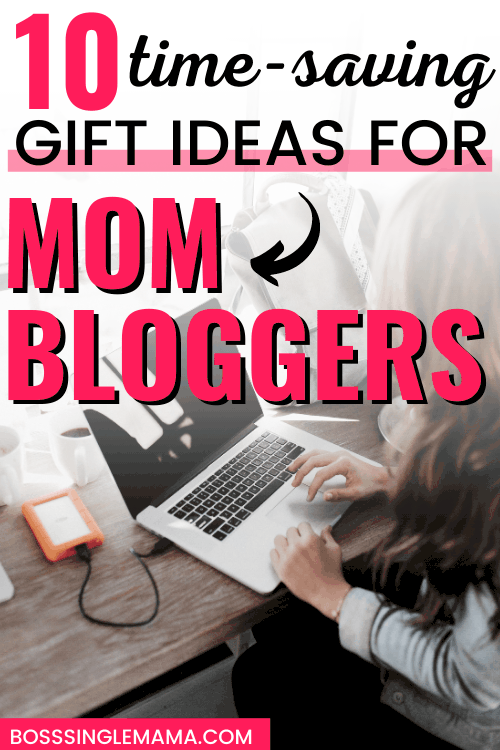 Best Gifts for Busy Moms Who Blog
Since I run a freelance writing business and not one but three blogs, I know just how crazy trying to keep it all organized can get!
If you know a mom blogger (or you are one) here are some of my favorite gift ideas for making life easier!
21. Blog Planner
Here's one thing I've learned about blogging: if you want to be successful, you need a plan!
Blogging by the seat of your pants just doesn't work. So that's where a blog planner, like this one-year planner from Meera Kothand comes in handy.
A blog planner can help busy mom bloggers stay focused and on task so they can reach their goals!
22. Ring Light
A ring light is a must-have gift for mom bloggers who run a YouTube channel, add video tutorials to their blog or live stream.
This ring light set is compact, affordable and compatible with most devices so it's perfect for beauty bloggers, crafters or anyone else who uses video as a blogging tool!
23. Camera
If you know a mom blogger who's all about taking her own stock photos to use in blog posts, then a quality camera is a must!
Canon is always the preferred camera brand at our house and this bundle has everything a mom blogger needs to create some amazing photo layouts!
24. Canva Pro Subscription
If you're a mom blogger then you already know how powerful Pinterest can be as a marketing tool. And one of the keys to Pinterest success is designing eye-catching pins that get clicks.
That's where Canva Pro comes in.
This is the tool I use to create pins, printables and freebies for all three of my blogs. It's a perfect gift for busy moms who want to nail pin design!
Get Canva Pro for your favorite mom blogger now!
25. Tailwind Subscription
Tailwind is another must-have tool for busy blogging moms who want to automate their pinning.
With Tailwind, you can schedule your pins out weeks in advance so you can spend your time focusing on other parts of growing your blog.
Gift a mom blogger with Tailwind now!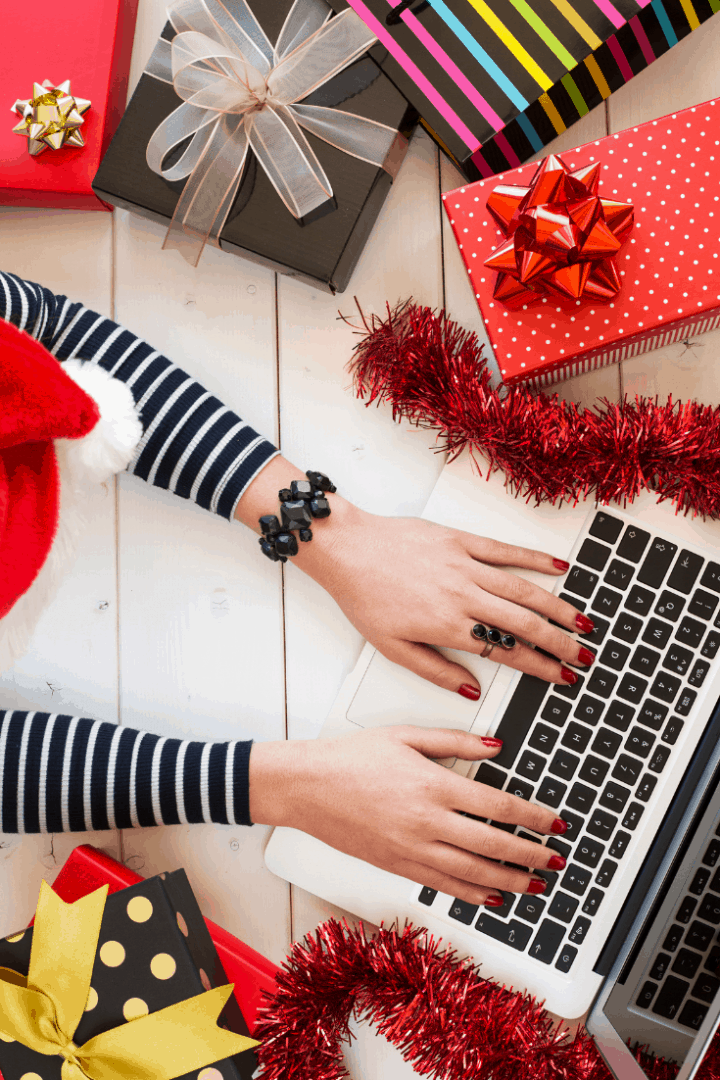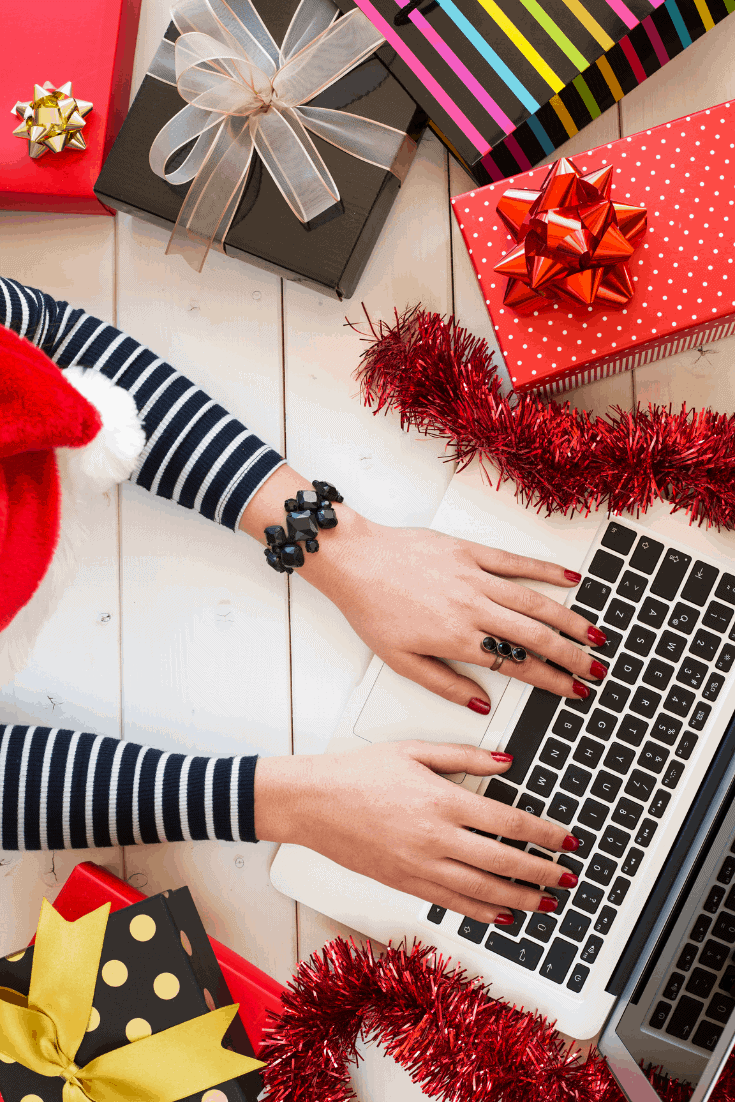 26. Pinterest Templates
Pinterest templates are truly one of the best gifts for busy moms who want to grow their blog effortlessly.
I love using Pinterest templates to create pins quickly and easily. Here are a few of my favorite Pinterest template options:
27. Legal Bundle Pack
If you're a busy mom blogger, one of the most important things you need to do is make sure you're blogging legally.
That means setting up legal pages, including:
Privacy policies
Cookie policies
Disclaimers
You can get all of those and more in this convenient Legal Bundle from Amira at A Self Guru. It has everything you need to make sure your blog is 100% legit!
28. Premium Blog Themes
Aside from great content, successful blogs also have a responsive theme that's easy to navigate.
If you're a mom blogger or you know one whose blog could use a facelift, head to these sites to shop for gorgeous WordPress themes:
29. Convertkit Subscription
Part of growing a successful blog means having an engaged email list. And for that, you'll need an email service provider.
My personal favorite for that is Convertkit. I love how easy it is to create and send campaigns and their customer service is excellent!
Get Convertkit for a blogging mom now!
30. Blogger's Glitterati Hub VIP Membership
Blogging can be challenging and sometimes it helps to have a mentor giving you advice along the way.
If you know a mom blogger who could benefit from pro help on how to grow their blogging business, then you'll want to check out the Blogger's Glitterati Hub VIP Membership.
It's run by Sasha Lassey at Everyday She's Sparkling and she is an insanely helpful blogging resource!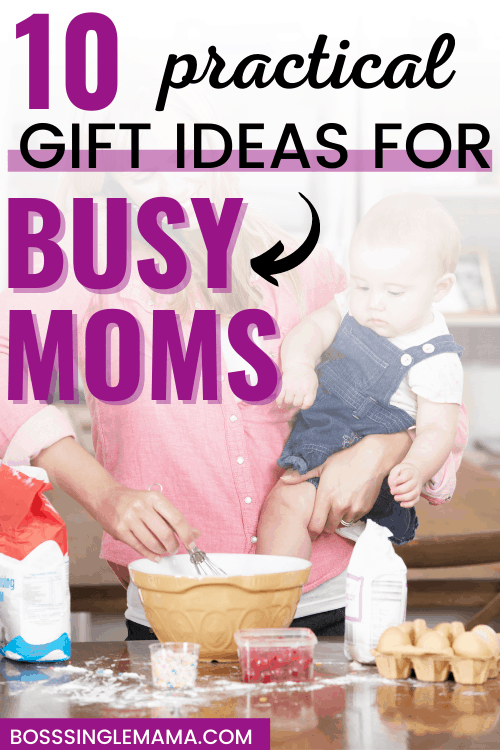 Best Practical Gifts for Busy Moms
Sometimes, the best gifts for busy moms are the ones that help them save time or just make life easier.
These 10 busy mom gift ideas are super practical and helpful!
31. Instant Pot
Instant Pot is a no-brainer gift idea for busy moms who don't want to spend hours in the kitchen.
It's simple to use and you can make almost anything in it. If you don't believe me, take a peek at this list of 90+ delicious Instant Pot recipes!
32. Fitbit
Staying healthy as a busy mom? It's not always easy.
But this FitBit Charge 4 Activity Tracker is designed to help busy mamas (or anyone else) stay motivated and on track to reach their fitness goals!
33. Click and Grow Smart Garden
Starting an indoor herb garden can save money and it's super simple to do for even the busiest mom.
This Click and Grow Smart Garden makes it easy to start growing basil, cilantro, thyme and other herbs on the kitchen counter!
34. NutriBullet
Smoothies can be a healthy and time-saving option for busy moms who need a quick breakfast or lunch.
I love this NutriBullet 1000 Watt PRIME Edition because it makes it so quick and easy to whip up smoothies you can enjoy at home or on the go.
35. iRobot Roomba i7
Any busy mom who has hardwood floors knows how hard it is to keep those things clean, especially when you have kids and pets at home.
The iRobot Roomba i7 connects with Amazon Alexa and makes keeping your floors clean and mess-free a breeze!
36. Portable Chargers
There's nothing more annoying than having your phone or the kids' tablet go dead when you're away from home.
I have two of these portable chargers from Anker and I can't live without them for taking trips or keeping things charged when there's a power outage.
37. Frozen Food Thawing Plate
What busy mom doesn't like to save time in the kitchen?
This frozen food thawing tray from GEMITTO is a life-saver when you need to get dinner done in a hurry!
38. Tile
Trying to track down keys, remotes, cell phones or anything else can be a huge headache!
That's why the busy mom in your life needs Tile. These handy Bluetooth-enabled trackers can help you find all your lost stuff right from your smartphone!
39. Revlon One-Step Hair Dryer and Volumizer
Being a busy mom doesn't mean you have to skip out on making sure your hair looks done before leaving the house.
This Revlon One-Step Hair Dryer and Volumizer is a perfect gift for the busy mom who wants to feel pulled together in less time.
40. Gift Cards
Can't think of what to buy for a busy mom you know?
You can't go wrong with gift cards!
And if you don't have the cash to spare for gift cards, you can earn them instead. Sign up for Swagbucks and MyPoints to earn gift cards for doing simple tasks online!
Related post: 25 Foolproof Ways to Get Free Gift Cards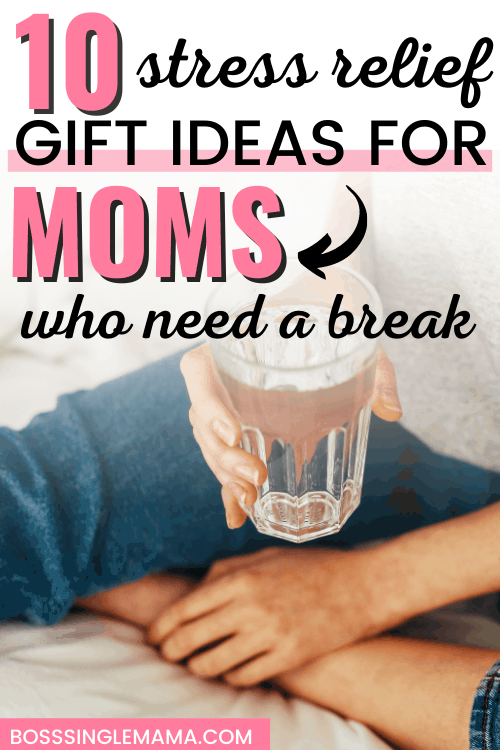 Best Self-Care Gifts for Busy Moms
Self-care is something busy moms often neglect because there just isn't enough time in the day (or at least it feels that way).
So if you have a busy mom you want to pamper a little, check out these gifts that are sure to make them feel special.
41. Burt's Bees Gift Set
My mom is super busy and she's also a fan of Burt's Bees.
So every so often, I'll get her one of these Burt's Bees gift sets that's packed with all her favorite items.
42. Dreamegg White Noise Machine
Sleep is something we moms never seem to get enough of.
So if you know an exhausted mama who could use something soothing to fall asleep to, be sure to add this Dreamegg White Noise machine to your list!
43. Unbox Me Care Package for Women
A care package can be one of the best gifts for busy moms when life gets stressful.
I love these Unbox Me Care Packages — they come in different themes and are packed with goodies for the tired mom who could use a little pick me up!
44. Gratitude Journal
Starting a daily gratitude practice is a great form of self-care and a reminder to count your blessings amid chaotic mom life.
This daily gratitude journal is a thoughtful and inexpensive gift option for busy moms who want to be more mindful every day.
45. Plush Blanket
At the end of the day, I like nothing more than to curl up in my chair under a comfortable blanket. even in the middle of summer.
I keep one of these fleece throws in the guest room for my mom when she comes to visit. But it's so nice and soft I'm tempted to buy one just for myself!
46. Pure Care Daily Aromatherapy and Diffuser Set
If you're looking for gifts for busy moms who need help unwinding, this aromatherapy and essential oil diffuser set is perfect.
It comes with a variety of essential oils to choose from that can be used in a super stylish diffuser.
47. Godiva Chocolate Truffle Coffee and Mug
Chocolate is a go-to self-care treat but eating tons of it won't do much to help your fitness goals.
If you know a busy mom who's trying to stay in shape, you can substitute actual chocolates for this Godiva Chocolate Truffle Coffee instead, complete with a cute travel mug!
48. Drunk Elephant Travel Kit
I love Drunk Elephant's line of skincare products and these are always an addition to any list of gifts for busy moms!
You can buy their skincare line individually or treat a busy mom to this travel kit that includes sample sizes of the best Drunk Elephant products.
49. Drink Your Effing Water Bottle
Staying hydrated is a self-care priority and this cute water bottle includes a reminder to drink up!
50. Wild Thera Stress Soothe Balm
This Wild Thera Stress Soothe Balm is one of my favorite gifts for busy moms who have anxiety or just need a little stress reliever now and then.
I use it and it definitely helps take the edge off when the days get crazy.
Make Extra Money for Gifts With Easy Side Hustles
Need some quick and easy ways to pay for gifts for busy moms?
Here are some of my favorite ways to make money fast!
Another easy way to get cash for gifts is by earning money back when you shop.
That's where apps like Rakuten and Ibotta come in.
These apps let you earn back a percentage of what you spend when you shop partner retailers. It's a hassle-free way to save money on everything!
Plus, if you sign up for Rakuten now you can get $25 in cashback bonuses.
And sign up for Ibotta now to get $20 in cashback welcome bonuses!
What Are Your Favorite Gifts for Busy Moms?
I hope these gift ideas have given you some inspiration for what to get the busy mom in your life. And if you're a busy mom yourself, make sure to add a few of these items to your gift wish list!
Now, over to you–which gifts for busy moms do you love the most? Head to the comments and tell me about it!
Be sure to check out my favorite tools for making and saving money. And grab your free money printables in the Resource Library!
Need some ideas on how to give money as a gift? Check out these 23 fun money gift ideas!