Last Updated on October 8, 2022 by Rebecca Lake
An economic downturn can wreak havoc with your money. Knowing how to prepare for a recession can help to minimize the financial fallout.
Some of the best ways to prepare for a recession include paying down debt, building up savings and creating multiple streams of income. You can also protect yourself financially in a recession by reducing spending and sticking to a monthly budget.
Preparing for a recession is a lot like preparing for natural disasters. If you live somewhere that's prone to hurricanes or wildfires, for example, then you probably have a go-to plan for keeping yourself and your family safe in case the worst happens.
If you've never experienced one firsthand, you may not know how to prepare for a recession. So today, I'm sharing some tips that can help you not only survive but thrive during an economic slowdown.
Related post: Save Money Live Better (20 Easy Ways Save More This Year)
What Is a Recession?
In simple terms, a recession means that the economy shrinks. Consumers spend less, companies may slash their budgets which can mean fewer jobs and economic growth slows down.
If you're looking for a more technical recession definition, here's how the National Bureau of Economic Research (NBER) describes it:
"Rather, a recession is a significant decline in economic activity spread across the economy, lasting more than a few months, normally visible in real GDP, real income, employment, industrial production, and wholesale-retail sales."
Recessions can be mild and short in duration. The COVID recession that occurred in 2020, for example, lasted just two months, making it the shortest in U.S. history.
In the worst-case scenario, a recession can last years. The Great Recession, for example, stretched from 2007 to 2009 and was the longest recession since the Great Depression.
Recessions are problematic for everyday people like you and me for several reasons. For example, here are some of the negative side effects of recessions:
Finding a job can get a lot harder since companies may decide to slash payrolls or halt hiring.
Employers cut back on things like pay raises and promotions, so you have less room to grow your income.
Banks make it harder to borrow money if there are concerns over consumers defaulting on payments.
Your investments might lose value if a recession is triggered by or triggers a stock market downturn.
Prices on some things can go up if a recession is also accompanied by rising inflation.
A recession is not as severe as a depression, which is a global economic downturn. Nor is it as harmful as stagflation, which is marked by a period of stagnant economic growth, steadily rising prices and high unemployment. But it's not something most Americans look forward to either.
There is a silver lining, however. If a recession is accompanied by rising rates that's a good thing for savers. CIT Bank, for example, is offering one of the most competitive rates around for its high-yield Savings Connect account.
Related post: 160+ Best Frugal Living Tips to Save Money
How to Prepare for a Recession
The most important thing to keep in mind about recessions is that they're unpredictable. There's no telling exactly when one will begin–or end.
The more prepared you are for the possibility of a recession, the easier it may be to get through it should one come along. Here are nine tips for how to prepare for a recession and protect your money.
1. Make a budget
If you're not already living on a budget, then making one is the first step in preparing for a recession.
A budget is simply a plan for how you'll spend your money each month. You add up your income, then subtract your expenses to see how much you have left (or how much you may be overspending.)
This beginner's guide to budgeting offers a closer look at how to create your monthly spending plan. Tracking your spending for a month can give you a better idea of what's going out so you can budget accurately.
Related post: 12 Best Budgeting Planners to Take Control of Your Money
Looking for a simple money management tool? Empower makes it easy to track spending, saving, investing, and budgeting in one place so you can tackle your financial goals!
2. Evaluate your spending
Once you've made your budget, the next step for how to prepare for a recession is simple: eliminate unnecessary spending.
If a recession means a drop in income, you don't want to waste money buying things you don't need. Cutting out the fat can help you to streamline your budget.
There's a great app you can use for that. It's called the Trim Financial Manager and you can use this personal finance tool to:
Help wipe out pricey bank fees
Cancel unwanted subscriptions
Renegotiate your bills so you pay less
Save money automatically
Reduce APRs on high-interest credit cards
If you're already using Trim, then you probably know what's great about it. And if you're not, you can sign up for Trim and give it a try!
Related post: 20 Things to Stop Buying That Can Save You Serious Money
3. Use cashback and coupon apps to save
Aside from cutting out unnecessary expenses, finding ways to save when you spend can help you to prepare for a recession.
Cashback apps pay you back money when you shop at partner merchants. Coupon apps can take money off your purchases at the checkout. You can use one or both to save money on things you buy every day, including groceries, household items and clothing.
If you're looking for some cashback and coupon apps to try, here are my favorite picks:
Ibotta. The Ibotta app pays you cash when you shop at supported stores. You shop, snap a photo of your receipt, upload it to the app and get cashback. You can also link your store loyalty cards to earn cashback instantly when you shop, plus you can get up to $20 in bonus cash just for signing up!
Drop. Drop is another cash-back portal you can use to earn free money. You browse deals through the site, shop with your credit card and earn cashback. It's super simple to earn cash with Drop and an easy way to stack cash back you earn with your credit card.
Honey. Honey is another browser extension tool you can use to save when you shop online. You can automatically apply coupons at partner merchants. Honey even helps you find the best price when you shop at Amazon!
Dosh. The Dosh app is an easy way to earn cashback. You link a debit or credit card to the app, spend at partner stores and restaurants and get up to 10% back.
They're all free to sign up for and use and you can try one or all of them to save money and get cashback.
Rakuten will even give you an extra $30 right now just for creating a new account. So go grab your free cash!
Related posts: 12 Best Money Saving Apps to Download Now If You're Tired of Being Broke
4. Build your emergency fund
If you're using cashback and coupon apps to save money, it's important to have a plan for using it. Adding extra cash to an emergency fund is a smart idea for how to prepare for a recession.
The most commonly used rule of thumb for emergency savings is setting aside three to six months' worth of expenses. The COVID-19 pandemic, however, saw many Americans' emergency funds dwindling faster than expected.
The right amount of money to save for emergencies is different for everyone. Ultimately, your savings number should be based on your financial situation, including:
How many people you're responsible for financially
Your total household income
What you spend each month and how much you could realistically cut your budget if needed
Your job security and how easy it would be to find another job if necessary
Once you choose a target number for emergency savings, it's important to keep your money in the right place.
The best place for your emergency fund usually means:
A liquid account you can get to quickly if you need to
Ideally, a high-yield savings account that earns a great interest rate
A bank or financial institution that's FDIC-insured
Online banks can deliver all three. If you're shopping for a place to grow your money, CIT Bank's Savings Connect Account is a great option.
You can open an account online in minutes with just $100. Deposits earn one of the most competitive interest rates around and there are no monthly fees.
Looking for the best high yield savings option? Compare savings account rates online at top banks and credit unions now!
5. Pay down debt
Debt can be a stumbling block to surviving a recession. So it makes sense to pay down as much of it as you can in order to ease financial pressure on your budget.
There's no magic trick to paying down debt. Instead, it means applying some basic–but smart–strategies, including:
Paying off high-interest debt first, since it usually costs you the most money
Paying off "bad" debt (like credit cards) before "good" debt (like a mortgage), since bad debts typically have the highest interest rates
Not adding any new debt to the pile (which means no taking out loans or applying for credit cards)
There are different debt repayment methods you can use, including the debt snowball and the debt avalanche.
If you're worried about how to prepare for a recession, you might focus on getting rid of the debt that's costing you the most money in interest or fees first. Or you could pay off the one that's most annoying or keeps you up at night.
These tips can help you create your personal plan for getting out of debt:
Go over your budget to look for extra money you can pay toward your debt.
List your debts in the order you want to pay them off.
Work out a timeframe for paying off each debt, based on how much you're paying monthly.
Consider paying biweekly if you can to cut down on interest and finance charges.
Try automating debt payments for student loans or car loans if the lender offers an autopay discount.
You can also use a service to help you structure and organize your debt plan. The Tally App, for example, helps you to save money on credit card interest and pay off your balances faster.
The average Tally user saves $4,185 over five years so it could be worth a look if you're ready to become debt-free. Learn more about Tally now.
Related post: How to Get Out of Debt on a Low Income: 7 Proven Strategies That Work
6. Pay attention to interest rates
When you're focused on how to prepare for a recession, it's important to consider what's happening with interest rates. Specifically, that means:
The rates you're earning on savings
The rates you're paying on debt
Interest rates usually go down at some point during a recession. The Federal Reserve, which sets interest rate policy, can lower rates to try to encourage people to borrow money and jumpstart the economy when it's slowed down.
When rates are low, that means loans and credit cards cost less. So if you're hoping to refinance your mortgage or student loans, for example, you may be able to get a lower rate if you have a good credit score.)
(And if you don't know your credit score, you can check it for free at Credit Karma.)

The other side of interest rates is what you're earning on savings.
When the Fed lowers rates, that means banks tend to pay less interest to savers. If you've been keeping your money at a traditional bank and getting a rate like 0.01% (which is what a lot of big banks pay) a rate drop isn't going to help you.
Moving your savings to a bank (like CIT or another online bank) with better rates isn't as much of a hassle as you might think. It's something to consider if you're trying to earn as much interest as possible on savings in preparation for a recession.
Looking for the best high yield savings option? Compare savings account rates online at top banks and credit unions now!
7. Review your portfolio
If you want to grow your money, then that means it investing some of it. The trouble with how to prepare for a recession is that stocks can be unpredictable.
That doesn't mean you should bail out of your investments if you're worried about how to survive a recession. But you should know where your money is and what you own.
Diversification–owning different types of investments–is important for weathering economic changes.
You wouldn't want your entire portfolio to be just one stock or be focused on just one sector. Because if that investment takes a hit you don't have anything to balance it out.
A financial advisor can help you decide where and what to invest in to recession-proof your portfolio.
If you don't have the cash to pay an advisor or you haven't even started investing yet, then you might want to try a micro-investing app like Acorns.
Acorns lets you build a portfolio of exchange-traded funds with your spare change. You connect your debit or credit card and the app rounds up your transactions, then uses those round-ups to invest.
You can start investing with as little as $5 and Acorns will even spot you your first $5 bucks when you sign up for a new account.
If you've been investing for a while, you might consider moving your portfolio to an online platform with minimal fees. M1 Finance, for example, does not charge commissions or markups on trades.
Looking for a simple money management tool? Empower makes it easy to track spending, saving, investing, and budgeting in one place so you can tackle your financial goals!
8. Reevaluate your financial goals
Setting financial goals can help you to get ahead. And for a lot of people, how to prepare a recession comes down to how you prioritize your money.
For example, your financial priorities list might look something like this:
Pay your essential household bills first
Cover basic needs, like food and clothing
Add a little something to emergency savings every month
Pay at least the minimums on your debt each month
Fund retirement savings
Put aside money for your kids' college
If a recession means you have less income to go around, then you'll need to decide which goals you can continue to pursue and which ones may need to stay on the backburner.
For example, you might want to keep investing and saving for retirement. So your goal may be to just keep saving the minimum to get the full employer match in your 401(k).
When you're looking at your financial goals against the backdrop of a potential recession, make sure they're realistic. And be prepared to have a backup plan in case your money situation changes and you need to adjust your goal focus.
Related post: 10 Smart Money Goals That Can Help You Live a Richer Financial Life
9. Find new ways to make money
One of the smartest money moves for how to prepare for a recession is finding ways to grow your income. More money coming in can mean less stress about how to pay the bills, grow savings or get rid of debt.
There are different ways to grow make more money. For example, you could:
Ask for a promotion or raise at your current job
Move to another company
Get a part-time job
Some of those options might not work in a recession, however, if companies are cutting back.
Finding ways to make money with side hustles, on the other hand, could give you limitless earning potential.
There are numerous ways to make extra money, both online and off. Here are a few of my favorite ways to make money in your spare time:
Related post: 142 Profitable (and Legit) Side Hustle Ideas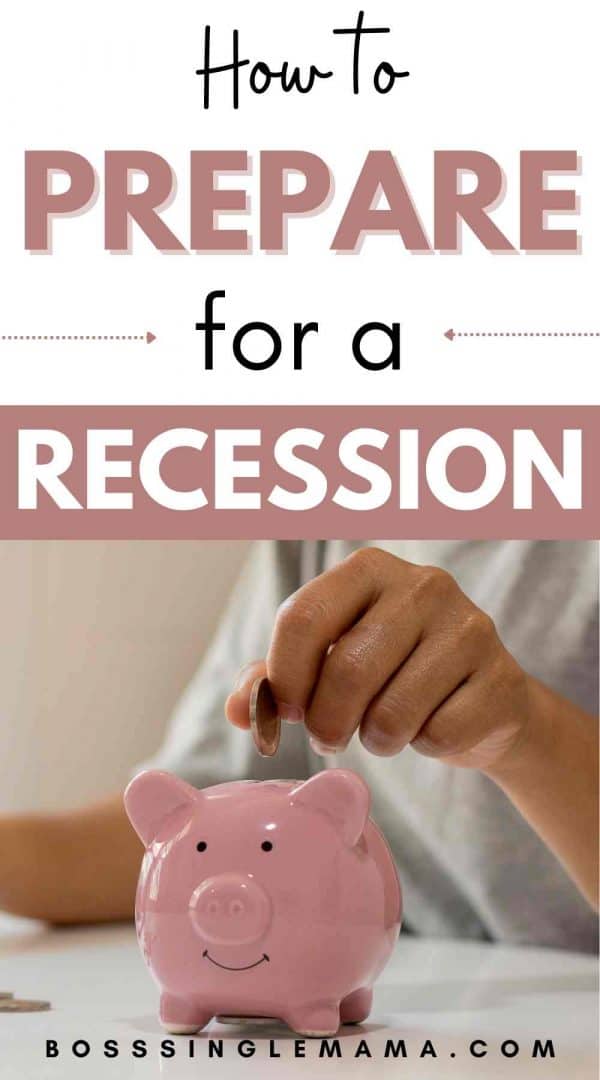 Final thoughts on how to prepare for a recession
Knowing how to prepare for a recession is something you'll be glad about if the economy does slow down. And considering that slowdowns are part of the business cycle, it's safe to say that you'll experience at least one recession in your lifetime.
Putting these tips to work can help you get through a recession with minimal damage to your finances.
Need more smart money tips? Read these posts next:
How to Prepare for a Recession