Last Updated on September 9, 2023 by Rebecca Lake
When you need quick cash, you might consider using your vehicle title as collateral for a loan. Searching for 'title pawn near me' can help you find local title pawn companies that offer short-term loans with no credit checks.
Title pawn loans can put money in your hands fast, even if you have bad credit. But how does the title pawn process work and is it a good idea?
Here's what you need to know about car title pawn loans, including the pros and cons of using them when you need emergency cash, and where to find them.
Table of Contents
Find a Title Pawn Near Me
Finding a title pawn company locally is as simple as doing a quick internet search. You can search for title pawn loans using different terms, including:
Title pawn near me
Car title loan
Title pawn near me no credit check
Title loan with bad credit
Vehicle title loan
Automobile title loan
Fast cash for car title
Car equity loan
Vehicle equity loan
Auto pawn loan
Pink slip loan
Car title pawn near me
Pawn shops that offer title loans
Online title pawn
Short-term loan car title
Car title instant cash
You can also search by state. For example, if you live in the state of Georgia you might search for 'Georgia title pawn' to find pawn shops near you that will lend you money against a vehicle's title.
To make things easy, we have a simple search tool you can use to find title pawns near you. Just click the button marked 'Find a title pawn near me' below to see personalized results for your location.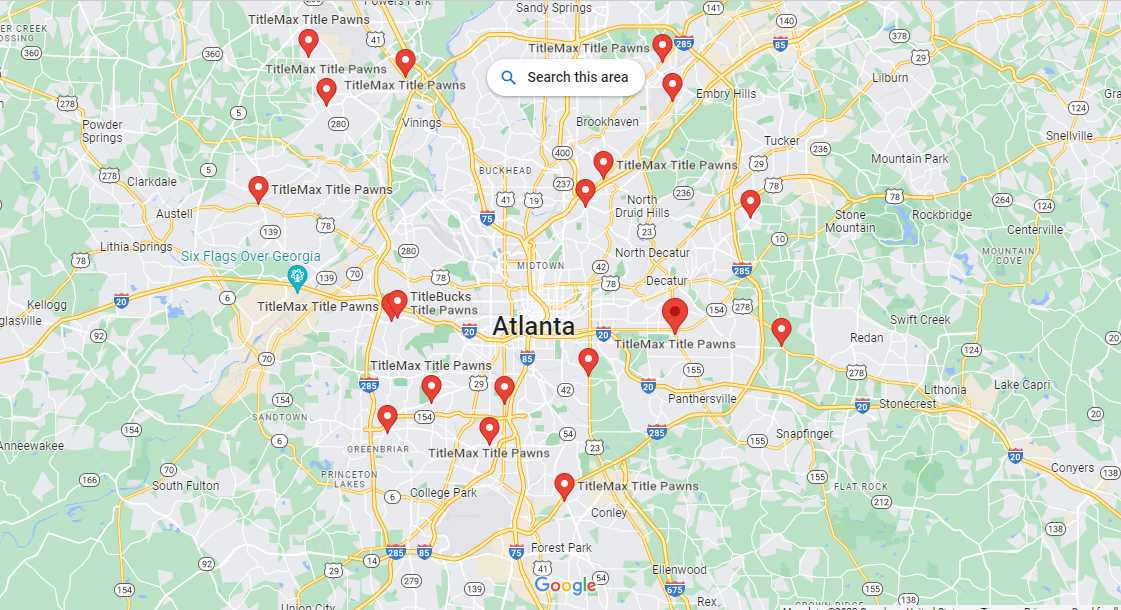 What Is a Title Pawn?
If you're unfamiliar with how a pawn transaction works, here's a quick explainer.
Pawn shops allow you to bring in items of value and use them as collateral for short-term loans. If you pay the loan back, the pawn shop returns your collateral to you. Things you can use as collateral for pawn shop loans include:
Jewelry and luxury watches
Electronics
Gaming consoles and video games
Designer handbags
Lawn equipment
ATVs and dirtbikes
Smartphones
Sports equipment
Musical instruments
Those are some of the best things to sell at a pawn shop for cash. In the case of title pawns, the collateral in question is your vehicle, or more specifically, your vehicle's title.
Title pawns offer quick access to funds since you can walk away with extra cash the same day you apply. The risk, of course, is that if you don't pay the loan back on time the title pawn lender can keep your vehicle title.
Need Loan Funding Fast?
Get a personal loan from Upstart
Upstart offers unsecured personal loans ranging from $1,000 to $50,000. Get cash to consolidate dates, pay off medical bills, or cover emergency expenses. There are no hidden fees and you can get funds as quickly as the next day after you're approved.
Benefits of Title Pawns
Title pawns can offer some advantages over other borrowing options when you need extra funds for unexpected expenses or any other reason.
Easy to apply
Unlike other types of loans, title pawns usually have a very easy application process. You can fill out an application at a local pawn shop or online and it typically doesn't take a lot of time.
Fast approval
It's possible to get loan approval for title pawns the same day, without a lengthy wait. After you go through the quick preliminary loan application process, the title pawn lender will appraise your car's value and make an offer.
If you're satisfied with the offer and loan terms, you'd just have to sign off on the final paperwork. Funds can be deposited straight to your bank account, or paid in cash, whichever you prefer.
Perfect credit isn't required
Similar to a cash advance payday loan or pawn shop loan, title pawns typically don't require excellent credit. Title pawn lenders may reach out to a credit bureau to pull your credit report, but that's not always a requirement.
Pro tip: Check your credit scores for free with Credit Sesame. Credit Sesame offers credit monitoring services, along with prescreened credit offers, and tips for improving your scores. It's free to sign up, with no credit card required!
May not impact your credit score
Title pawn loans usually aren't reported to any credit bureau. That means they won't show up on your report or factor into credit score calculations.
Instead, pawn shops may look at other factors, such as your employment history, income and your car's value to decide whether to approve you for a loan.
Use the money for any purpose
Title pawns can put cash in your bank account (or hand) that you can use to cover a variety of expenses. For example, you might use a title pawn loan to cover:
Medical bills
Auto repairs
Temporary cash shortfalls when you're between paychecks
Basically, you could use a title pawn in any emergency financial situation when you need money fast.
Need a short-term loan with no fees?
Dave can put up to $500 in your bank account in minutes!
If you're short on cash and need money to pay bills or cover expenses, the Dave app can help. With the ExtraCash feature, you can get up to $500 with no credit check, no interest, and no fees! You'll just need to download the Dave app and link it to your bank account to get started.
Possible to get a larger loan
If you have bad credit, your options for getting a traditional personal loan might be limited. If you're able to get approved, then you may only be able to borrow a small amount.
A title pawn, on the other hand, may allow you to borrow a larger amount based on your car's value.
Same-day funding
As mentioned, title pawns can be a quick way to get money when you're in need of cash.
It's possible to walk in with your car's title and walk out with cash in hand the same day. Personal loans can also offer fast funding, but you typically have to go through a credit check to get approved.
Low monthly payments
Once approved for a title pawn loan, you'll make payments back to the lender monthly on a recurring basis. Title lenders can offer pawn loans with low monthly payments so that you're able to work them into your budget with minimal stress.
Risks of Title Pawns
Are title pawns always the best option for borrowing? Not necessarily. Here are some cons to consider.
Interest rates are high
Any type of pawn loan, including title pawns, can carry much higher interest rates than other loans. That's because these types of loans are usually designed for people who have pressing financial needs but likely don't have good credit or any credit at all.
If you're looking for a loan with a lower interest rate, then a secured or unsecured personal loan might be a cheaper alternative to high interest title pawns.
Fees can increase the cost
Title lenders can charge numerous fees, including finance charges. Those fees can make your loan more expensive over time, because they get factored in to your loan's annual percentage rate.
For example, it's not unusual to find title pawn loans with an effective APR of 300%, thanks to the finance charges and other fees.
Rolling over the loan can get expensive
If you're not able to pay a title pawn loan off on time, your lender might give you the option to roll it over or extend the terms.
That can keep you from losing your car but it can add to your overall cost. That's because the lender can charge additional fees, which can create even more of a financial burden if you're dealing with high interest rates already.
Not all lenders are legit
While there are plenty of reputable pawnbrokers that offer title loans, there are also scammers out there who are just waiting to take your money, your car, or both.
Taking time to find a legitimate lender is important because you don't want to end up getting taken for a ride, when you're trying to get some quick cash.
You could lose your vehicle
The biggest downside of a title pawn loan or any pawn loan is that you risk losing your collateral if you can't pay back what you borrow.
If you take out a loan against your car's title and can't pay it off for any reason, then the lender gets to keep the title–and they can repossess your vehicle.
Lenders may not make a move to do that right away. Instead, they might give you more time to try and pay back what you owe because most often, they'd rather have cash than your car anyway.
Pro tip: State law usually dictates when licensed pawnbrokers can take possession of a vehicle for a title pawn default and what notice they're required to give you, if any.
Are Title Pawns a Good Idea?
Pawning your vehicle title usually isn't the best choice for getting cash, even when you're truly desperate for money.
While they're convenient, the cons–namely, the cost and the risk of losing your car–far outweigh any advantages title pawns might offer.
Before getting any kind of pawn loan, it's always a good idea to consider other borrowing options. For example, that might include:
Using a credit card or taking a credit card cash advance
Getting a secured or unsecured personal loan
Selling things you don't need for cash
Borrowing money from friends and family
Asking your employer for an advance on your paycheck
Are those perfect solutions? No, since you're creating debt. But they can be less expensive than title pawns and you don't have to worry about being left without a vehicle if something happens and you can't pay back what you owe.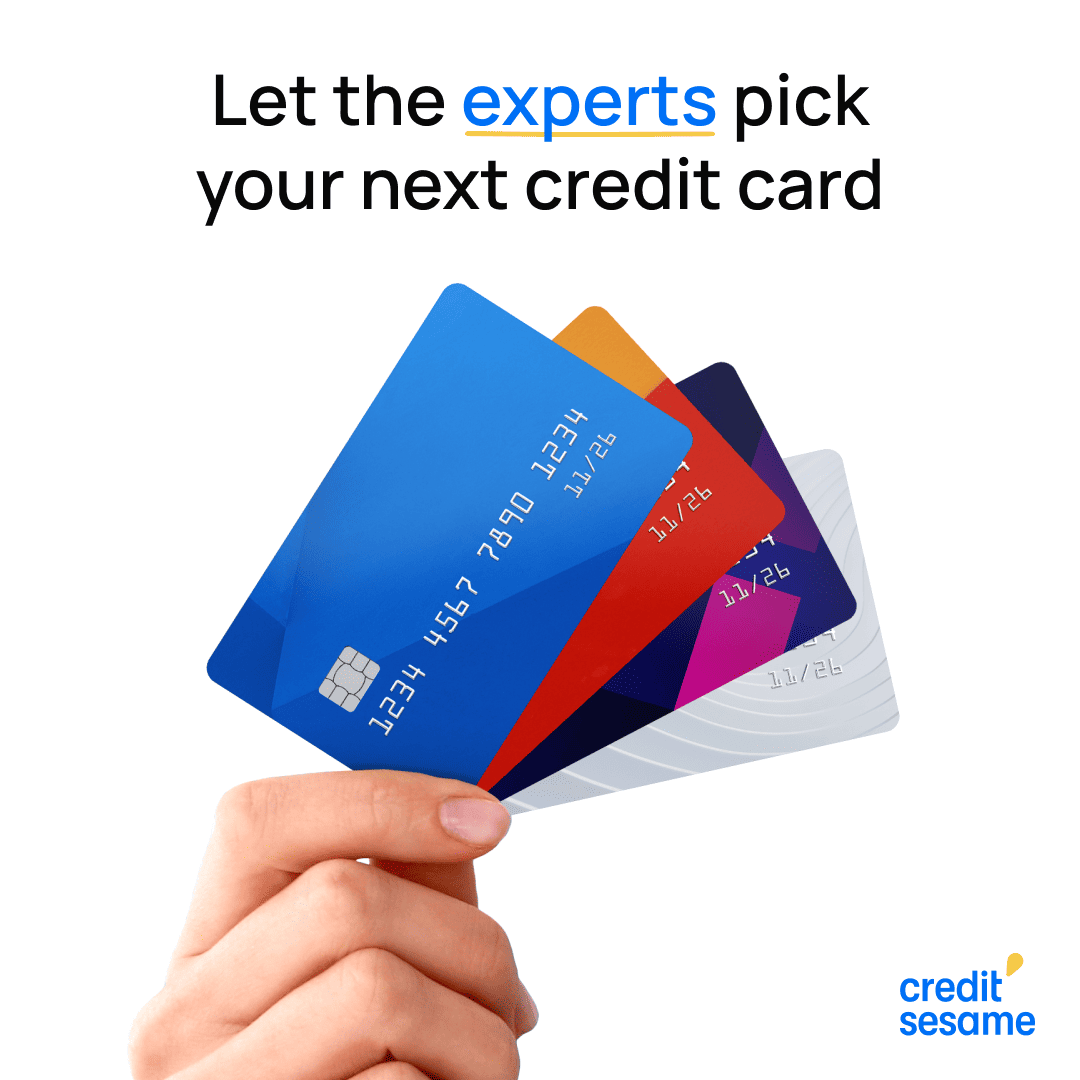 Find Your Next Credit Card at Credit Sesame
Personalized card offers tailored to your needs
Need to transfer a balance? Looking for a new rewards card? Ready to start building credit? Save time (and headaches) by letting Credit Sesame find your perfect card match!
How to Pawn a Car Title
If you've weighed all the options and you're set on pawning your car title for cash, it helps to know what to expect. Here's a simple guide to getting a title pawn loan.
Step 1: Decide how much you need to borrow
The first thing you'll need to do when considering a title pawn is figure out how much money you need.
As a general rule of thumb, keeping the loan amount small is usually a good idea. The high interest rates you might pay can make even a $500 title pawn loan expensive.
Also, keep in mind that pawn lenders may have a minimum loan amount you're required to borrow.
Step 2: Estimate your vehicle's value
How much can you get for a title pawn loan? It's different with every title lender but generally, you should be able to borrow anywhere from 25% to 50% of your vehicle's value.
Checking your car's value on Kelley Blue Book can give you a ballpark idea of what you might be able to borrow. If you know someone who does professional car appraisers, you might ask the if they'd be willing to throw out a number for you so you have some negotiating power at the pawn shop.
Step 3: Find a reputable pawnbroker
There are lots of pawn shops out there but some have a better reputation than others. It pays to take your time to find a legitimate title pawn lender to work with.
Some of the hallmarks of a reputable pawnbroker include:
Proper licensing, which is on display at their store location
An up-to-date website that doesn't look spammy and includes all of the pawnbroker's contact information
Friendly staff with team members who have extensive experience working in the pawn industry
A reputation for excellent customer service
Clearly posted business hours and a telephone number you can call if you need help
Reading online reviews from past customers can give you a better idea of what people like or don't like about a particular title pawn company. You can also ask friends, family members, or coworkers for recommendations of reputable pawn shops they might have used in the past.
Step 4: Complete the application
Once you choose a title pawn company, the next step is applying for a loan. If you're applying online, you'll need to fill out an electronic form; if you're applying at a store location, you'll complete a paper application.
In terms of what you need to apply for a title pawn loan, the list includes the following items:
Valid government-issued ID, such as a driver's license
Proof of income, including pay stubs or tax forms
A clear title for a motor vehicle that you own
You'll need to be at least 18 to get a title pawn, though some states may raise the age limit to 19. If you don't have a job because you're disabled or unemployed, you can usually substitute proof of disability payments or unemployment benefits in place of pay stubs.
Whether you're subject to a credit check or not depends on the title pawn broker. In most cases, you can pawn a car title without a hard credit check.
Step 5: Get a loan offer
Once you submit an application, the pawnbroker will review your personal details. Then, they'll assess your car's value and make a guaranteed offer for a loan.
Again, loans are usually anywhere from 25% to 50% of the value. So if your car appraises for $10,000, you might be able to get a loan for $2,500 to $5,000.
You'll have a chance to review the loan offer and terms first to decide if you want to move ahead with borrowing.
Step 6: Sign the paperwork and collect your money
If you're satisfied with the loan terms, then you'll just need to finalize the paperwork.
Usually, this means signing a few forms and handing over your car's title as security. Once the paperwork is done, you can get your money.
Step 7: Pay the loan back on time
Last and most importantly, you'll need to pay down your loan balance on time, based on the schedule set by the lender.
You might make monthly payments or biweekly payments, depending on the title pawn company structures loans. It's important that you don't miss any payments, since that could cause you to lose your vehicle.
If you think you might need more time to pay off the loan, you could ask for an extension. But keep in mind that just means paying more interest, fees, and finance charges.
So if you DO decide to get a title pawn, it's best to pay back what you borrow as soon as possible.
Need Loan Funding Fast?
Get a personal loan from Upstart
Upstart offers unsecured personal loans ranging from $1,000 to $50,000. Get cash to consolidate dates, pay off medical bills, or cover emergency expenses. There are no hidden fees and you can get funds as quickly as the next day after you're approved.
Frequently Asked Questions (FAQs)
What is the definition of title pawn?
A title pawn is a pawn transaction that allows you to get cash in exchange for your vehicle's title. Assuming you pay back what you borrow, you get your title back from the pawnbroker. If you default on a title loan, then the lender can keep your vehicle title and take possession of the car.
What are two disadvantages of a title loan?
There are two big drawbacks associated with title loans. First, the interest rates and finance charges can be astronomically higher than the rates you might pay to a personal loan or even a credit card. Next to payday loan cash advances, they're one of the most expensive borrowing options. Additionally, failing to pay back a title loan on time puts you at risk of losing your vehicle.
What is the highest title loan you can get?
Title pawn loans are usually worth 25% to 50% of the vehicle's appraised value. It's not uncommon to find title pawn lenders that offer loans ranging from $100 to $5,000. Some lenders may offer larger loans of up to $10,000 or more, depending on the value of the vehicle you plan to use as collateral.
Can you pawn more than one title at a time?
It's possible to have more than one title pawn loan outstanding at the same time. You'll need to have more than one vehicle that you own with a clear title to get multiple loans. You can't take out more than one title loan using the same vehicle as collateral. Having multiple title loans is risky, however, since you'll have more expensive debt to repay.
How to choose a title pawn near me?
When pawning a car title, it's important to research different pawn lenders to find one that offers the best terms and has a good reputation. Checking online reviews, talking to friends and family and doing a local internet search can help you find the best title pawn company to work with.
Is it better to pawn or sell a vehicle?
Pawning your car using a title loan could make sense if you need cash fast and you're confident you can pay the loan back. Otherwise, you risk losing your car if you can't pay. If you no longer need the vehicle, then it could be better to sell vs. pawn it.
Final Thoughts on Title Pawn Near Me
Pawning your car's title usually isn't an ideal way to get cash quickly when you need it. But if you have no other options, it's good to know that you can search for 'title pawn near me' to find fast funding. Just remember that it's important to plan your budget carefully so that you can pay your loan back on time to avoid having to forfeit your vehicle.
Need more money tips? Read these posts next:
What's your best tip for finding a title pawn near me?