Last Updated on June 25, 2022 by Rebecca Lake
If you're looking for a simple but effective way to budget, the cash envelope system might be right for you.
When you budget with the cash envelope method, you allocate cash to envelopes that represent each of your budget categories. Instead of spending with a debit card, you spend only the cash in those envelopes.
(And if you spend any time on TikTok, you might have heard this budgeting system referred to as "cash stuffing".)
One of the most important steps when creating a cash envelope budget is choosing your cash envelope categories.
That means deciding two things:
Which expenses should get their own envelopes
How much money to put in each of your cash envelopes
Figuring out which cash envelope categories to include can help you budget more accurately (and maybe even have a little money left over at the end of the month to fund your financial goals!)
Here's a closer look at how to choose cash envelope categories if you're ready to take control of your finances with the cash budget method.
Related post: Cash Envelope System for Beginners (Get Started in 3 Easy Steps)
What Is Cash Envelope Budgeting?
The cash envelope budgeting system is a budgeting method made popular by finance guru Dave Ramsey. This system involves adding cash to money envelopes, with each envelope representing different spending categories.
Here's how the cash envelope budget works in a nutshell:
Track your spending. This is the very first thing you need to do if you want to make a cash budget. You can use a free tool like Personal Capital to keep track of where your money goes each month.
Make your budget (based on your take-home pay). If you don't have a budget yet, this budgeting guide can help you make one fast. And I've got a free budgeting worksheet at the end of this post that you can use to make a monthly budget.
Choose your cash envelope categories. Each envelope category represents a different variable expense. Meanwhile, you'll pay regular bills (for example, a fixed expense like your mortgage) using your bank account.
Decide how much cash to put in different envelopes. Some cash envelopes may have more cash than others, based on your spending habits.
Add cash to the appropriate envelope. Again, you'll need to have a budget to choose the right amount of money for each envelope. Using a cash envelope wallet can help you keep everything organized.
When you need to make a purchase in a particular budget category, you use cash from the envelope.
So, for example, if you're going to the grocery store you'd pull dollar bills from your grocery envelope. You'd deduct the purchase from the monthly amount you've assigned to that envelope.
Once you spend all the cash in your envelopes you can't spend anything else in those budget categories until the next month. (Or until the next paycheck if you allocate cash to your envelopes each pay period.)
If you have extra cash in your envelopes at the end of the month, that's a bonus! Here's what you can do with leftover cash envelope money:
Add it to the amount of cash you earmark for that envelope for the next month (for example, you might add it to your grocery budget)
Deposit it into a high yield savings account to grow your emergency fund
Use it to pay down credit card debt
Treat it as "fun money" (if you have enough money to cover all your expenses and pay bills)
The bottom line?
The cash envelope system is designed for people who want to manage their spending habits. It's a great way to keep your monthly expenses in line with your monthly income.
Related post: 20 Things to Stop Buying That Can Save You Serious Money
?If you're looking for some cash envelopes to get started, be sure to check out the cute options in the Boss Single Mama shop!
How to Choose Cash Envelope Categories
The money that goes into your cash envelopes should represent your variable spending categories. Variable expenses are expenses that may fluctuate from month to month. A fixed expense, on the other hand, stays the same from month to month.
The first step in defining your variable expenses is reviewing your personal budget. If you're completely new to budgeting, you can use your bank statements and credit card statements to categorize your spending.
Variable expenses include things like:
Groceries
Gas and transportation
Personal care
Dining out
Hobbies and recreation
Entertainment
Travel
Pet care
The reason it makes more sense to use cash envelopes for variable expenses is that you might use other methods to pay regular bills.
For example, many people use their checking account to pay fixed monthly expenses such as:
Rent and mortgage payments
Utility bills
Internet bills
Insurance premiums
A car payment
Monthly credit card payment
Student loan payments
You can pay bills from your bank account using automatic bill pay, ACH transfers, a paper check or your debit card.
If you get paid through direct deposit, that can make it easier to time bill payments each pay period. And you might use a debit card or credit card for online purchases as well.
On the other hand, it's easier to spend cash on things like gas or grocery shopping. Carrying a paper envelope (or separate envelopes) replaces the temptation to swipe your debit card or add to your credit card bill.
This old school envelope budgeting method can be a great way to stay within your spending limits. And psychologically, using actual cash to spend is a good idea since it can help to curb impulse purchases.
Related post: How to Stop Spending Money: 23 Practical Ways to Spend Less, Save More
Recommended Cash Envelope Categories
There are a few different ways to approach stuffing cash envelopes. The best way for you will depend on each spending category you include in your budget.
First, you can go broad when creating cash envelope categories. For example, you might limit yourself to just 5 to 7 cash envelopes.
The upside of this approach is that fewer envelopes mean less to keep up with.
On the other hand, you could take the opposite approach and create cash envelope categories for all of your variable expenses, including ones you don't necessarily have each month.
You might use this strategy if you use sinking funds to save for planned expenses.
A sinking fund is a savings fund that holds money you plan to spend later. So you might set up a sinking fund for car repairs or pet care.
This savings method helps ensure you have enough cash to cover those expenses when the time comes.
Related post: Free Printable Sinking Funds Tracker
Here are some cash envelope category ideas to get you started, with suggestions for expenses they might be used to cover.
Food
Groceries
Farmer's market purchases
Take-out and delivery
Restaurant meals
School lunches (if you have kids)
Work-related meals (such as lunch outings or company dinners)
Entertainment
Movies
Alcohol
Date nights
Family nights
Moms night out
Concert tickets
Sporting events
Theater tickets
Festival tickets
Travel
Hobbies and Recreation
Books
Craft supplies
Outdoor equipment
Gym equipment
Yoga supplies
Gardening supplies
Course fees
Gym subscriptions
Home
Decor items
Home maintenance
Home repairs
Cleaning supplies
Organizing supplies
Furniture
Accessories
Tools
Yard maintenance supplies
Transportation
Gas
Oil changes
Vehicle maintenance
New tires
Car repairs
Tolls
Parking fees
Bus/taxi fare
Roadside assistance
Vehicle registration/taxes
Bike maintenance (if you ride a bike)
Allowances/pocket money
Kids allowance
Personal spending money
Spouse/partner spending money
Pets
Pet food
Pet treats
Bedding
Accessories/clothes
Pet toys
Grooming
Veterinary care
Medicines and vitamins
Boarding/kennel fees
Pet sitter/dog walker fees
Clothing
Kids clothing
Adult clothing
Uniforms/work clothes
Dry cleaning/laundry service fees
Alterations/tailoring
Clothing repair
Shoes
Accessories
Kids
Field trip fees
Homeschool fees (if you're a homeschooling family)
School supplies
School fees
Toys and games
Books
Extracurricular fees
Sports fees
Lessons (i.e., music lessons, art lessons, etc.)
After school care
Babysitting/childcare/daycare fees
Health
Prescriptions/medications
Co-pays
Out-of-pocket medical bills
First Aid supplies
Vitamins and supplements
Holidays/Special Occasions
Miscellaneous gifts
Birthday gifts
Holiday gifts
Special occasions (Mother's Day, Father's Day, etc.)
Birthday parties
Holiday parties
Co-worker gifts
Holiday meals
Halloween costumes
Holiday decorations
Special occasion decorations
The best way to figure out which cash envelope categories to use is to monitor your spending for a month or two, then experiment.
The great thing about the cash envelope budgeting method or cash stuffing is that you have control over how–and where–you spend. So you can tailor your cash envelope categories to fit your lifestyle.
Again, you can use a free tool like Personal Capital to track your spending.
Dave Ramsey Envelope Categories
The Dave Ramsey budgeting method uses percentages to divide up your income into different budget categories. Specifically, Dave Ramsey suggests using these 11 categories to budget:
Food – 10% to 15%
Transportation – 10%
Utilities – 5% to 10%
Housing – 25%
Health – 5% to 10%
Insurance – 10% to 15%
Recreation – 5% to 10%
Saving – 10%
Giving – 10%
Personal – 10%
Miscellaneous – 5% to 10%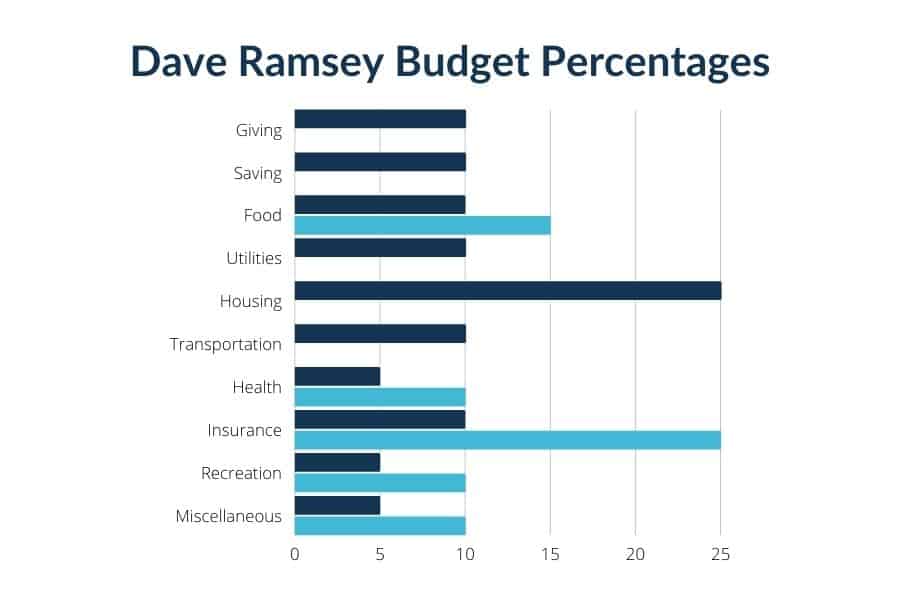 If you follow the Dave Ramsey budget system, you could use cash envelopes to cover some of these budgeting categories.
Again, you'd want to choose the variable spending categories and pay fixed expenses from your bank account. So following that rule, you might use these cash envelope categories:
Food
Transportation
Health
Recreation
Giving
Personal
Miscellaneous
Related post: Budget Percentages Explained: 3 Easy Ways to Create Your Ideal Budget
Can You Use a Cashless Envelope System Instead?
If you'd rather not carry around dollar bills in a cash envelope wallet, you could try the digital envelope system instead.
This involves using a budgeting app like Qube Money to set up digital cash envelopes. You link the app to your bank account to track your spending automatically.
For budgeting purposes, opting for a cashless envelope system isn't much different than spending with actual cash. And you can get away with carrying less money on you.
But it may be easier to overspend using your debit card versus cash spending. So consider how committed you are to sticking with your cash envelope categories each month.
?If you're looking for some cash envelopes to get started, be sure to check out the cute options in the Boss Single Mama shop!
Cash Envelope Categories FAQs
How do you organize cash envelopes?
Organizing cash envelopes starts with deciding how many envelopes you need, then writing the name of each expense category on the outside of the envelope. You can then add the appropriate amount of money to each envelope.
A simple way to organize cash envelopes is using a cash envelope wallet. Here are some super cute cash envelope wallets I found on Amazon!
Cash Envelope Wallets
How many cash envelopes should I have?
The amount of cash envelopes you should have depends on how many variable spending categories are in your budget. A good number of cash envelopes to have is 5 to 7, which can help you separate spending without making it too complicated.
What do you label cash envelopes?
For each cash envelope you have, you'd label it according to its spending category. So you might have one cash envelope labeled "grocery shopping", another labeled "gas and transportation" and another envelope labeled "home".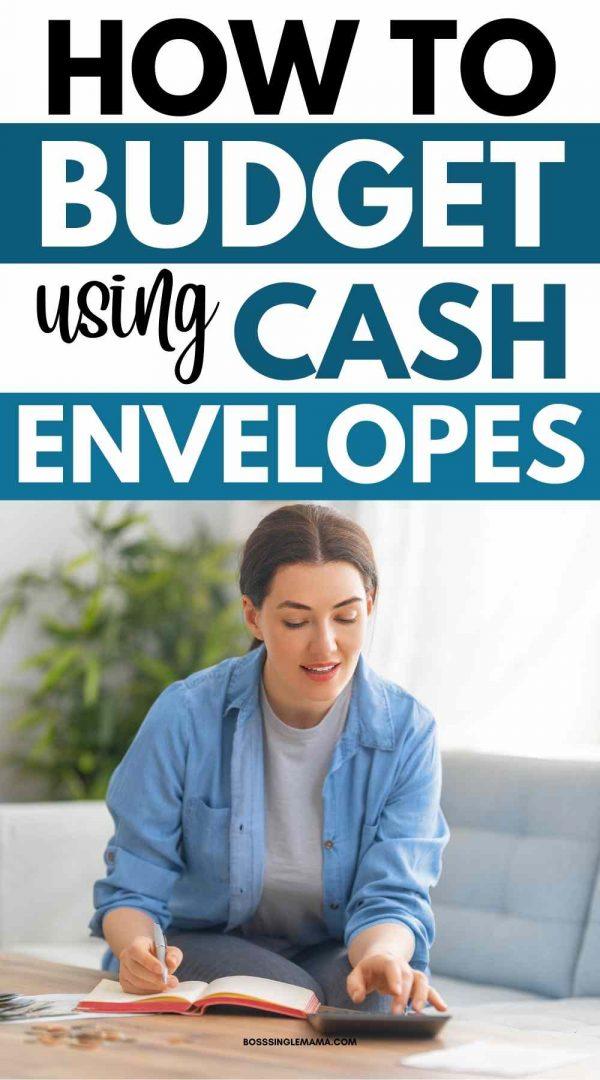 Get Free Cash for Your Envelopes!
Looking for some easy ways to get free cash to add to your cash envelopes? Download these amazing cashback apps to get free money now!
Ibotta
Ibotta rewards you with cashback when you shop for groceries, household items, clothing and more from top retailers. Here's how it works:
Link your debit card or credit card
Add your store loyalty cards
Shop and earn cashback on qualifying purchases!
Ibotta will even give you up to $20 in bonus cash just for signing up. Get your free $20 cash bonus from Ibotta today!
Rakuten
Rakuten is another top cashback app that pays you real cash when you spend on everything from clothes to school supplies to travel.
You can earn cashback on purchases from top retailers like Best Buy, Macy's and Target. Plus, you can get coupons for added savings when you spend!
Like Ibotta, Rakuten also offers a signup bonus and you can earn bonuses for referring new members. Those bonuses can be worth up to $40, so if you're not using Rakuten to earn free cash yet, sign up now!
Dosh
Dosh makes earning cashback simple. You link your debit card or credit card, spend and earn cashback.
The great thing about using Dosh is that you can rotate between it, Ibotta and Rakuten to maximize cashback earnings everywhere you go. All of these apps are free so they basically pay you back money that you were already planning to spend.
Download Dosh and start earning cashback now!
Final thoughts on cash envelope categories
Budgeting with cash envelopes, whether you use paper envelopes or digital envelopes, might be the best option to try if you've struggled for a long time to find the right budgeting system. It can also help you to stop overspending so you don't have to turn to credit cards or worse, risky payday loans, to cover the gaps.
Ready to take the next step? Get started with cash envelope budgeting today!
Need more budgeting tips? Read these posts next:
Cash Envelope Categories