Last Updated on November 12, 2022 by Rebecca Lake
Survey Junkie Review: One of the Best Legit Survey Sites That Pay
Is Survey Junkie legit? Learn whether Survey Junkie is the real deal and how to use it to make extra money!

And for more ways to get paid for taking surveys, check out Swagbucks and InboxDollars!
Taking surveys online can be a quick and easy way to make extra money. But not all survey sites are legit and some pay better than others.
Survey Junkie is one of the most popular places for finding online survey jobs. But if you've never used it before, you might have questions like:
Is Survey Junkie legit or is Survey Junkie a scam?
How does Survey Junkie work?
Can you really make money with Survey Junkie?
How do you get paid from Survey Junkie?
How long does it take for Survey Junkie to pay you?
I've got answers to those questions and more. So let's dive into this Survey Junkie review to learn the pros and cons and whether it's one of the best legit survey sites that pay.
And if you already know that you want to give Survey Junkie a try, click the button below to sign up and start earning money!
What Is Survey Junkie?
Survey Junkie is a free online platform that pays everyday people like you for completing surveys.
According to the site, Survey Junkie is a place to "Be an influencer. Share your opinion to help brands deliver better products & services."
So what does that mean?
In simple terms, Survey Junkie works with companies to test out new products and ideas. You share your opinions on products and services and in return, Survey Junkie pays you real money.
Is Survey Junkie legit?
It's understandable that you might be wary of online survey sites that promise easy cash for little effort.
And one of your biggest questions might be: "Is Survey Junkie a scam?"
Thankfully, the answer is no.
Survey Junkie is a 100% legitimate company that pays you to take surveys online. The company has been in business since 2011 and it's one of the more well-known legit survey sites that pay.
It has a 4.5 star rating on Trustpilot, which is excellent. It also earned a 4.44 star rating out of 5 from the Better Business Bureau.
Survey Junkie is transparent about how it works and what it can (and can't) do for you. The website states upfront that, ""You will NOT get rich by taking surveys" so it doesn't get more honest than that.
With that in mind, you're probably now wondering is Survey Junkie worth it?
I'll share my thoughts on that a little later in this Survey Junkie review. But for now, let's look at how Survey Junkie works.
Is Survey Junkie safe?
Online survey sites can be legit but being safe is something different.
The good news is, Survey Junkie is safe when it comes to how your information is shared and protected.
Survey Junkie aggregates the responses it receives from its user before those are shared with third parties. Those responses are stripped of personal data like your name or email address.
Survey Junkie also uses secure measures to protect your bank information so you can get paid. But if you'd rather not share your bank details, then you can also choose to get paid through PayPal or an e-gift card. 
Related post: 37 Creative Side Hustles That Can Help You Make $100 a Day (or More!)
How Does Survey Junkie Work?
Signing up for Survey Junkie is easy and it only takes a few minutes. Here's a step by step guide to getting your account set up.
Create your free Survey Junkie login
You can create a Survey Junkie login using your Google account or Facebook account. Or you can simply enter in your email if you use a service other than Gmail.
You'll need to share some personal information, including your:
First and last name
Date of birth
Gender
ZIP code
Country of residence
Once you've done plugged in those details you'll a confirmation email from Survey Junkie.
Complete your Survey Junkie profile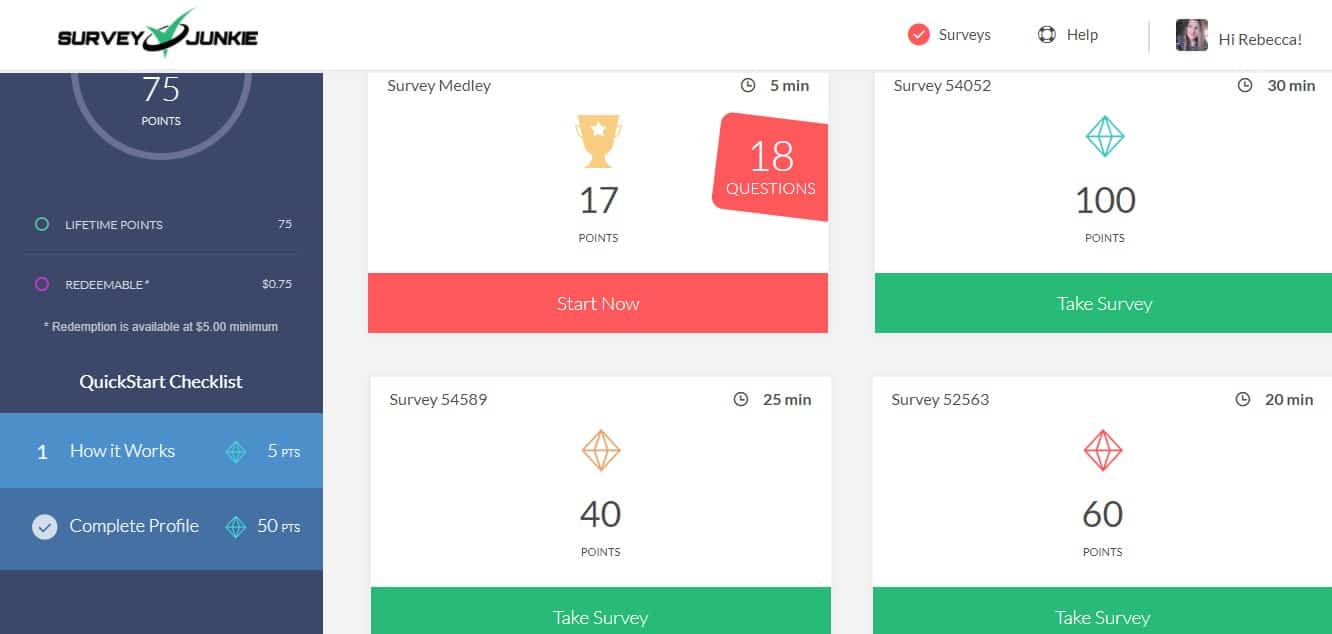 At this point, you can use your Survey Junkie login to access your account. This is where you'll fill out your profile.
When I signed up, I got 25 points right off the bat. You can snag an additional 50 points by completing your profile, which I did.
This involves answering a variety of questions about things like:
Pets you own
Whether you have children
Household income
Your employment
Survey Junkie uses this information to decide which kind of surveys to send you.
Once you've completely filled out your profile, you should see some surveys already in your Survey Junkie dashboard.
To earn points that you can turn into cash, you just click the survey you want to take and complete it. It's that simple!
Set up activity preferences
Survey Junkie gives you more than one way to make money besides taking surveys. You can also get paid for testing products or participating in focus groups.
When you login to your new account, you can complete a mini-questionnaire telling Survey Junkie if you'd like to participate in:
Product testing
Online focus groups
In-person focus groups
Phone surveys
You definitely DO NOT want to skip this part because your preferences could help you make more money with Survey Junkie.
We'll get into how much can you make with Survey Junkie just ahead.
How Much Can You Make With Survey Junkie?
No one wants to spend their precious time taking surveys online to earn payments. So how much does Survey Junkie pay is probably one of your biggest questions.
Typically, Survey Junkie pays between $0.50 and $3 per survey. But you can earn more money by taking part in product testing or focus groups through the app.
Here's the pay rate for those extra activities Survey Junkie asked you about:
Product testing: Up to $50
Online focus groups: Up to $125
In-person focus groups: Up to $150
Phone surveys: Up to $100
You won't be offered these opportunities as often as you will new surveys. But those are still some pretty sweet pay rates for doing simple tasks!
How much money can you make with Survey Junkie really depends on how often you're completing surveys.
So if you take just one survey per week, then you might make a few bucks at best. But if Survey Junkie sends you multiple surveys each week, you could easily earn more.
What you have to keep in mind here is that you're getting paid money for just a few minutes of your time. So while it isn't one of the highest paying at home jobs, it is easy money
Say you take three 20-minute surveys in one hour and earn $9. That's still more than the minimum wage in the U.S., incredibly enough.
So keep that in perspective as you try to gauge how much you could earn with Survey Junkie.
Related post: 30 Proven Ways to Make an Extra $1000 a Month (or More)
How do you get paid from Survey Junkie?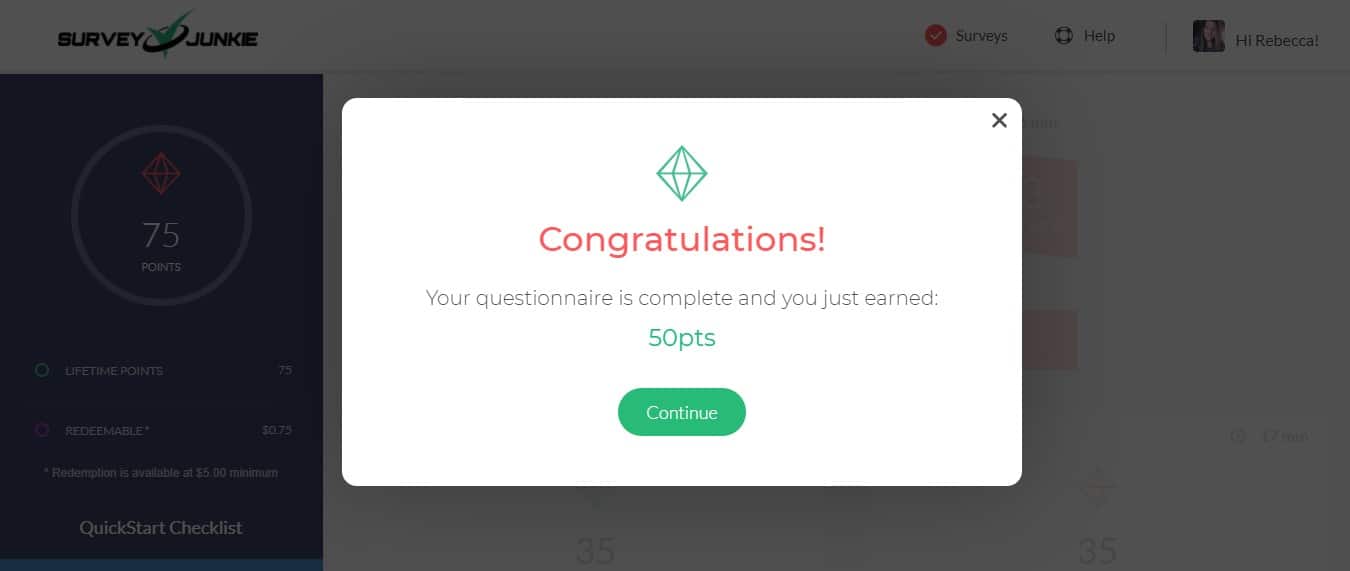 When you take surveys with Survey Junkie, you earn points for each survey. You can also earn additional points by installing the Survey Junkie Pulse browser extension.
Points for surveys can range from 2 to 200, depending on what's involved. Generally, the longer the survey, the more points you earn.
Every 1,000 points you earn with Survey Junkie is equal to $10 in cash (USD).
So how do you get paid from Survey Junkie?
Once you reach 500 points you can redeem them for $5 in cash.
This money can be transferred to a bank account, a PayPal account or an e-gift card.
If you're redeeming points through PayPal or a bank transfer, you have to redeem all your points at once. You have the option to only redeem some of your points if you're getting an e-gift card.
E-gift cards are redeemable in rounded dollar amounts. So you can get them for $10, $15, $20, etc.
Any points you have left over after redeeming for an e-gift card can be sent to your PayPal or bank account. There's no maximum limit on the number of points you can redeem.
How long does it take for Survey Junkie to pay you?
Compared to other online survey sites, Survey Junkie is speedy about paying its users.
As soon as you reach the 500-point minimum required to redeem, you can cash out your points.
In terms of how long it takes to get your money, it depends on which payment method you choose.
Transfers to PayPal can show up in minutes. But transfers to a bank account or e-gift card can take longer to process.
Benefits of Survey Junkie
Is Survey Junkie legit?
Most definitely, yes. But is it the best place to make money online taking surveys?
Let's look at some of the advantages.
Easy to get started
It takes minutes to create a Survey Junkie login and start earning points. The website is clean and easy to navigate as well.
And Survey Junkie doesn't complicate things by overwhelming you with ways to make money. You take surveys, you earn points, you get paid.
It's that simple, unlike other sites which may barrage you with ways to make money watching videos, shopping online or playing games.
Flexible payment options
Survey Junkie offers an advantage since the payout threshold is just 500 points. And you have more than one way to get paid, including:
PayPal transfers
Bank transfers
E-gift cards
That's better than someone online survey sites that require you to get a paper check or e-gift card only.
Get paid quickly
Being able to cash out points earned with Survey Junkie is another plus.
Once you reach 500 points, you can get $5 in cash almost instantly! That makes Survey Junkie a standout compared to some online survey sites that might hold your points or cash rewards for several days.
Never miss a survey
Survey Junkie notifies you by email every time you have a new survey.
You can click through to your Survey Junkie login, complete the survey and snag some quick points. This means you don't have to worry about monitoring the site or your account for new survey opportunities.
Bonus earning opportunities
Survey Junkie is great because you're not just limited to earning extra money from taking surveys.
You can also get paid to participate in focus groups, phone surveys or test products. Even if you only do one or two per month you could easily earn $100 or more on the side.
And you can also get more points by downloading the Survey Junkie Pulse browser extension.
Good customer service
Survey Junkie makes it easy to get help if you need it.
There's a detailed FAQ section that includes questions on everything from how to earn points to how to redeem them. And if you need more help you can reach out to customer support via secure message and get a reply within 48 hours.
Drawbacks of Survey Junkie
Now that you know what's good about Survey Junkie, let's consider why you may want to try another online survey site.
Some of the questions are repetitive
One thing I noticed about taking surveys with Survey Junkie is that I was asked to answer the same question multiple times.
For example, there's a technology survey and a shopping survey you can complete for extra points. Both asked me how often I shopped online, where I shopped, etc.
But if answering the same questions more than once doesn't bug you then this might not be a huge downside.
May not be eligible for every survey
Survey Junkie offers a variety of surveys but you might not be able to participate in all of them. On average, Survey Junkie says its users qualify for 1 out of 5 surveys they receive.
But you won't know whether you're eligible to earn points or not until after you've completed the survey. So it's possible you could burn a few minutes taking a survey that you don't qualify for.
The good news is, Survey Junkie doesn't let you walk away empty-handed. You can still pick up a few points just for taking the survey.
User complaints
Like any other business, Survey Junkie has received its fair share of complaints.
You can read through all of them on Trustpilot or the Better Business Bureau website. But if you want the tl;dr version, most complaints are linked to:
Unexplained account closures
Difficulties with cashing out and receiving payments
So is Survey Junkie legit? The answer is still yes but that doesn't mean it's completely bug-free.
But again, you can reach out to customer service and get a response within 48 hours if you have an issue.
Earning potential
Survey Junkie says right on the website that you won't get rich taking surveys.
And honestly, that's true.
Taking surveys through Survey Junkie or another site like Swagbucks or InboxDollars can put some extra money in your pocket. But it's probably not going to be enough to generate a six-figure income.
Still, that itself isn't a reason to take a pass on Survey Junkie. At the end of the day, it's a quick and easy way to make extra money in your spare time.
Related post:
How to Make $10,000 a Month: 10 Online Side Hustles That Earn Six Figures
Final Verdict: Is Survey Junkie Legit and Is It Worth Your Time?
After reading through this Survey Junkie review, you should now be able to tell that Survey Junkie is indeed legit.
The bigger question is, is it worth your time?
If you want a simple way to make money in your spare time without getting a real job, then yes. Survey Junkie can put a few extra bucks in your pocket easily and quickly.
You can use Survey Junkie to earn alongside other survey sites. And to get you started, here are 15 of the best survey sites to try now to make extra money.
Besides that, consider other ways to make money online. There are hundreds of ways to make money besides taking surveys so it's worth exploring the most popular side hustle ideas.
Survey Junkie Review: Is Survey Junkie Legit and How to Make Money