Last Updated on May 13, 2023 by Rebecca Lake
Side Hustles for Single Moms
Looking for side hustles for single moms that make real money?
The best side hustles for single moms include freelancing, blogging and working as a virtual assistant. Single moms can also make extra money driving for Uber or Lyft, shopping with Instacart or delivering food.
An estimated 34% of Americans have at least one side hustle. The average woman earns just over $6,000 a year from side jobs.
Starting a side hustle can help you grow your income, save money and pay off debt. And there are so many amazing side hustles for women to choose from.
Today, we'll take a look at some of the best side hustles for single moms who need money desperately or just want to make some extra cash.
Related post: 30 Inspired Gift Ideas for Hustling Single Moms
Why Do Single Moms Need a Side Hustle?
Single moms need a side hustle because making more money is one of the keys to surviving financially.
When I started my freelance writing side hustle what seems like forever ago, I was a newly minted stay-at-home-mom. I had my hands full with a toddler and a newborn but I was looking for a creative outlet.
So I decided to look for a way to make some money from home while still being a full-time mom.
For a while, I tinkered with being a virtual assistant. Then I realized there was something else I was better at: writing.
I found a website that would actually pay me to write for them and boom–my side hustle was born. And my hustle is now a full-time business.
The benefits of having a side hustle as a single mom include:
Being able to make more money so you're not stressed about paying bills
Earning money on a flexible schedule so you don't have to sacrifice time with your kids
Making extra cash so you can build savings or pay down debt
Being able to chase down your big (or small) financial goals
Escaping the paycheck to paycheck cycle so you can build wealth
Ready to start making money, mama? Then let's take a look at the best side hustles for single moms.
Related post: How to Sell Feet Pics Online for Easy Money
What Are the Most Profitable Side Hustles for Single Moms?
Some side jobs for single moms are better than others. And some just aren't a good fit for a busy single mama with kids to raise and a full-time job.
So this list of side hustles for single moms considers two things:
The amount of time they require you to put in
How much money they have the potential to generate
Time is something you don't always have a lot of as a single mom. Especially if you're working a full-time job outside the home.
If you're a single mom whose kids are with you most or all of the time, then side hustling usually takes a back seat to working, taking care of kids, taking care of the house and (hopefully) taking care of yourself too.
So it's important to choose side hustles that work with your schedule. And if you have a limited amount of time to pour into a side hustle as a single mom it needs to be worth it financially, right?
These side hustles are ones single moms and pregnant moms can do in their spare time. And they're ones that can pay off in a big way while letting you make money fast.
Related post: Financial Help for Single Moms Ultimate Guide
1. Freelance writing
Freelance writing is at the top of the list of best side hustles for single moms who want to make money on a flexible schedule, using the skills they already have.
So what do you need to be a freelance writer? First, let me tell you what you don't need: a fancy degree in journalism, English or creative writing or a professional background as a writer.
If you're a single mom who's thinking that freelance writing isn't for you because you don't have any writing experience, I can tell you that's definitely not the case.
Here's what you do need:
A niche, or a specific topic you have a sustained interest in
Basic writing skills (or a willingness to learn them)
A starter portfolio that has some samples of your writing
A good laptop and decent internet
Determination, patience and a little confidence
If you've got those things, you can tackle the next step: looking for freelance writing jobs. WritersWork and FlexJobs are two great places to start.
If you're interested in learning more, you can sign up for this FREE course on how to become a freelance writer.
2. Blogging
Blogging isn't a get-rich-quick scheme. But it can be one of the most profitable side hustles for single moms if you're interested in starting a money-making blog.
Blogging is a great side hustle for single moms who love to write and want a creative way to make money. Though some parts of it are hard, a lot of it is really fun!
You can challenge yourself to learn new skills. And you can connect with other amazing single mom and mom bloggers by joining Facebook groups for blogging.
If you want to start a blog as a side hustle, here's an in-depth guide to blogging for money that can help.
Ready to start your own blog or website? It's easy to get started with your own domain and hosting through Siteground. Plans are affordable, which is perfect for beginners!
3. Virtual assistant
Being a virtual assistant comes in third on the list of side hustles for single moms because they're in such high demand. Large and small businesses need help with doing day-to-day tasks and that's where VAs come in.
The average virtual assistant makes around $20 an hour, which works out to around $40,000 a year.
Some VAs out there are making $10K or more every month. There's a lengthy list of virtual assistant services single moms can offer to make money.
For example, you could:
Specialize in Pinterest management
Handle social media or blog management
Be a VA for real estate agents or brokers
Offer digital marketing services
Be a virtual administrative assistant
That's the great thing about starting a VA side hustle–you can tailor the services you offer to fit what you're good at.
If you don't know where to start with being a VA, Gina at Horkey Handbook is an expert on this topic. She has an awesome (and affordable) course on how to jumpstart your VA biz with minimal investment.
4. Proofreading
Want to get paid to read? That's what you can do when you start a side hustle as an online proofreader.
Online proofreading jobs are some of the best side hustles for single moms because it's flexible work. You can work a few hours a week, or more if you've got the time.
And you can make a pretty decent amount of cash doing it, too. According to ZipRecruiter, the average proofreader makes over $51,000 a year.
Being a proofreader means having a great eye for detail but again, it's not something you need a fancy degree to be good at. You just need to know the basics of capitalization, punctuation, spelling and grammar.
General proofreaders get paid to proof blog posts, articles and books for errors; transcript proofreading is a bit more technical. The upside of being a transcript proofreader, however, is that it tends to pay more than general proofreading.
There are tons of courses you can take online to learn to proofread. If you're looking for one to try, I recommend checking out Caitlin Pyle's free workshop to start. She walks you through the basics of starting a freelance proofreading hustle from home.

And for more details, you can also check out this in-depth guide on how to get paid to proofread.
5. Online transcription jobs – get paid to type
If you'd rather type than read, then becoming an online transcriptionist might be an ideal side hustle option.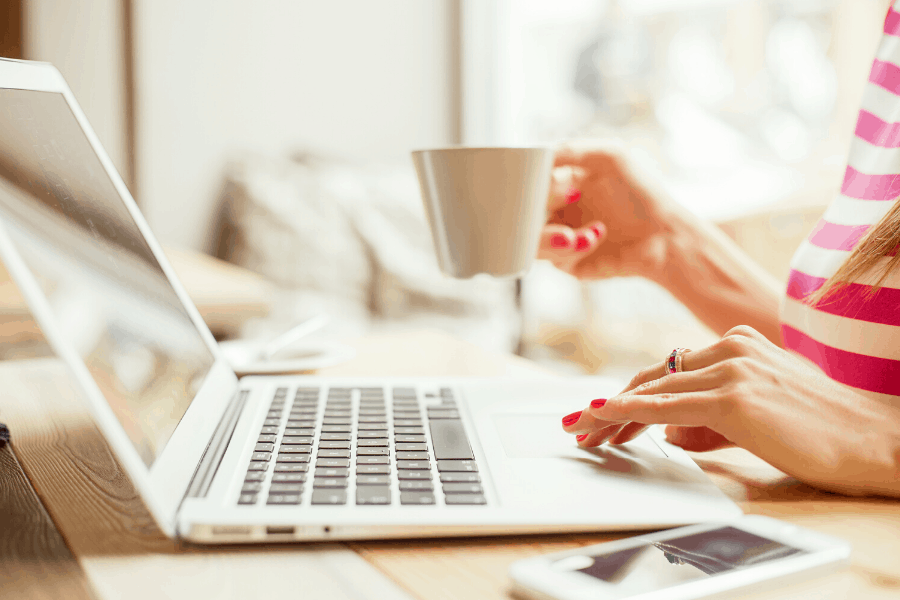 According to ZipRecruiter, you could make $45,000 a year on average with online transcription jobs. And you don't need a lot of money or extensive training to get started as an online transcriptionist.
If you don't know where to start, I've got two things you'll want to check out.
The first is this detailed guide I wrote to making money transcribing. And the second is a free webinar on how to make money transcribing from Transcribe Anywhere.
This mini-course costs nothing and it takes you through the basics of how to get paid to type online.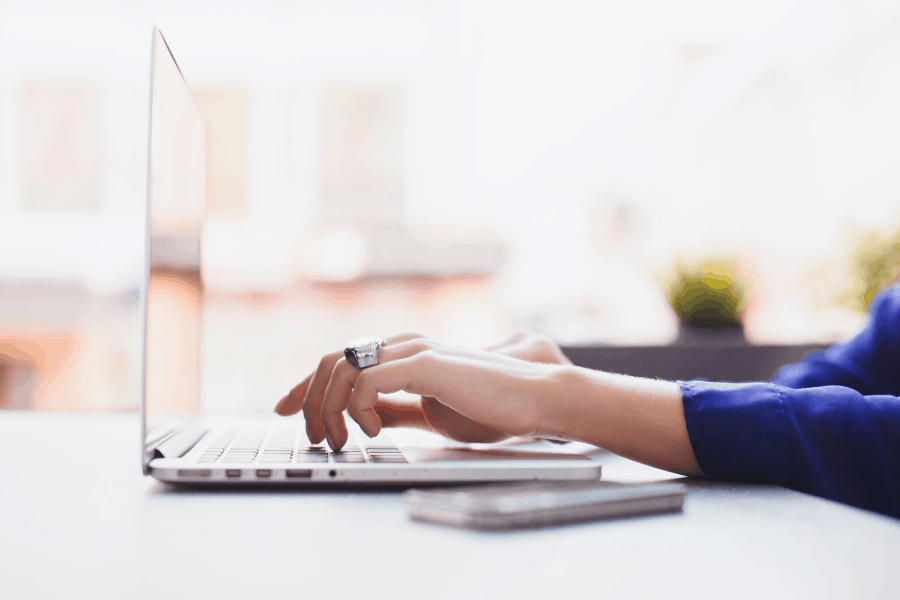 Want to get paid to type?
Learn how to become an online transcriptionist in this free mini-course!
6. Graphic design
Single moms who have graphic design skills could leverage them for a money-making side hustle.
There are lots of ways for single moms to make money as a graphic designer. For example, you could:
Design logos, freebie templates or Pinterest templates for bloggers
Offer website design services
Design and well WordPress themes
Start a t-shirt business and sell your designs on Redbubble
Sell digital products, like planners or printables
Offer graphic design consulting services
As far as finding work goes, you can try a freelance marketplace like Fiverr or Upwork.
But don't overlook the possibilities of starting a blog about graphic design or looking for gigs on job boards that cater to freelancers.
Some of the best job sites include Virtual Vocations and We Work Remotely. The wider you cast the net, the more leads you're likely to turn up for work.
Related post: 55 Amazing Gifts for Working Moms (Best Working Mom Gift Ideas!)
7. Tutoring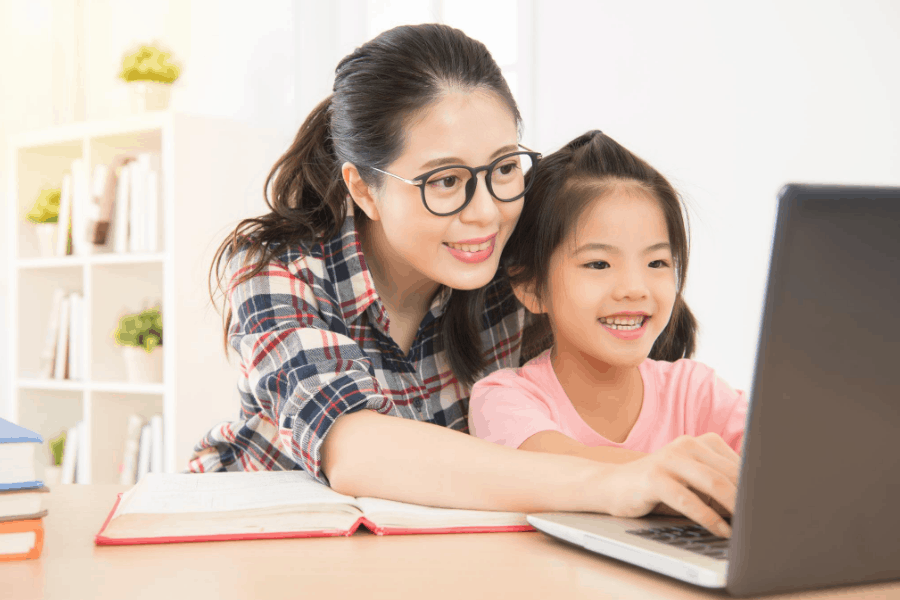 Tutoring might be one of the best side hustles for single moms to try if you've got a knack for guiding your kids through tricky math problems or anything else school-related,
There are two ways to tutor: online or in-person. For single moms, online usually offers the most flexibility.
You can pick which subjects you want to tutor students in, set your own hours and choose your rates. As side hustles for single moms go, tutoring is pretty low-hassle, low-stress.
If you need help with where to find tutoring jobs, check out these websites to get started:
Most of these sites are geared toward entry-level tutors. Make sure you read the fine print, though, so you know what qualifications are needed to offer services through the site.
8. Teach online at Outschool
Outschool is an online site where kids in grades K-12 can take classes alongside other kids from around the world.
The teachers come from q variety of backgrounds–there are certified teachers, homeschooling parents, professional authors and artists and plenty of parents who have a passion for a particular subject or topic.
If that sounds good to you, then teaching courses at Outschool belongs on your list of side hustles for single moms. You set your prices, choose the curriculum and create the class schedule.
Classes can be taught live via Zoom or pre-recorded so kids can enroll and follow along at their own pace. You can read my full guide to teaching with Outschool here.
And if you're ready to start making money you can sign up to teach on Outschool now.
9. Create and sell online courses for adults
You might have a topic you're interested in or passionate about. And if so, you can channel it into a profitable side hustle by creating and selling courses online.
There are three main platforms you can use to create and sell courses: Udemy, Teachable and Thinkific.
All three work along the same lines: you create a course, then list it on the platform at the price you want to charge. Students sign up for your course and you get paid.
It's free to set up a course through Udemy and Thinkific. Free access gets you the basic features you need to get your course up and running.
But if you want to eventually offer multiple courses, you can upgrade to higher account tier for a fee.
Teachable doesn't have a free sign up option; the basic plan is $29/month. The upside is that you can create unlimited courses that support unlimited students at that price.
10. Online bookkeeping
Becoming an online bookkeeper is one of my favorite side hustles for single moms who like number-crunching.
You can work on your own time and set your schedule. The money-making potential is great and you could easily make around $50,000 a year.
This is also an online side job that has low startup costs.
If you're interested in starting an online bookkeeping side hustle, take a look at this free intro course to building a profitable online bookkeeping business.
It details the basics of how to make money online as a bookkeeper.
11. Selling on Etsy
If you're a single mom with a crafty side, you could easily make money selling on Etsy.
It's easy to set up a shop and sell your homemade crafts or artwork. I recently set up an Etsy shop for my teen daughter, which I'll be able to hand off to her once she turns 18 and it took no time at all.
If you're not sure what to make and sell or how much to charge, you might want to spend some time browsing Etsy to see what's popular.
You can use that as your guide for what to include in your shop and how to price your products.
12. Fulfillment by Amazon
If you've ever sold anything on eBay or Etsy, using fulfillment by Amazon to sell may not be much of a leap as far as side hustles for single moms go.
The idea is simple: you buy items at discounted prices, then resell them through the Amazon marketplace.
Next time you're shopping on the site, check out the buying options. If you see one that says "Available from third-party sellers", odds are that's a Fulfillment by Amazon seller.
The Selling Family is making a healthy income with FBA — you can read more about how they do it in this in-depth post.
One thing that makes this idea different from some of the other side hustles mentioned here is that you'll need some cash to buy your first products to sell.
Starting a freelance writing or virtual assistant hustle, on the other hand, are things you can do with just an internet connection and a computer. So, if you're considering FBA, think about how much cash you'll need upfront to get started.
13. Blog flipping
Blog flipping can be one of the more lucrative side hustles for single moms if you don't have time to actually start a blog yourself.
Flipping blogs is kind of like flipping houses. You buy a domain at a discount, then resell it at a profit.
It sounds simple enough. But there's something of an art to it.
Because you have to be able to spot those domains that have the best potential resale value. And you're not just buying them, you sometimes have to spruce them up a little. That might mean:
Adding plugins
Installing a new theme
Adding some content
Promoting the site on social media or flipping marketplaces
So there's some work that goes into it if you want to be successful. It can be a real money-maker, though.
Jenn Leach makes thousands of dollars a year flipping blogs part-time. Alexis at FITnancials posted a great interview with Jenn about how she makes her money-making strategy work.
14. Publish eBooks or low content books
Selling ebooks or low content books can be one of the easiest side hustles for single moms who are interested in creating passive income.
An ebook doesn't necessarily have to be long to sell well or take a lot of time to write. And low content books have minimal content on the inside, so they can take less time to create.
Hubspot has a great how-to guide on creating ebooks that also works for low content publishing. If you're not sure what kind of book to create, ask yourself four questions:
What topics are you most knowledgeable about?
Which problems can you solve?
Are there people out there who would want this knowledge or have those problems?
And most importantly, would they pay for it?
If you can work out the answers to those questions, the actual writing of an ebook or the creation of a low content book becomes less intimidating.
Next, you'll need to decide where to sell your books.
Amazon is an obvious choice if you're interested in the Kindle Direct Publishing (KDP) Plbut Blurb, Payhip and Selz are other options. Just take a sec to read the fine print on the fees different platforms charge so you know what you're paying to host your ebook on their site.
15. Sell stock photographs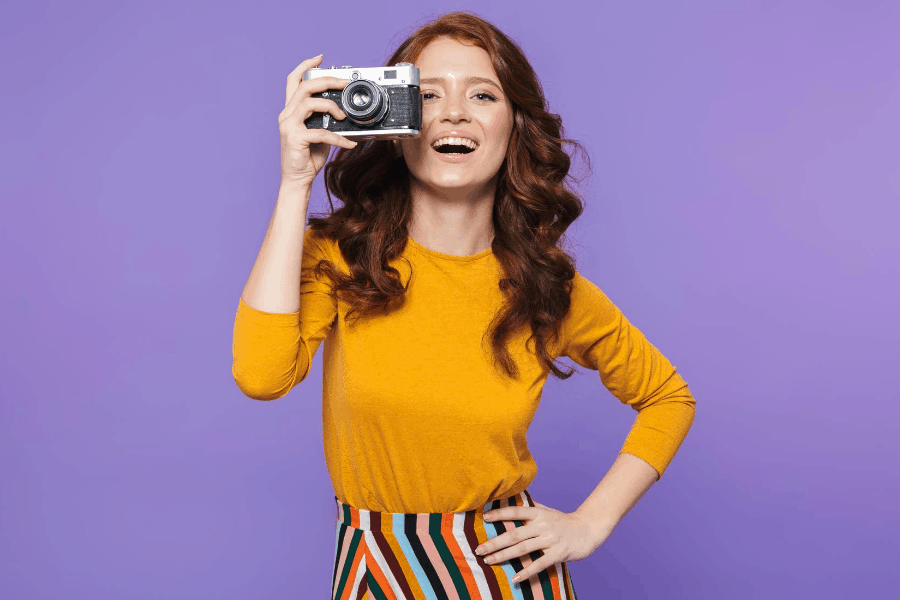 Selling stock photos can be a wildly profitable side hustle for single moms if you know your way around a camera. You can sell your photos online through a stock photo marketplace or set up your own blog and website.
Check out these stock photo queens who are killing with their sites:
Their sites are beautiful, as are their stock photos and that's why people are willing to pay their membership fees to use them.
If you want to do the same thing you could start a blog, snap some photos and start selling!
Or you can try selling your stock photos on sites like SmugMug and Shutterstock to make easy money.
16. Pet and baby-sitting
All of the side hustles for single moms discussed so far are ones you can do online. But if you're looking for an offline side hustle option, pet and/or babysitting could be right up your alley.
With pet-sitting, you could host pets in your home or offer a check-in service that allows pets to stay in their homes while their owners away. The same goes for babysitting.
You can advertise your services as a sitter locally but there are plenty of online platforms you can use to grow your hustle.
Rover, for example, lets you start and manage your pet-sitting business right from your mobile phone.
And Sittercity lets you do the same thing if you'd rather sit for human clients instead of the four-legged variety.
17. Get paid to lose weight
One of the easiest side hustles for single moms has to be getting paid to lose weight. Apps like HealthyWage can help you earn money for losing weight and getting in shape.
Here's how it works. You set up a wager for how much weight you want to lose. And if you meet your goal, you get cash in your pocket.
That's great, right? If you have a few extra pounds you want to lose sign up now to create your first HealthyWager.
18. Become an online stylist
I have zero sense about fashion and style sadly. But if you're the exact opposite the you could make tons of money as an online stylist.
There are even companies that will help you get your stylist business set up hassle-free.
Stella & Dot, for example, gives you your own storefront to sell from. And this company is run by women, for women.
They make it super easy to make money as a stylist and supplement your income. Which is great if you're a single mom who's struggling to pay the bills.
19. Make money selling stuff
Got stuff lying around the house you don't need?
You could easily turn that into cash by selling it. And you could just as easily make money by reselling things other people throw away.
I have a friend who used to make easy money this way. She and her husband would look for curb alerts, pick up the items, then resell them on Facebook or Craigslist.
It's a simple way to make extra cash in your spare time. If you need a few app suggestions for where to sell your stuff online, check out:
Here are 50+ ideas for things you can sell to make money right now. You can sell items on Facebook Marketplace, local bargain groups, Craigslist or at a pawn shop near you.
And if you're not sure how to get started with flipping things for cash, check out this free intro course from Flea Market Flipper!
20. Invest your spare change
Investing can be another easy way to make money for single moms and you don't have to be a money expert to do it.
This is one of my favorite passive side hustles for single moms since you really don't have to be hands-on to make money. And you don't need a lot of money to get started either.
Passive investing means you invest your money in mutual funds or index funds. As those funds grow in value, you earn money on what you invested.
There's a super simple way to start investing for single moms or anyone. It's an app called Acorns.
Acorns links to your bank account and tracks your purchases. As you spend money, Acorns rounds up the purchases and invests the difference in low-cost mutual funds.
It's that simple to make extra money. And if you're not stashing anything away for the future yet, it's an easy way to start building a nest egg.
Sign up for Acorns now and get $5 to start investing!
21. Make extra cash when you shop
Cashback apps can be one of the easiest ways to make $100 a day or more. These apps pay you money back on the things you purchase.
All you have to do is download the app and connect your debit card or credit. When you shop with partner merchants, you earn cash back.
Here are some of the best cashback apps:
Rakuten
Rakuten pays you cash when you shop at thousands of partner merchants. Depending on the deal, you can earn up to 40% cash back.
You can use Rakuten to shop online or in stores. Just make sure to compare deals, since sometimes you can get a better cashback rate by shopping one instead of the other.
Sign up for Rakuten now to earn a $10 welcome bonus.
Ibotta
The Ibotta app is great for grocery shopping but the app also pays you cash back at places other than supermarkets.
You can use Ibotta to earn cash back at a slew of clothing stores and specialty stores. And if you sign up now you can earn $20 in cash bonuses.
Dosh
Dosh is another great cashback app for earning money back on travel, dining and shopping.
You create your Dosh account and link your debit card. As you spend with your card, Dosh pays you cash back automatically on qualifying purchases.
It's super simple so sign up now to start earning cash back with Dosh.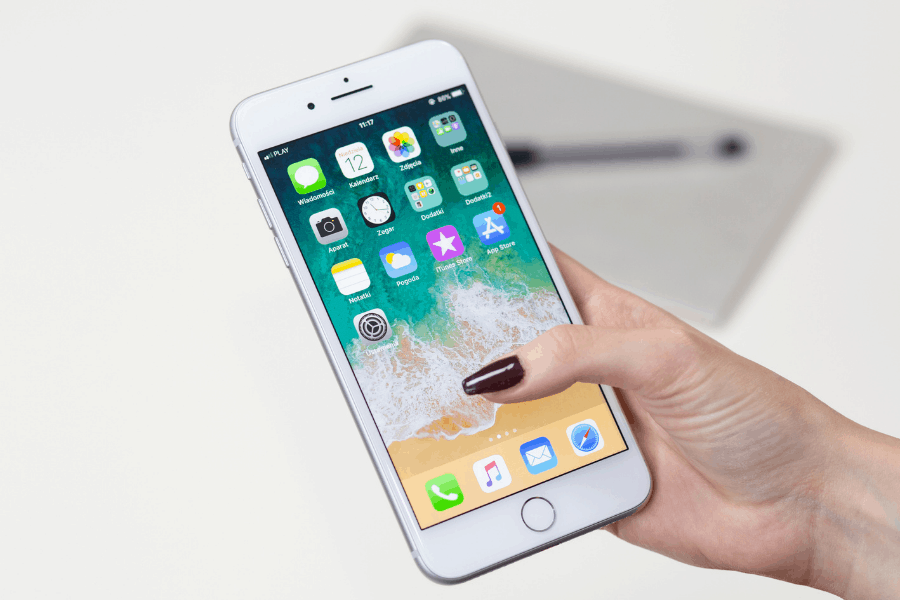 Get $5 Free Cash With CashApp
#1 rated in the App Store!
CashApp makes it easy to send money, get paid, save, and invest all in one convenient mobile app. Sign up and start doing more with your money!

Use code VZXRXZN to sign up for Cash App and earn your $5 bonus.
22. Get paid for taking surveys
Taking surveys will not make you rich. But it's one of the least taxing side hustles for single moms who want to make money in their spare time.
If you need some awesome survey site recommendations for making money, here are a few to try. Some of them offer $5 to $10 in signup bonuses when you create a new account.
You can try one of them or all of them to make extra cash. Survey sites are a fun way to make money in just a few minutes a day.
23. Teach kids yoga online
Yoga can be a great way for single moms to relax after a tough day. But you could also turn your love of yoga into a money-making side hustle.
With Pretzel Kids yoga teacher training, you can get certified to teach kids yoga online. And in less time than it would take to get a yoga certification elsewhere.
Pretzel Kids yoga teachers make $50 an hour or more leading kids yoga classes from home. I know the mom who runs this company and I absolutely love that she's created a business that allows other moms to earn money while pursuing their passions for yoga.
Learn more about Pretzel Kids and how to make money teaching yoga to kids.
24. Rent out your stuff
Aside from selling things you don't need, you could rent them out to turn a profit.
With Turo, for example, you can rent out your car to drivers who need a temporary set of wheels.
And Airbnb is something you might consider if you're comfortable opening up your home to temporary guests.
You can also make extra money as a single mom with BabyQuip.
BabyQuip is a baby equipment rental service. You list your baby gear on the site and parents can rent it out.
This is an easy way to make money with minimal effort. And it solves the problem of what to do with your baby equipment once your kids grow out of it.
25. Sell printables
Printables have the potential to be one of the best-paying side hustles for single moms.
Single mom Sarah Titus makes millions from selling printables in her Shopify store. And there are lots of other moms out there making money with digital products.
If you want to make and sell printables for cash, you'll:
There are lots of places to sell printables online.
You can set up a Shopify store or sell them on Etsy. Or you can try a free or low-cost service like Payhip or SendOwl.
Teachers Pay Teachers is another option if you're selling educational printables. And of course, you can set up your own blog to sell printables.

Which side hustles for single moms are you most interested in?
Side hustles are awesome, especially if you're a single mom trying to make some extra money while working full-time.
I can't imagine where I'd be now if I hadn't started my freelancing side hustle all those years ago.
So if you're thinking of starting a side hustle of your own, I highly encourage you to go for it. The sooner you get started, the sooner you can be on your way to getting ahead financially.
Need more money tips? Read these posts next:
Best Side Hustles for Single Moms