Last Updated on February 24, 2022 by Rebecca Lake
How to Make Extra Money From Home (Easy Ideas!)
Looking for the secret to how to make extra money from home?
Extra money can be a blessing but it's something many people lack.
According to a survey from The Balance, half of Americans don't have an extra $250 to spare. And fewer than 4 in 10 Americans could handle a surprise $1000 emergency expense.
Finding ways to make extra money can be life-saving and life-changing. And it's even better when you can do it from home.
If you're a stay at home mom or stay at home dad (or dream of being either) I've got 10 of the best ways to make extra money now without leaving the house.
Related post: How to Make 200 Dollars Fast [21 Awesome Ways to Make Money Quickly]
Easiest Ways to Make Money From Home in 2021
Before you dig into the list, here's something to keep in mind.
These are by no means the only ideas for how to make extra money from home. In fact, there are hundreds of side hustles you can start to make money online or off.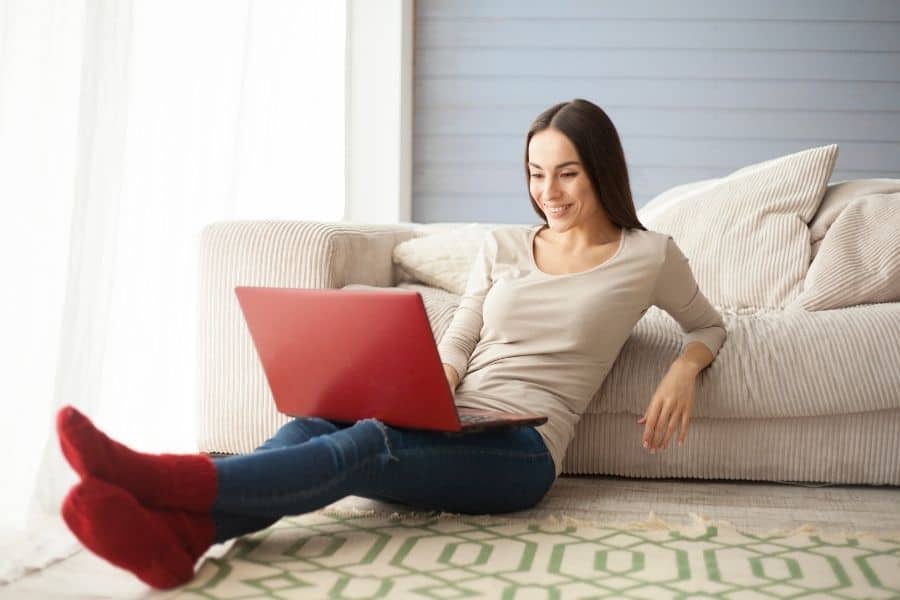 But for simplicity's sake, I'm giving you 10 of the easiest ways to make money from home. So think low-stress ways to earn money that don't require special skills or a big upfront investment.
Sound good? Then let's dig in!
Related post: 23 Best Side Hustles for Women to Make Money
1. Sell things for extra money
Any time someone asks me "what's the easiest way to make money from home?" I always give the same answer: Sell something.
Selling things is hands-down the fastest way to make extra money from home. You just need something to sell and somewhere to sell it.
This is a great way to pick up quick cash when you need money desperately.
What to sell to make extra money:
Books
Kids' toys
Board games
Puzzles
Housewares
Small appliances
Video games
Cellphones
Electronics
That's a really short list of things you can sell to make money. For more ideas, read through this list of 40+ things to sell when you need cash fast.
Where to sell things for extra money:
Facebook Marketplace
Local Facebook bargain groups
Gazelle (for electronics)
Second Sale (for books)
Think you can't make money flipping things for cash?
It's actually possible to make six figures in income selling things from home.
How?
By reselling things you buy for little money or better yet, get for free. If that sounds good, check out this free webinar on how to make money with flea market flipping.
2. Earn money with referral bonuses
Referral bonuses are another easy way to make money from home without investment or spending tons of time.
So how does that work?
Easy. You refer friends and family to a certain product or service. If they make a purchase, you get cash for the referral.
For example, here's an email my credit card company sent out to me recently. For every person I refer that opens a new credit card account, I can earn $100!
If that's not an easy idea for how to make extra money from home then I don't know what is.
But where do you find referral bonuses?
You can start with the products and services you already use.
For example, if you use Ibotta to save money on groceries, you can get $20 in bonuses when you sign up. Then you can get a $10 bonus each time you refer someone else who downloads the app.
Rakuten works the same way. Not only can you earn up to 40% cashback on purchases, but you can earn up to $20 in bonuses for signing up. And you can also get $25 for each referral!
If you're not using Ibotta or Rakuten yet, those are great reasons to sign up. And the sooner you start referring friends and family, the sooner you can earn bonus money back.
Other places to earn referral bonuses include:
You can also check your credit card company, bank and insurance company for referral programs to earn even more money from home.
3. Join an online research study
If you've got some spare time joining a research study is another low-stress idea for how to make extra money from home.
For example, Respondent.io pays everyday people real money to participate in research studies online.
You have to sign up and create a profile, which takes a few minutes. But once you've done that, you can start participating in research studies.
The average Respondent.io user makes $140 an hour, which is a lot more than what many people make at a regular 9 to 5.
You don't need any special skills or experience to make money through the site. It's one of the best high-paying online jobs you can do without investment.
Head here to create a Respondent.io account and start making money.
4. Use survey apps to make money
Taking surveys is another simple, yet proven, way to make extra money from home. In fact, you can make money taking surveys from anywhere really.
Survey apps can pay you for doing more than just taking surveys, too.
For example, you can use survey apps to make money:
Watching videos
Playing games
Reading emails
Reviewing products
Sharing your opinions
Taking surveys might be a good fit for how to make extra money from home if you want something easy you can do to earn money that doesn't take up much time.
Best survey sites for making money from home:
PRO TIP: SIGN UP FOR MORE THAN ONE SURVEY SITE
One thing to know about making money with surveys is that there has to be a survey available for you to take. So signing up for all the sites mentioned here can help ensure you have a steady stream of money-making surveys landing in your inbox.
Related post: 15 Best Survey Sites for Making Money on the Side
5. Earn cash back when you shop
A certain pandemic dramatically changed the way people shop, with more people than ever shopping online.
If you're at home and you're shopping for kids' clothes or a new book to read or anything else, earning cash back on what you spend is a stupid-simple way to make money.
Here's the deal:
You download one or more cash back apps
Link those apps to your bank or credit card accounts
Browse cash back offers
Shop and earn real money back!
Sounds almost too good to be true but I can vouch that this is a real way to make money from home.
So which cash back apps are the best for earning money on shopping?
Here are some of my favorite apps, including a few I've already mentioned:
PRO TIP: STACK YOUR CASHBACK
If you normally use a cash back rewards credit card to shop, you can double up on cash back by stacking it with a cash back app.
For example, say you come across a deal on Rakuten that offers 10% back on purchases. You spend $100 and earn $10 cash back. But you also use your cash back credit card and earn 3% back.
Altogether, you're earning $13 back just by stacking. This is another easy hack for how to make extra money from home when you're shopping online.
6. Invest your spare change
Ever heard the saying that it takes money to make money?
When it comes to investing, that's technically true. You can't invest with nothing.
But you don't need thousands of dollars to invest either. With an app like Acorns, you can build wealth with just your spare change.
So how does it work?
When you download the Acorns app, you link it to your bank account and credit card accounts. As you spend money, Acorn rounds up the difference and invests those cents into a portfolio of ETFs.
(ETFs = exchange-traded funds if you're not investing savvy.)
So how does that benefit you?
Unless you're earning an awesome rate on your savings account, investing money can lead to bigger returns.
All you have to do is download the app and link your accounts. And if you still want to save money instead of investing it all, you can use an app like Digit to save money automatically.
7. Sell your photos
Love to take pictures?
You could easily make extra cash by selling them online.
There are plenty of websites that let you list your photographs for sale. You may get paid a flat fee or a commission, depending on the site.
But a lot of these sites pay through PayPal so you can get money fast without having to wait months to get paid.
Best places to sell photos online:
Even if you don't have pro-level photography skills, this is another idea for how to make extra money from home that doesn't require you to spend a lot of time or money.
8. Write lists for $100
Like writing?
Then you could make extra money writing lists for Listverse.
This website publishes lists of all kinds. Some recent examples include:
Top 10 Animal Products You Don't Know You're Using
Top 10 Richest Children in the World
Top 10 Women Who Poisoned Their Husbands
Top 10 Famous People With Agoraphobia
You don't necessarily need to have years of writing experience to earn money writing for Listverse. Really, you just need to come up with a top 10 list idea they haven't thought of yet.
If you're interested in other ways to make money writing, check out this list of ways to get paid to write online that can earn thousands.
9. Sell crafts on Etsy
I love Etsy and I wish I possessed some of the creative skills that my favorite sellers do.
If you're a crafty mom (or dad or student or retiree) you could easily make extra money selling your DIY items on Etsy.
Some of the top-selling items on Etsy include:
Crafts
Accessories
Wedding items
Paper and party supplies
But really, you can sell just about anything your creative mind can come up with. I've spent thousands buying handmade gifts so I know that it's possible to make real money as an Etsy seller.
This idea for how to make extra money from home might require spending a little money if you need to buy supplies.
But otherwise, this can be a fun and creative way to make money without a job!
10. Sell printables
Printables are all the rage right now and if you've got some basic design skills, you could easily cash in.
So what kind of printables are popular to sell?
Some of the best-selling printables usually involve money, organization and mom life. So for example, you might sell:
Home management printables
Decluttering checklists
Homeschool printables
Worksheets
Checklists
Planners
Really, your imagination is the only limit here for ideas. You'll just need a good design tool for making them. (I use and love Canva Pro!)
But where do you sell your printables?
Etsy is one option but there are other ways to sell your printables. For example, you could set up a Shopify store or create a free account through a site like Payhip.
You can also set up a website and blog to sell your printables.
The upside of this is that it's possible to make extra money with more than just product sales. You could also make money blogging with:
Ads
Affiliate marketing
Sponsored posts
Services (like freelance design)
There is some work that has to be done upfront but if you're doing it right, then blogging could very easily become a source of passive income.
Interested in how to start a money making blog from scratch?
Here's a guide that walks you through setting up a blog to make money from day one, step by step.
You can also head over to Siteground to purchase hosting and get your blog started right now. I use Siteground and love the level of service they provide!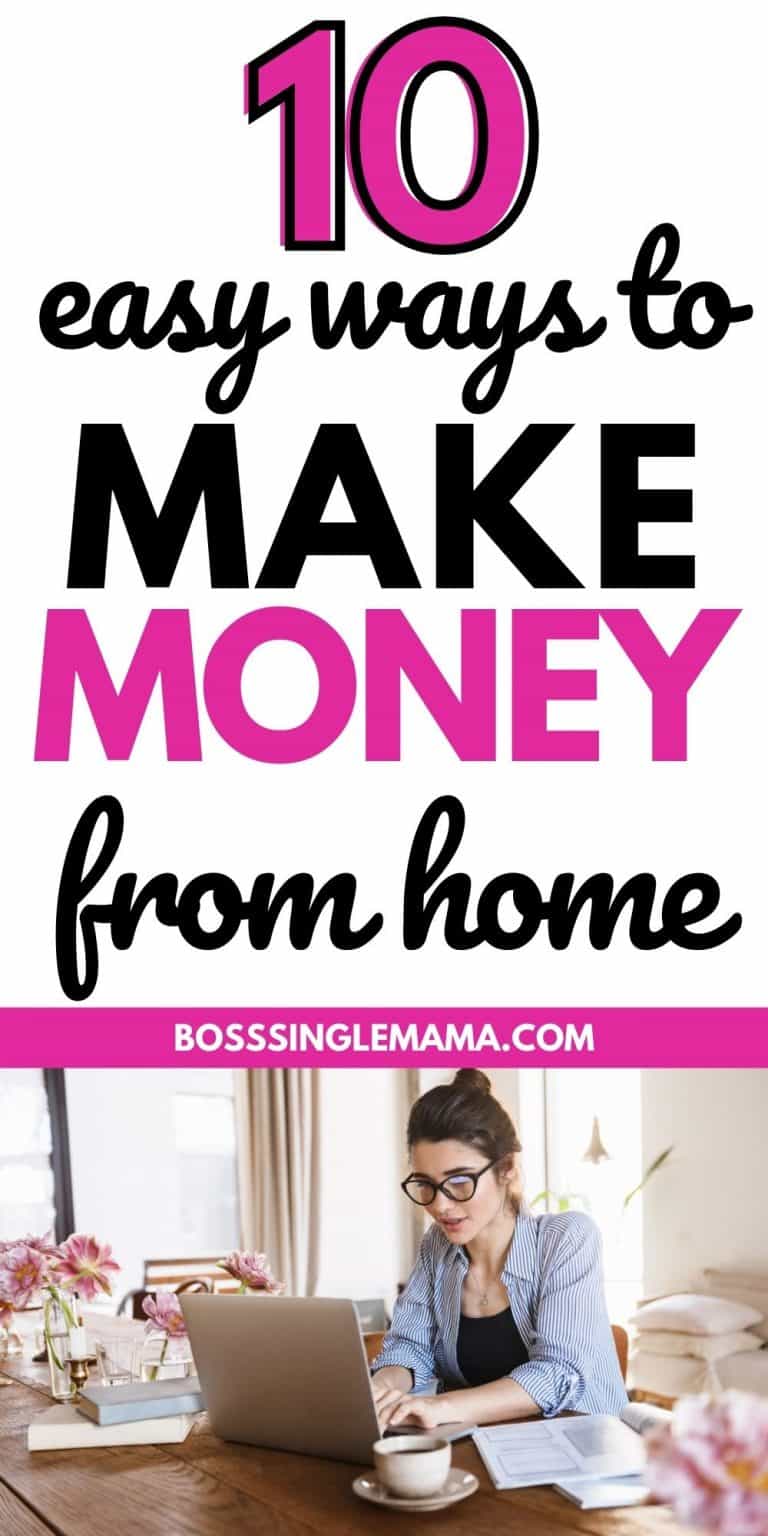 How to Make Extra Money From Home FAQs
How to make money online for free?
If you need to make extra money then you might not have a lot of money to invest. In fact, you might be looking for ways to make money online without investment of any kind.
The ideas for making extra money from home I've included here are all low- or no cost options.
The most expensive is probably selling on Etsy, since you might need to buy craft supplies. But other than that, you've got plenty of ways here to make some money without spending a dime.
How do I make an extra $1000 a month?
Making an extra $1000 a month can go a long way toward creating some financial breathing room.
With an extra $1000 a month, you might be able to reach a goal of saving $10000 in a year, for example.
Or you might be able to finally pay off those student loans that you've been dragging around for years.
Making $1000 a month might take a little more time and effort than these easy ways to make money. But it's possible to make that much (or more) from home by monetizing the skills and resources you already have.
Check out these ideas for 30+ legit ways to make an extra $1000 a month online (or off).
What can I do at home for extra money?
The easiest way to answer this is to think about what skills you already have.
For example, if you're good at typing you could make money with online transcription jobs.
If you like fashion, you might be able to earn a part-time or full-time income as an online stylist.
Got a great eye for detail? Then you might be a shoo-in for online proofreading jobs.
Thinking in terms of the money-making skills you already have can help you find the right side hustle idea to earn extra cash from home.
How can I make $100 a day?
Finding ways to make $100 a day can add up to $3k in extra income per month.
But how do you make $100 a day?
Some of my favorite ideas include:
Taking surveys
Starting a blog
Shopping for groceries
Using cash back apps to make extra money
Check out this list for even more ways to make $100 a day without a job!
How can I make an extra 2000 a month from home?
If you want to make $2000 a month or more from home, that usually means starting a high paying side hustle or some type of online business.
Again, here's where it helps to know what kind of skills you have that you could monetize.
Some of the best ways to make $2000 a month include:
Freelance writing (I make $20k a month writing online)
Becoming a virtual assistant
Transcription jobs
Selling online courses
Related post: 10 Flexible Side Hustles That Make $2000 a Month
Final thoughts on how to make extra money from home
Figuring out how to make money on the side from home can take the stress off your budget.
And with so many ways to make extra money online from home, you're bound to find at least one money-making idea that fits.
Do you have a killer idea for how to make extra money from home on the side? Head to the comments and tell me about it.
And don't forget to grab your free Side Hustle Starter Kit in the freebie library!
How to Make Extra Money From Home in 2021