Last Updated on May 13, 2023 by Rebecca Lake
Wondering how to be a stay at home single mom or if it's even possible?
Single moms face plenty of challenges, many of which revolve around money. While some single mothers receive child support and/or alimony, there are lots of single parents in the United States who are the sole financial providers for their households.
The good news is that it's possible to become a single stay at home mom and while being there to take care of your kids. The secret?
Increasing income.
That's where at home jobs for single stay-at-home moms come in. Keep reading to learn about different ways that a single working mom can become a stay at home mom.
Table of Contents
Are There Good Jobs for Stay at Home Single Moms?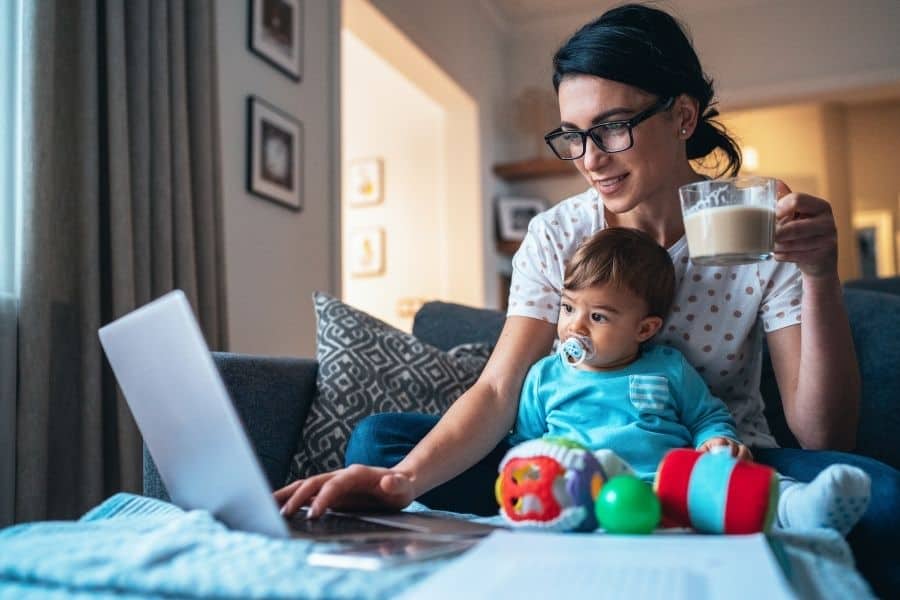 There are plenty of stay at home jobs for moms that single moms can do to make money and as a single mother, I've tried a lot of them. The key to making single stay at home mom life work for you is finding the best way to make money that fits your lifestyle and financial need.
Some jobs for stay-at-home parents may be more suitable for single moms with older kids vs. young children.
A toddler naturally needs more hands-on care than a teenager. So it's important to consider whether full time or part time work makes more sense, depending on the ages of your own kids and how much time you can devote to working.
Education can also make a difference.
For example, some remote jobs might require a bachelor's degree or even a master's degree to get hired. That might be true if you're doing remote work in a specialized field.
On the other hand, you might be able to start a side hustle or your own business even if you just have a high school diploma.
Starting a business for yourself is, in my opinion, the best path to becoming a stay at home single mom. When you work for yourself, you can set your own hours and schedule, making it easier to take care of the home and your kids.
You might appreciate that if you need to have more free time to care for a child with special needs or you're interested in homeschooling your kids.
Not only can you get more flexibility than you would with a traditional full-time job but it's possible to make a lot of money working for yourself.
I won't lie; there's some hard work involved in growing a side hustle or business. However, the payoff can be well worth it if you're able to earn enough money to meet your family's needs and have extra cash left over to save, pay down debt or reach other financial goals.
Looking for a remote gig or work-from-home job? Virtual Vocations features remote jobs and at-home jobs in over 50 categories so you can find a role that fits your skills. Create a Virtual Vocations account and start browsing listings to find your next remote job!
Best Jobs for Stay at Home Single Moms
What is the best single stay at home mom job? There's no single answer since there are so many ways to make extra income from home, online or offline.
To keep things simple, I've included the best jobs for stay at home single moms that I've either:
Done myself
Know are good ways to make money, based on talking to other single stay at home moms
Ready to boost your family income? Let's dig into the list of single mom jobs.
1. Freelance writer
Freelance writing is one of the best work at home jobs for solo parents who want to make a full-time income using their writing skills.
How much money can you make as a freelance writer? It depends on your niche, the type of writing that you're doing, your expertise and the kind of clients that you're targeting.
Freelance writer salaries range from $11,000 to $165,000 per year, according to ZipRecruiter. I've been a freelance writer for a decade and I've scaled my income to multiple six figures per year.
Whether you want to make a little bit of extra money to make ends meet or you're hoping to make a full-time income, freelance writing is an excellent way to do it. You can get paid to write:
Blog posts
Articles
Whitepapers
Marketing newsletters
Product reviews
Email sequences
The hardest part about getting started as a freelance writer is finding your first clients. When I started writing, it was for content mills which paid very little money.
If you'd like to start your freelance writing career off with higher-paying gigs, I recommend creating profiles on reputable freelance writing job boards. Here are three to start with:
Freelance writing jobs are vetted, so you can avoid scammy postings. And if you want to make a quick $100 from writing, you can always knock out a list or two for Listverse.
2. Virtual assistant
Virtual assistants get paid to help business owners run their businesses.
Before I became a freelance writer I worked as a virtual assistant from home. I had a toddler and an infant at the time, so doing easy tasks from home was a perfect way for me to make some extra cash.
What kind of things can single stay at home moms get paid to do as a virtual assistant?
Depending on your clients, the list might include:
Writing or editing blog posts
Scheduling social media posts
Managing emails
Scheduling meetings or client phone calls
Draft newsletters
Maintaining databases
Creating digital templates with a tool like Canva
The average VA hourly rate is around $21 and the best part is that you don't necessarily need a college degree to get hired. You may not need any special equipment either, apart from a laptop.
It could benefit you to spend time learning about what a VA does if starting your own virtual assistant business is one of your career goals.
Gina Horkey offers some excellent resources to help you start your virtual assisting career. Gina got her start as a virtual assistant and freelancer around the same time that I did and she's racked up tons of raving fans who can testify about how effective her courses are for becoming a successful VA.
3. Sell on Etsy
Starting an Etsy shop is another great way for single moms who want to be stay-at-home parents to make money. Etsy is an online marketplace that originally started as a way for artists and crafters to sell their handmade goods.
The Etsy landscape looks a little different these days but it's still a good way for a single mom to make money at home in their spare time. Some of the things you could sell on Etsy include:
Handmade crafts, like candles or bath bombs
Digital printables
Vintage items
Craft supplies
I started an Etsy shop in 2022 with my teenage daughter, mostly as a way for her to learn the ins and outs of making money online. It's a relatively small shop but we managed to make $10,000 in our first year, which is a number I'm pretty happy with.
If you're not sure what to sell on Etsy, you might find this list of things to make and sell for cash helpful.
4. Low content book publishing
Low content book publishing involves self-publishing books that don't have a lot of content.
By that, I mean things like:
Composition notebooks
Planners
Habit trackers
Coloring books
Simple picture books for kids
Mileage logs
Recipe books
You can use a tool like Canva to create your designs, then publish them for free through Amazon Kindle Direct Publishing (KDP) or a similar online platform.
This is an easy way for a stay at home single mom to make money and do something creative. I started an Amazon KDP shop in 2022 to sell composition notebooks and while I haven't gotten rich from it yet, I have been able to make a few hundred dollars with minimal effort.
If you want to get started, you can create your Canva account then head over to Amazon to sign up for a KDP account.
5. Teach on Outschool
Outschool is an online platform that allows anyone, including single moms, to make money teaching online courses to kids in grades K-12.
You don't need a college degree or teaching experience to make money on Outschool. You just need a passion for your subject, an internet connection and a good camera for teaching live classes.
The great thing about teaching out Outschool is that you can decide what subjects to teach. My kids have taken classes on:
Creative writing
HTML coding
Video editing
Gaming
But it's possible to find some more out-there topics, like k-pop dance tutorials, how to care for axolotls and weird things found in space.
It doesn't cost anything to apply to be a teacher at an Outschool. And in terms of how much you can make, there's one single mom who's pulling in $10,000 a month on the platform.
Curious about how it works? Dive into my full Outschool review.
Interested in making money as an online teacher? Outschool is a great way for stay-at-home moms, single moms, working moms, and retirees to make extra money, no teaching degree is required! Apply to become an Outschool teacher and make $50+ an hour!
6. Graphic designer
Graphic designers make money by creating and selling original designs. It's a good stay at home single mom job option if you've got some creative skills or you're willing to invest a little bit of time in honing them.
Some of the things you could get paid to design include:
Business logos
E-books
Infographics
Brochures or newsletters
Advertisements
Reports
Single moms can look for graphic design clients through platforms like Upwork or Fiverr to start. FlexJobs and Virtual Vocations are also good places to find higher-paying clients.
And you could always make and sell your designs on your own website or blog.
For example, you could start a mom blog and sell digital printables for meal planning, budgeting, cleaning or organization. Or you could create templates in Canva and sell them to other mom bloggers.
That's how Carly at Mommy on Purpose makes a large chunk of income each month. While her blog leans more toward married stay-at-home mothers, she's a great example of how moms (including single moms) can make a good income from the comfort of their own homes.
7. Social media manager
Social media managers get paid to manage social media accounts for their clients.
Some of the tasks you might do as a social media manager include:
Writing social media content
Scheduling posts on Twitter, Instagram or other social platforms
Filtering or replying to comments
Analyzing stats on clicks, likes, shares, etc.
Creating short-form content for Tiktok, YouTube Shorts or Reels
A social media manager needs to know their way around the social media platforms that their clients use. And of course, they also need to be able to emulate the brand's voice and style.
But the best thing about this kind of job for a stay at home single mom is that you can operate behind the scenes, without ever having to show your face. That also makes it a perfect business idea or side hustle for introverts.
8. Data entry
Data entry jobs can be ideal for single moms who want to become stay at home parents. Doing remote work can offer great pay and it can also include benefits like health care insurance or access to a retirement plan.
One of the tasks that I had to do as a VA involved data entry and it's fairly simple work. However, single moms who want to try this work at home job should know that an eye for detail is important.
If you're inputting data into the wrong place, that could create a lot of extra work for you since you'll have to correct your mistake.
You can search on FlexJobs, Virtual Vocations or a general job board like Indeed.com to find remote jobs for data entry.
9. Start a mom blog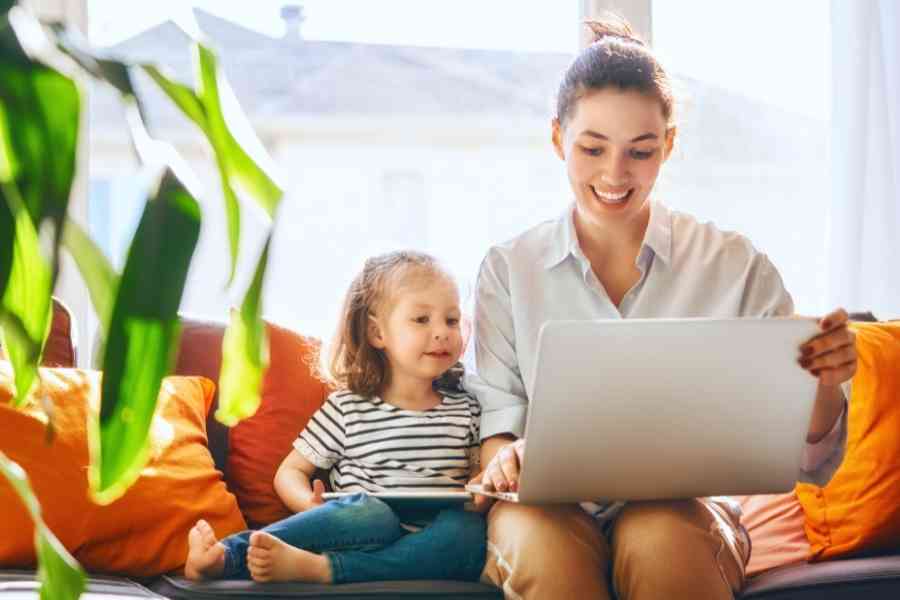 Blogging is not exactly a fast way to make money if you're a single mom who wants to become a stay at home mom. But it can be a good way to make a steady income from home.
How do mom bloggers make money? It really depends, but the options can include:
Ads
Sponsorships and branded content
Digital products
Affiliate marketing
Offering services
I've been a single mom blogger since 2019 and I make what could be considered a full-time income from this blog and a few other sites I own. But there are some mom bloggers out there who are easily making $100,000 or more a year.
If you'd like to start a profitable blog, deciding what to blog about is the first step. From there, you can get your blog up and running with a hosting package from Siteground.
As a mom blogger who has tried and failed (a lot) I think it's worth it to consider taking a course to learn the basics of blogging. The one I recommend is Ready, Set, Blog for Traffic from Elna Cain.
Her course covers things like:
Choosing a niche
Finding affiliate programs to join
Writing blog posts that get traffic
Marketing your blog on Pinterest and social media
Elna is a six-figure blogger, freelance writer and mom. She and I started freelancing around the same time and I've learned a lot about blogging from her and her courses over the years.
10. Remote customer service jobs
Remote customer support jobs can be a good fit for single stay at home moms whose kids are in school during the day. Since you'll need to spend a good bit of the day talking on the phone, it's important to get rid of as much background noise as possible.
If you have younger children, you could look for remote customer service chat operator jobs. You can get paid to chat without needing to pick up the phone.
There are lots of chat operator jobs available for stay at home moms and single moms. So it's possible to find remote customer support jobs that fit your schedule and experience.
11. Online proofreading jobs
Proofreaders make money by correcting typos, grammatical errors and spelling errors in written works. You might consider proofreading jobs online if you've got a good grasp on grammar basics and a keen eye for detail.
It's possible to make as much money proofreading as you could with a regular day job if you're able to build up a steady stream of clients. The average online proofreader makes around $52,000 a year, according to ZipRecruiter.
What does a single mom need to get started as an online proofreader?
Not much, other than a laptop, an internet connection and a good proofreading software program. You'll also need access to Google Docs or Word so you can review the documents you're proofreading.
There's a great free webinar you can take to learn the basics of how to become an online proofreader. It's offered by Caitlin Pyle of Proofread Anywhere and she's an authority on how to launch a successful career in proofreading.
---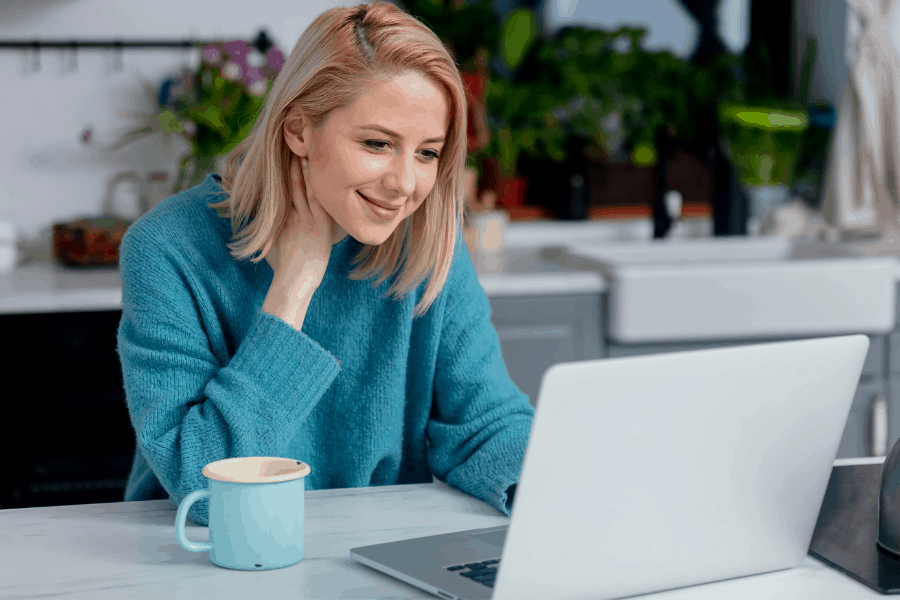 Want to get paid to proofread?
Sign up for a FREE webinar to learn how to make money proofreading online!
---
12. Transcription jobs
Transcription is another work at home job idea for stay at home single moms who are detail-oriented. A transcriptionist gets paid to turn audio content into written content.
Online transcription jobs can be general or target a specific type of work. For example, you might get paid to transcribe medical documents or legal documents.
Transcription could be an ideal way for a single mom to make money even with small kids at home, since you can usually work a flexible schedule. If you're looking for online transcription jobs for beginners, a site like GoTranscript can help you find your first clients.
You can also learn more about how transcription works in this free class.
---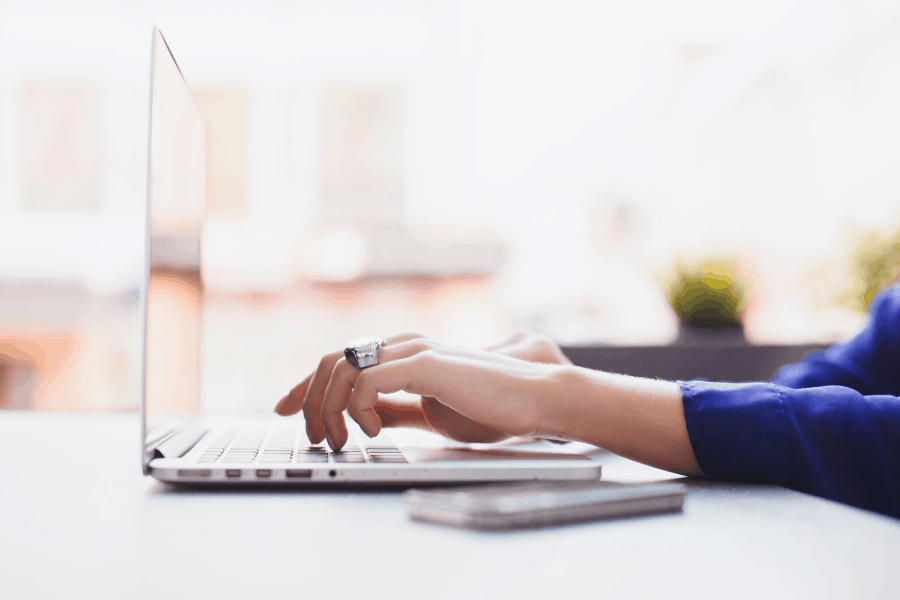 Want to get paid to type?
Learn how to become an online transcriptionist in this free mini-course!
---
13. Sell online courses
If you're looking for ideas for passive income for single moms, selling online courses definitely belongs on the list.
You can create a course through a platform like Teachable or Thinkific and when people buy it, you earn money.
Online courses are great because you can make money on autopilot. You'll need to spend some time creating the course and uploading it to the platform. But once it's up and running, you've got a very low-maintenance way to make money on the side.
14. Sell feet pics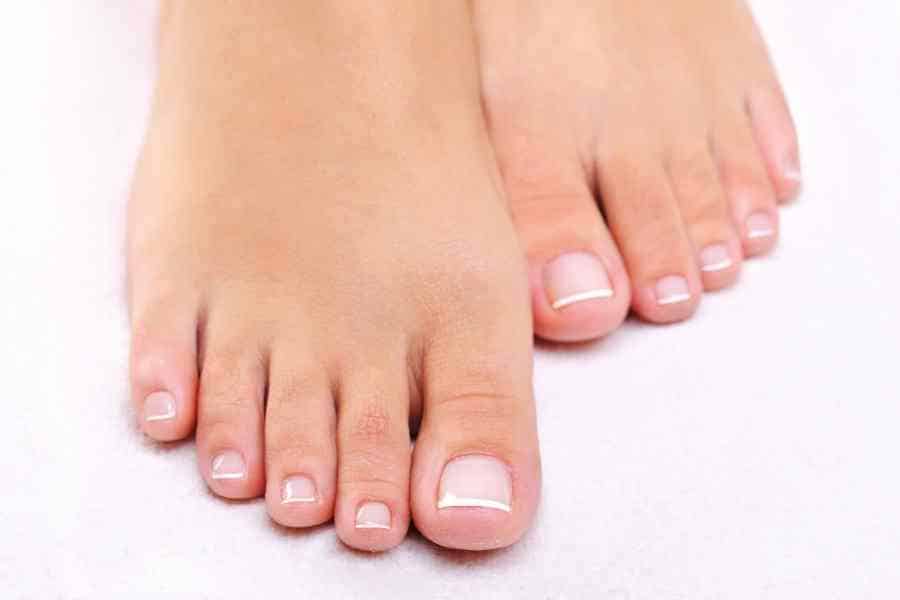 Selling feet pics might seem a little weird but hear me out. There are lots of people who are willing to pay good money for pictures of your feet.
One good thing about selling feet pics is that you don't have to show your face (or any other body parts). You can snap some great pics of your feet and upload them to a site that sells feet photos to start making money.
If you're looking for reputable places to sell feet pics, here are a few top picks:
Instafeet
Feetfinder
OnlyFans
Feetify
You can create profiles on one of these sites or all of them to sell your feet pictures.
15. Offer child care in your home
If you want to be a single stay at home mom, offering child care for other parents is a no-brainer way to make money.
You could offer to babysit for other single moms (or single dads), working moms or stay at home moms in your area. I know a single mom who does this during the summer months.
She works for the public school system for nine months out of the year. Then over the summer, she watches kids in her home for some of her mom friends who have year-round jobs.
Just keep in mind that there's a fine line between babysitting and running a daycare. If you're interested in how to start a daycare business, it's a good idea to read up on the rules and laws for your state.
If you're not sure how to find your first job, you can advertise your services on Facebook or create a profile on Sittercity to connect with parents who need child care.
16. Get paid to walk dogs or pet sit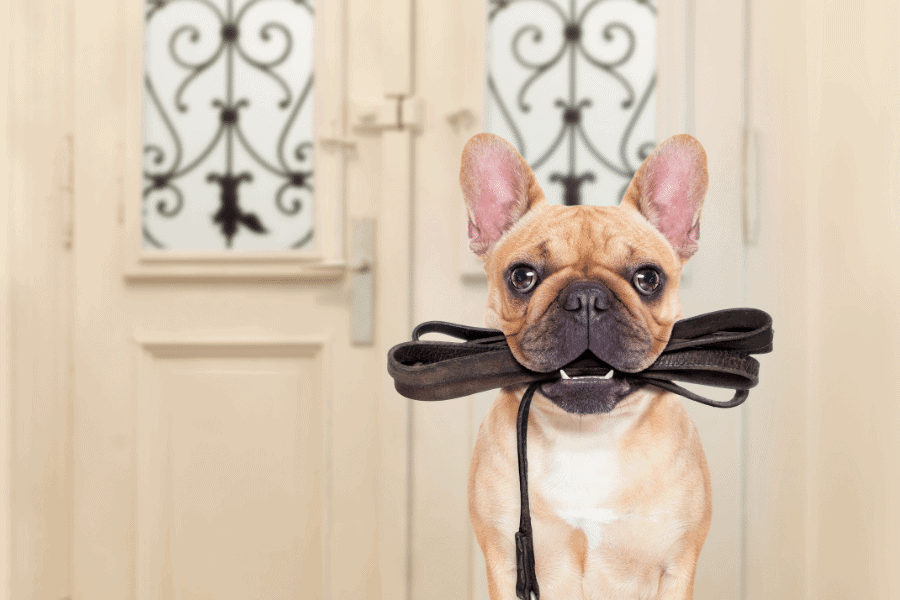 Dog walking and pet sitting are ideal side jobs for stay at home single moms who love animals.
You can make money by walking dogs around your local neighborhood or caring for pets at home while their owners are away. I did pet sitting to make extra money for a friend of money when they had to travel out of state and it was an easy way to pick up some cash.
If you'd like to try dog walking you can advertise your services on Facebook or Craigslist. You can also create a free profile on Rover.
Rover connects dog walkers and pet sitters with pet owners. The typical Rover dog walker/pet sitter makes $1,000 a month.
Related post: How to Make an Extra 1000 a Month (50 Ways That Really Work!)
17. Flea market flipping
Flea market flipping is one of the easiest ways for single moms to make money. You find things for cheap (or free), then flip them for a profit.
Some of the best places to sell your finds include:
Facebook Marketplace
Craigslist
Consignment shops
eBay
Etsy (for vintage items)
You can scour flea markets, thrift stores, yard sales, garage sales and curb alerts to find things you can get for little money (or no money) to flip and sell. And you can also look around the house for things to sell to make quick money.
If you're interested in making reselling a full-time career, you'll definitely want to check out this free workshop from Flippers University. It's taught by a husband and wife duo of flipping pros who know all about turning other peoples' trash into treasure.
Related post: Best Things to Sell at a Pawn Shop (50+ Things You Can Pawn for Quick Cash)
Other Ways to Make Money as Stay at Home Single Mom
There are lots of quick ways to make money as a single stay at home mom that don't require a lot of effort. If you're looking for other money-making ideas that you can do in your spare time, here are a few more options.
18. Participate in online research studies or focus groups
Companies use research studies and focus groups to figure out what their customers want. For example, before a new product hits the market it might go through a focus group first to gauge how people are likely to respond to it.
Focus groups and research studies are perfect for single stay at home moms since you can participate online, in your spare time.
Two of my favorite sites for joining online focus groups are User Interviews and Respondent.io. I've made extra money with both sites and it's easy to sign up and start exploring focus groups to join.
19. Take online surveys
Survey sites let you sign up, create a profile, take surveys and earn cash or gift cards for your time.
Taking surveys probably won't make you a rich single mom. But it could help you earn some extra money on the side without taking up a lot of time. There are lots of survey sites that pay you to answer questions and you can sign up for one or all of them.
If you're looking for a recommendation, Survey Junkie is my top pick. I've made over $3,000 in extra cash with Survey Junkie so I know that it's worth your time.
20. Earn cash back when you shop
Cashback apps let you earn back a percentage of what you spend, either in cash or points. If you're getting points then you might be able to redeem them for cash or free gift cards.
This is a simple way to earn money as a stay at home single mom for buying things that you already planned to. My favorite cashback app is Rakuten. I've used it to make just over $1,000 in cash back just for shopping online!
---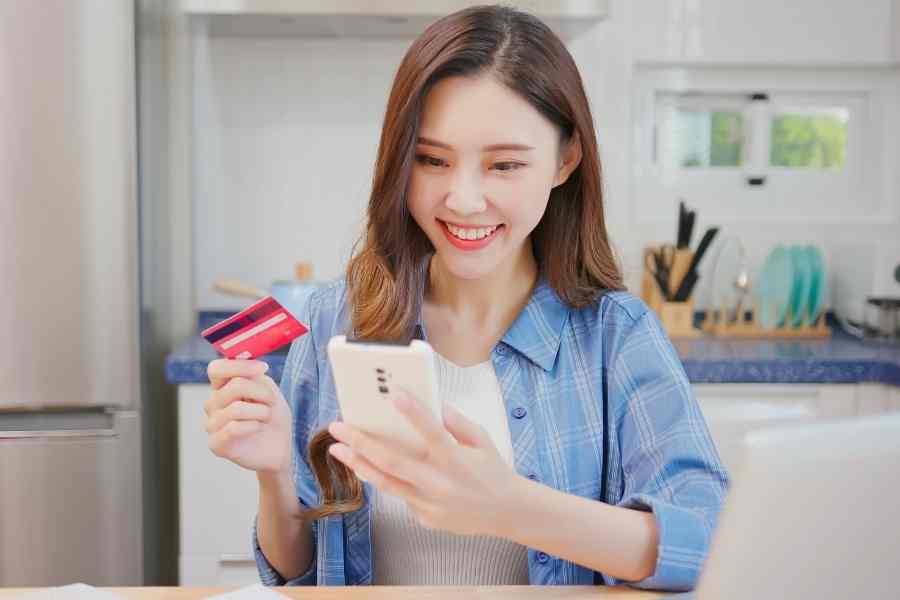 Want to Get Cash Back When You Shop?
Making extra money is easy with Rakuten!
Rakuten is a free app and browser extension that helps you find coupons and discounts when you shop online or in stores. You can earn up to 40% cashback when you shop at hundreds of partner retailers, plus get a $10 sign-up bonus and up to $30 in bonus cash for each person you refer!
---
21. Earn referral bonuses and welcome bonuses
Referral bonuses are another easy way to put money in your pocket as a single mom without doing any actual work.
There are lots of websites and apps that will pay you cash to refer friends and family. For example, once you sign up for Rakuten you can get up to $30 each time you refer someone else and they create a new account.
You can also earn introductory bonuses just for signing up for certain apps. This is one of my favorite free money hacks for single moms.
If you're looking for bonuses, here a few you can try:
You can also explore new checking account bonuses or credit card bonuses for even more free cash.
---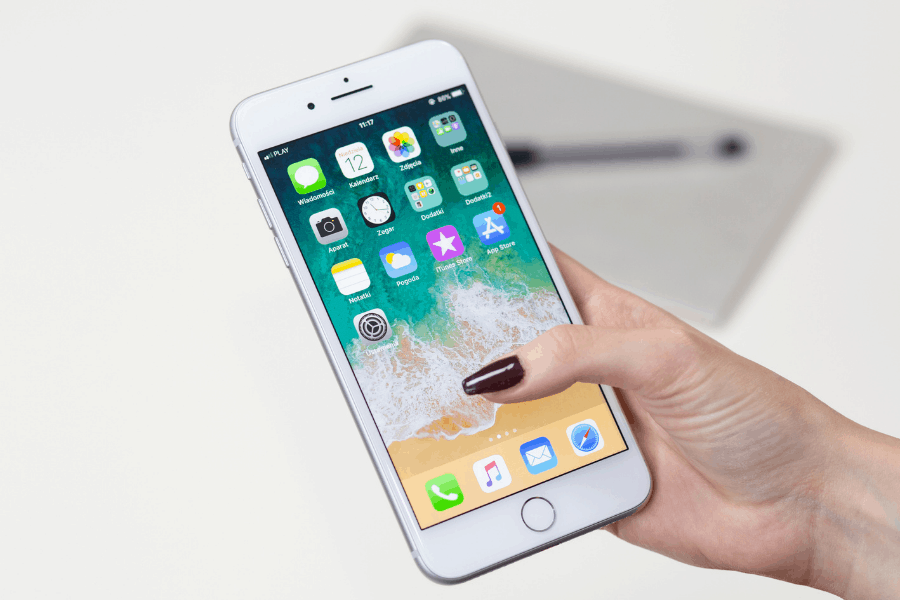 Get $5 Free Cash With CashApp
#1 rated in the App Store!
CashApp makes it easy to send money, get paid, save, and invest all in one convenient mobile app. Sign up and start doing more with your money!

Use code VZXRXZN to sign up for Cash App and earn your $5 bonus.
---
22. Sell your internet
If you don't spend a lot of time online but you're paying for a data plan, you could sell the unused bandwidth for cash through Honeygain.
It might sound shady but Honeygain lets users share their internet connection and earn passive income. Plus, you can earn lifetime bonuses when you refer friends and family to the app.
23. Start a delivery side hustle
If you've got a reliable vehicle, you could make extra money as a single mom delivering food.
You could get a delivery job with a local restaurant or do gig work through Uber Eats or DoorDash.
When you sign up to be a Dasher, you can earn an hourly base wage plus tips. The more deliveries you're able to make, the more tips you could make.
​​Learn more about making money with DoorDash.
24. Get paid to grocery shop
Grocery shopping is another simple way for single moms to earn money so they can afford to stay home with their kids.
When you sign up to become an Instacart shopper, you can earn a base rate per shop, plus tips. Shopping for Instacart is something single moms can do during the day while kids are in school.
What if you have small kids who aren't school age yet?
Technically, Instacart rules dictate that you do your shopping alone. However, I know that there are moms who let their kids tag along out of necessity.
So, you do what works for you. But just remember that if you're caught, Instacart could deactivate your account.
Pro tip: Check to see if there's a Facebook group in your area for local Instacart shoppers where you can share tips or
25. Sell printables
Printables are a great low-cost business idea for single moms who want to make money from home.
​A printable is a digital product that you can create online. Once you've got some printables ready to sell, you can list them on Etsy, or if you already have a blog you can add a shop to your site.
Selling printables is an easy way to make passive income since you don't have to ship anything. Your buyers can purchase their printables and download them–there's no extra work for you!
If you're interested in selling printables, you can start by signing up for an account with Canva. Canva offers plenty of premade templates that you can personalize to start making your first printables to sell.
How to Be a Stay at Home Single Mom Tips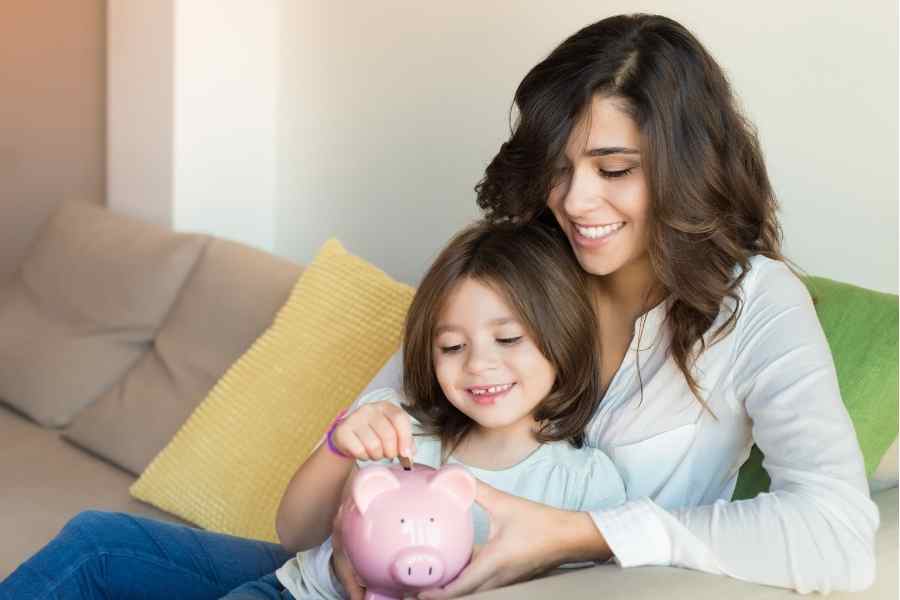 ​When you're curious about how to be a stay at home single mom, making more money is the obvious answer.
But if you want to stay home with your kids as a single mom, increasing your income isn't the only thing to focus on. Here are a few of my best tips for how to be a stay at home single mom without going broke.
​Cut your expenses as much as possible
When I first became a single mom, money was extremely tight. So I had to make some choices about where I was going to spend the money that I did have coming in.
Lowering your expenses as much as possible can take some of the pressure off financially. Learning to live frugally on less money is a great habit to develop and it's one you can stick with even as your income starts to grow. And it can help you get serious about paying off debt.
Master your budget
Budgeting is a must for single moms or anyone who wants to make their money go further.
When you have a budget in place, you're telling your money what to do versus letting it be the boss. My best advice for making a budget is to experiment with different budgeting methods until you find one that works for you.
You can also use a budgeting app to keep track of spending automatically. It's a simple hack that can go a long way when you're trying to get your finances together.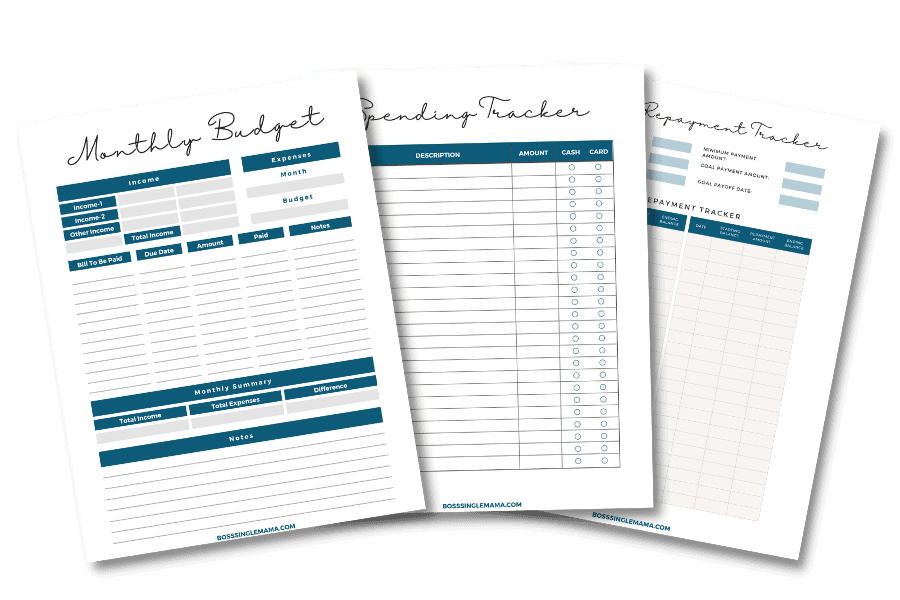 ---
Take Control of Your Budget!
Grab these FREE budgeting printables and get your finances on track when you join the weekly newsletter!
---
Focus on saving
If you're hoping to be a single work at home mom, then there are certain trade-offs you'll need to make.
For example, if you're working for yourself instead of someone else that might mean going without health insurance. (Of course, it's definitely worth checking into whether you qualify for Medicaid or other financial help for single moms on your income and the number of family members in your household).
Having some money in savings can make it easier to get through any financial tough spots.
If you don't have a savings account yet, you can open one online and then commit to saving something each week or pay period. Even $25 a month is a start and saving money as a single mom is more about developing the habit in the beginning anyway.
Looking for the best high yield savings option? Compare savings account rates online at top banks and credit unions now!
Take care of your mental health
​Single mom burnout is real. I've dealt with it at different times during my single mom journey so I know how challenging it can be.
​Taking care of your mental health (and physical health) matters, especially if you're the only parent your kids have to rely on.
Joining a support group for single moms, either online or locally, or seeking out an understanding friend that you can vent to are some simple ways to ease the mental strain of parenting solo.
Work on self improvement
As a single mom, you might have certain things that you want to do to get ahead.
For example, your educational goals might include going back to school so you can get a degree. If that's something you're interested in, you can check out financial aid options through the U.S. Department of Education.
Or your goals might be smaller, like working out five days a week, reading three books per month or spending an hour a day just hanging out with your kids.
Having some goals to work toward, particularly goals that help you become a better version of yourself, can give you the motivation you need to face any single mom struggles that might come your way.
Final thoughts on how to be a stay at home single mom
Here's the reality of being a stay at home single mom: it takes a lot of work.
Unless you have a ready source of wealth at your fingertips, then you're going to have to find ways to make money on your own. And that can mean making sacrifices.
You might have to get up in the wee hours to work before your kids wake up. Or you might have to burn the midnight oil to get things done.
However, if you can create a plan for becoming a stay at home single mom and stick with it, then the payoff can be huge. At the end of the day, figuring out what works for you and your family is the best place to start.
Need more money tips? Read these posts next:
What tips do you have for how to be a stay at home single mom?