Last Updated on August 27, 2021 by Rebecca
Check out these amazing extra income ideas just in time for fall!
And if you need a quick and easy way to make extra cash, get paid to take surveys with Survey Junkie and Swagbucks!
Do you love fall like I love fall?
Fall is my favorite time of year because we finally get a break from the soul-crushing heat. And it kicks off the countdown to my second favorite time of year: the holiday season.
But maybe this fall you're feeling a little anxious because you're wondering how you're going to afford Christmas this year.
I get it.
Money is tight for a lot of people right now.
And maybe you're looking for some ways to save more money. Or you need some extra income ideas to make quick cash.
And if that's the case, then you're in the right place!
I've rounded up some of the best extra income ideas to make money during the fall months.
Related post: Fall Bucket List Ideas: 43 Ways to Have Fun on a Budget
Why Start a Side Hustle in the Fall?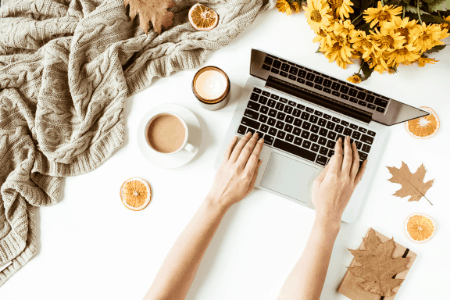 I love side hustles and coming up with ideas to make extra money.
And if you don't have a side hustle yet, then fall is a perfect time to start one!
Why is that?
One simple reason: Christmas.
Christmas and the holiday season can get expensive, especially if you have kids.
And starting a side hustle in the fall can give you time to save the money you need to cover your holiday spending budget.
Because nobody wants to be broke at Christmas right? So fall is a good time to pick up a side hustle or two and start stashing away Christmas cash.
Read these holiday posts next if you like saving money:
15 Effortless Ways to Plan a Fun and Frugal Christmas on a Budget
50 Fun and Frugal Family Holiday Traditions to Start This Year
What's the Best Side Hustle to Start in the Fall?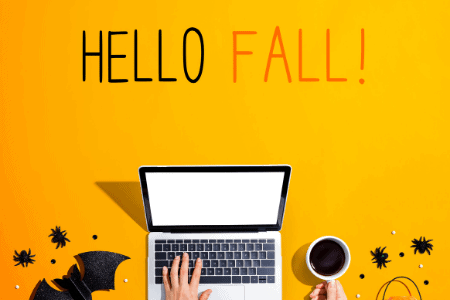 The short answer?
That's easy. The best side hustle to start in the fall is the one that:
Works with your schedule
Matches up with your skills or experience
Puts the amount of money you want and need to earn in your pocket
Other than that, some side hustles are better suited to the fall. And a few that you can really only do in the autumn.
As you go through the list of extra income ideas for fall, think about:
How much time you have to commit to making extra money right now
How much money you need to earn ($500? $1000? more?)
What kind of side hustle ideas interest you
Which fall side hustles fit with your skills
Read this guide on how to start a side hustle and make your first $1000!
How to Start a Side Hustle and Make $1000 a Month (or More!)
How to Side Hustle in the Fall and Make Extra Money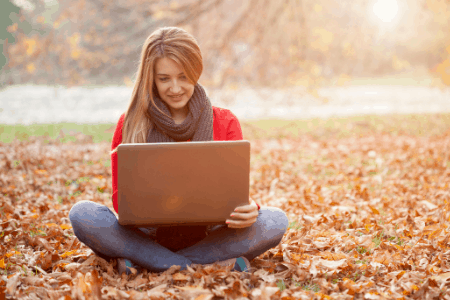 There are some easy side hustles you can do in the fall included here. (Because who doesn't like easy money?)
And I've also added a few that you can start in the fall and keep doing all year long to make extra money!
Make extra money doing the yardwork
Around the end of September, we start to see a few leaves falling here on the coast.
By the end of October, it's a leaf-pocalypse because we have so many trees in our yard and neighborhood.
If you're looking for extra income ideas that will get you outside, doing fall yardwork is perfect.
Raking up leaves (or doing it the lazy way with a leaf blower like me) is a great way to make extra money on weekends.
You don't need much equipment–just a rake, some gloves and some garbage bags to start–making it a low-cost fall side job you can do in your spare time.
Declutter your house and sell your stuff for quick cash
If you look around your house, you can probably find more than a few things your family no longer needs or uses. (For us, it's toys and books.)
If you have extra stuff hanging around, why not sell them it make some extra money?
There are lots of ways to sell extra items in the fall, including Facebook Marketplace, local Facebook bargain groups and eBay. You could also host a fall yard sale to make a few bucks.
You can also use apps to sell off your family's extra stuff. Some of the best apps for cleaning out the clutter and making money include:
Just be sure to read the terms of service so you know what you can and can't sell through the app.
Get your bake on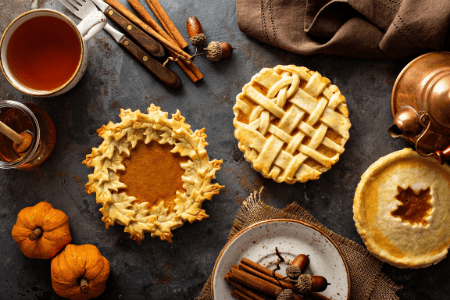 Did you read that in Nicole Byer's voice?
I just love "Nailed It!". It's probably because most of my baking efforts end up looking like something you'd see on that show.
But if you've got solid baking skills, you could turn that into fall cash.
You can sell your baked goods at fall farmer's markets or harvest festivals, holiday craft shows or right out of your kitchen.
(Just check the business laws in your state to make sure it's legal.)
If you're looking for some tasty fall baking ideas, check out these posts for inspiration:
Become a virtual assistant
Fall is the time of year when business owners and bloggers start ramping up for the holiday season. And a lot of them need help to do it.
That's an opportunity for you to make money by offering your services as a virtual assistant. In a nutshell, VAs help bloggers and business owners run their businesses.
I worked as a VA before I became a freelance writer and it's a lot of fun if you like doing flexible work. In the fall months, that might mean:
Creating a fall or holiday content calendar for clients
Drafting or editing fall and holiday-themed blog posts
Helping them promote that content on social media or Pinterest
Managing client email accounts
If you're not sure where to start as a VA, check out this ultimate guide to starting a VA business first.
Or if you're ready to launch your VA biz, ASAP then take a look at Gina's course, Fully Booked VA.
This is hands-down THE best course out there on how to start a successful VA biz from scratch and make real money from home!
Start a blog to make money
Starting a blog is another way to make money in the fall or at any time when you need extra income.
I love blogging because it's creative but the several thousand dollars I make from it each month isn't too shabby either.
If you want to start a money-making blog, there are really only two things you need: hosting and a domain name.
And the good news is, you can get both for one low price when you start a blog with Siteground!
I love Siteground for blog hosting, they've never let me down. Plus, their plans are super affordable which is great if you're short on cash.
Read this guide to start your blog with Siteground now:
How to Start a Blog and Make Money When You're a Total Beginner
Offer freelance services online to earn extra cash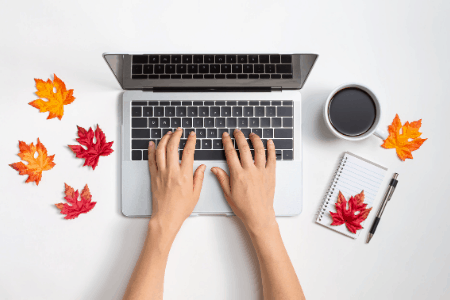 Freelancing is one of the hottest trends right now for extra income ideas.
And as a full-time freelancer, I can tell you that it's a pretty great way to make money!
Here are some of the upsides of freelancing:
You can work a flexible schedule that fits your lifestyle
There are soooo many ways to make money freelancing
The earning potential is absolutely amazing!
I make a five-figure monthly income freelancing so I know that it's possible to earn an income online. If you need some ideas for how to make money freelancing, here are a few of my favorite picks:
Freelance writing
Freelance writing was my second side hustle (being a VA was my first).
And it's been a great money-maker for me over the years. As a freelance writer, you can get paid to write for businesses and websites that need content.
The best part is, this is a side hustle you can start in the fall or any time with no money!
And if you're serious about finding clients and marketing yourself, you can pretty scale up to earning a few thousand dollars a month freelance writing.
Read these freelance writing posts to learn more:
How to Start Freelance Writing and Make Your First $100
7 Ways to Get Paid to Write Online That Can Earn You Thousands Each Month
Freelance blogging
Freelance blogging is a specific kind of freelance writing side hustle.
As a freelance blogger, you get paid to write exclusively for blogs.
Freelance blogging is one of my favorite ways to make money because it pays well and there are a ton of blogging jobs to be had out there!
If you're not sure how to get started freelance blogging, the best place is starting a blog of your own.
But if you're not ready for that, you can still learn how to get paid to blog with freelance blogging jobs.
Pinterest VA services
As a virtual assistant, you can make money doing all kinds of tasks for bloggers or business owners.
Pinterest VAs, on the other hand, have a much narrower focus.
As a Pinterest VA, you help bloggers and biz owners manage their Pinterest accounts.
And that's a freelance service that's in huge demand in the fall as bloggers get ready for the fourth quarter, which is typically the busiest of the year.
Online proofreading (get paid to read!)
If you're better at reading than you are at writing, then becoming an online proofreader could be a perfect fall side hustle!
As an online proofreader, you read written documents and check them for spelling and grammar errors.
Online proofreading jobs can easily help you earn $2,000, $3,000 or more each month from home. And you don't need experience to get started!
If you want to learn more about getting paid to proofread, check out this free webinar from Caitlin Pyle.
She is an expert on all things proofreading and this webinar covers the basics of how to make money as a proofreader!
⇒Sign up for the FREE online proofreading training now!
Online transcription jobs (get paid to type!)
Transcription is another online side hustle you can use to make money in the fall or all year-long.
As an online transcriptionist, you make money by transcribing audio files into written documents.
Just like proofreading, this is another profitable side hustle you can start with no experience!
To learn more about how to make money with online transcription jobs, try this free mini-course from Transcribe Anywhere.
It covers all the basics of making money as an online transcriptionist!
⇒Enroll in the FREE transcription mini-course now!
Read this post for more freelance service ideas:
23 Best Freelance Services You Can Offer From Home to Make Money
Make and sell fall or holiday crafts
If you've got some time on your hands this fall, you could whip up some crafts to sell just in time for the holidays.
This is one of those extra income ideas that might require you to a little money upfront to make money. So before you get started, think about how much you can invest in starting your side hustle.
Once you nail down your budget, it's time to start making! These posts can give you some ideas for fall and holiday crafts:
When you're ready to sell your crafts, get set up with an Etsy account if you don't have one yet. You can also sell them on eBay, Facebook marketplace or create a blog to showcase your crafty side.
Earn extra money as an online tutor
As a homeschool mom, I don't get paid to teach my kids. But if I were looking for extra income ideas for fall, tutoring would be on the list.
Because let me tell you, this homework they hand out in schools these days is crazy. One of my daughter's friends who just started tenth grade is struggling with math and after going over it with her, I can see why.
And chances are, there are plenty of other kids out there who need extra help with their homework. Which is a chance for you to make some fall cash.
The great thing about tutoring is that you can do it online and work around your schedule, which is great for busy moms. Another homeschooling mom I know tutors online and she's able to do it before her kids even get up in the morning.
There are lots of tutoring sites you can join to offer your services and make money, including:
Make money teaching on Outschool
One snag about online tutoring is that a lot of sites require you to have a teaching degree.
If you want to make money teaching online this fall but you don't have teacher certification, then you need to check out Outschool.
Outschool is an online teaching platform for kids K-12. What's different about Outschool is that when you sign up to be a teacher, you can teach just about anything you want!
And you don't need a teaching degree. Just a passion for your subject.
Outschool could be an amazing way to make extra money this fall, with so many families opting to homeschool these days.
On average, Outschool teachers make $35+ an hour. If that sounds good, head over to Outschool now to sign up!
Read this guide to learn how to make money on Outschool:
Outschool Review: How to Become an Online Teacher and Make $500 a Month
Sell fall photos online for extra money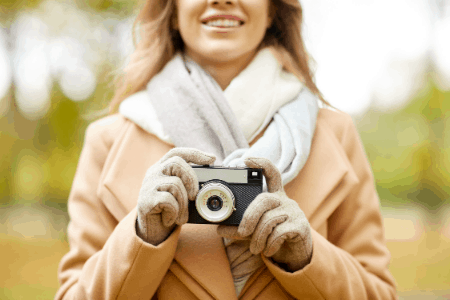 If you've got an eye for taking photos, you could put those skills to work in the fall as a photographer.
You could make money photographing fall events or taking fall-themed family photos.
Taking fall or holiday-themed stock photos is another option. I'm seeing a ton of these filling up my Pinterest feed lately.
If you want to get into selling stock photos, here are a few sites where you can post your pics for sale:
You can also start a blog or website and sell your fall and holiday stock photos there.
Read my epic guide to starting a mom blog with Siteground to learn how to get your site up and running!
Earn extra money as a pet sitter
Pet-sitting is one of my favorite extra income ideas just because I love dogs and cats. Getting paid to hang out with pets all day sounds pretty sweet to me.
The fall is a good time for pet-sitting because people may be taking fall trips, especially around Thanksgiving. If your family's staying close to home for the fall and holiday season, you could make money as a part-time pet sitter.
Rover is great for hiring yourself out as a pet-sitter online. According to the site, the typical pet sitter makes $1,000 a month.
If that sounds good to you, sign up to be a pet sitter with Rover here!
Make money from your holiday shopping
So far, these extra income ideas have been things that might not be part of your normal routine. This next one is great because it's a way to earn money for something you're probably already planning.
If you didn't know you could make money from your holiday shopping, you're missing out!
But how do you do that?
Easy. You use cashback apps to buy things on your holiday shopping list.
Every app is different but the idea is the same: you link your debit or credit card to the app, shop for deals and earn cashback. (Or gift cards.) Some of these apps also give you coupon codes you can apply for extra savings.
If you need some apps to get you started earning cashback on holiday shopping, here are my favorites:
Rakuten
Rakuten is great for shopping online or in-store and earning cashback. You just browse the deals you want to shop, make your purchases and earn quick cash!
Plus, when you sign up for Rakuten now, you can get $10 in cash bonuses after making your first purchase!
Ibotta
Ibotta is another easy way to make extra money in the fall when stocking up for the holidays.
There are two ways to earn cashback with Ibotta:
Link your store loyalty cards to the app to earn instant cashback at partner stores
Scan your receipts after making a purchase to earn cashback
It's super easy to earn cashback with Ibotta!
And even better, they have a sweet promotion going right now that lets you earn $20 in cash bonuses when you sign up!
Dosh
Dosh is probably the best cashback app you've never heard of for making easy money!
This app works like Ibotta and Rakuten.
You link it to your debit card or credit card, make purchases at partner stores and restaurants and earn cashback!
It's an easy way to pocket extra money for the holidays this fall so download Dosh now!
Get paid to lose weight
If you indulged in all those yummy summer foods or cocktails you might have a few extra pounds you'd like to get rid of.
And one of the easiest extra income ideas for fall is getting paid to lose unwanted weight!
That's what you can do with HealthyWage. This app lets you make a wager with yourself to help you reach your weight loss goals.
I wrote a detailed review of how HealthyWage works, so be sure to check it out.
And if you're ready to start your first wager, sign up with HealthyWage now!
Earn money as an online stylist
If the fall weather speaks to your fashion sense, you could put that to work as an online stylist.
As a Stella & Dot ambassador, you can make money with your own online storefront selling jewelry.
What's great is that you don't have to maintain physical inventory. And Stella & Dot sets up your storefront for you so this is an easy side hustle to start!
⇒Learn how to become a Stella & Dot ambassador!
Get paid to take surveys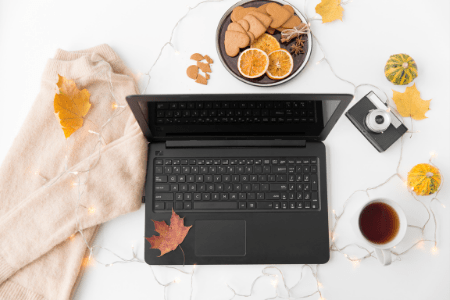 Last but not least on the list of extra income ideas for fall is taking surveys.
Why taking surveys?
Because it's a low-stress way to make money for one thing. And there are so many survey sites out there that pay real cash for another.
Will taking surveys make you rich?
Probably not. But it's a good way to earn extra money when you need it fast, with little effort.
If you need some survey sites to try for extra cash, here are some of my favorites:
The best part about using surveys for extra income is that you can sign up for one of these sites or all of them!
Read this post for more survey sites to earn extra income:
13 Best Survey Sites for Making Quick and Easy Money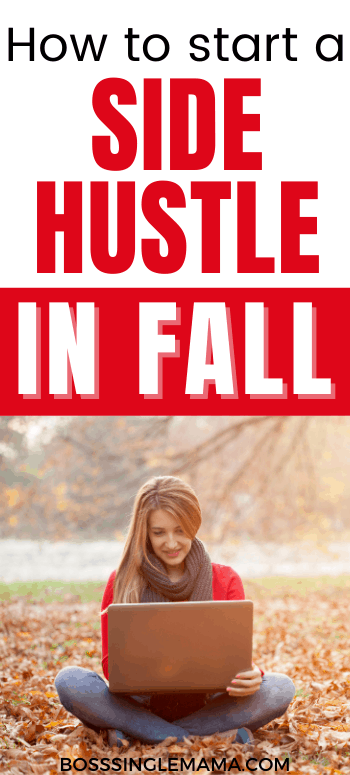 What are your favorite ideas to make extra money in the fall?
If you don't have at least one side hustle going yet, it's time to get started!
Fall is a great time to pick up a side gig (or two) to make money just in time for the holidays. And all of the options listed here are practically guaranteed to help you make money!
Do you have a favorite way to side hustle in the fall?
Head to the comments and tell me about it.
And of course, don't forget to pin and share this post!
Read these posts next for even more extra income ideas:
100+ Legit Side Hustle Ideas to Help You Make Money in Your Spare Time
37 Creative Side Hustles That Can Help You Make $100 a Day (or More!)
31 Best Side Hustles for Moms to Make an Extra $500 a Month
27 Easy Side Hustles You Can Do to Earn Extra Cash for the Holidays
5 Profitable Online Side Hustles for Introverted and Shy Moms
Best Extra Income Ideas to Make Money in Fall