Last Updated on May 13, 2023 by Rebecca Lake
Do teachers get paid in the summer?
This is an obvious question many new teachers (and those interested in pursuing the teaching profession) may ask. But the answer isn't always clear-cut.
In the United States, many private and public school teachers have the summer months off. So not working during summer break means no money earned. But it's possible for teachers to get paid during the summer if they opt for a 12-month pay structure.
Confused as to how it works? Or what options do elementary school teachers, middle school teachers and high school teachers have for getting paid on summer vacation?
Keep reading to learn when do teachers get paid in the summer and how taking vacation time affects the level of pay received. You'll also learn some of the most popular ways teachers can supplement their annual salary during the summer months or the entire year.
Related post: 40 Best Summer Side Hustles (Make $1000+ Per Month!)
Table of Contents
Do Teachers Get Paid in the Summer?
No, teachers do not get paid in the summer months if they're not actively teaching. Teachers who have the typical 2.5 to 3-month summer break can ask to have their yearly salary spread out over all 12 months of the school year. So they will get a paycheck but they're not getting paid for doing any work.
How does a 12-month pay system for teachers work?
Let's say you earn a gross annual teacher salary of $50,000. If you opt for 12 monthly payments, you'd get $4,166 in monthly pay before taxes. This means you'd receive summer pay even when school is out.
Getting paid this way allows teachers to maintain their school's health insurance coverage through the summer break. They can also continue earning retirement credits in their school's system since they're receiving a monthly paycheck.
What about teachers who work in a school that's open year-round?
Teachers who work in a school system that follows a 12-month schedule would get paid during the summer since they're technically teaching throughout the entire year.
Year-round teachers still get a summer break (plus spring break and winter break) but it's shorter than the traditional summer vacation. A typical year-round school schedule might have teachers working nine weeks, then having three weeks off.
---
Looking for a simple money management tool? Empower makes it easy to track spending, saving, investing, and budgeting in one place so you can tackle your financial goals!
---
What if a teacher works extra in the summer?
If a teacher works extra in the summer for their school, they'll get paid for time. For example, a teacher may agree to teach summer school classes or work in a special enrichment program offered by the school. The amount the teacher earns can depend on the school and the average hourly wage is around $25.
Not all teachers choose to work during the summer months. Instead of working, they might spend time with their kids, take vacations or travel, focus on professional development opportunities or simply rest.
Teachers who choose to work for their school in the summer will get paid, which is a nice incentive to forgo part of your break. And they can gain some valuable work experience while they're at it.
Do teachers get paid in the summer if they quit?
The answer will ultimately depend on how your school system handles resignations. However, if you wait until the end of the school year to quit your teaching job you should still be able to get paid for the remainder of your contract. Teaching contracts typically run through the summer months, up to the beginning of the next academic year.
---
Looking for a remote gig or work-from-home job? Virtual Vocations features remote jobs and at-home jobs in over 50 categories so you can find a role that fits your skills. Create a Virtual Vocations account and start browsing listings to find your next remote job!
---
How Do Teachers Get Paid in the Summer?
How teachers get paid in the summer will depend on where they're working. Different states and local school districts can apply their own rules when determining whether teachers get paid over the summer and how often paychecks are disbursed.
For example, the San Diego Unified School District offers three options to employees: a 10-month pay structure, an 11-month pay structure and a 12-month pay structure. Employees of Montgomery County Public Schools in the state of Maryland can also receive summer pay based on whether they're 12-month employees or 10-month teachers.
Here in North Carolina, teachers can get paid according to a 10-month or 11-month pay structure. They can also get special supplemental pay or stipends for taking on additional responsibilities, such as teaching classes through the early college program. 
As far as the "how" of do teachers get paid in the summer works, there are two options. Teachers who receive summer pay can either:
Get it all in a lump sum at the start of the summer
Break the amount up into individual paychecks spread out over the summer months.
Is it better for teachers to get summer pay in a lump sum or installments?
How responsible you are with money is a major factor in determining whether it makes sense to get paid in a lump sum or split up your paychecks over the summer break.
If you're good at budgeting and you don't anticipate any unexpected costs over the summer, then you might take the lump sum. You can use the money to get a month or even two months ahead on bills or set it aside in a different account at your bank until you need it.
On the other hand, if you think a lump sum might be a temptation to spend you might be better off taking regular paychecks each pay period instead. This way you don't have to worry about being handed a large amount of cash one day, then the next day wondering where it's all gone.
Related post: How to Stop Spending Money: 23 Practical Ways to Spend Less, Save More
---
Looking for the best high yield savings option? Compare savings account rates online at top banks and credit unions now!
---
Benefits of Teachers Getting Paid in the Summer
Spreading out teacher salaries across the full year offers some advantages.
First, it can be easier for teachers to budget when they know they can count on steady paychecks throughout the year.
Teachers still need to pay their rent or mortgage, utility bills and other bills, even when they're waiting for the upcoming school year to start. Receiving summer pay can ensure they have enough money to meet their financial obligations when school isn't in session.
Distributing paychecks out over the full school year also means teachers are getting compensated for the time that they may be working on school-related activities outside the classroom.
For example, summer is when many teachers spend time putting together lesson plans for the next school year. They may also attend school conferences, either in-person or virtually, or take classes to further their professional development.
Finally, getting paid over the summer means that teachers may have extra money to enjoy what free time they do have.
So they may use part of their summer pay to take a short vacation or splurge a little on self-care, which can help them recharge and prepare mentally for the challenges the new school term might bring.
What Do Teachers Do in the Summer for Money?
Many teachers use the summer months as an opportunity to supplement their regular paychecks with additional income. Some of the ways teachers can earn extra pay over the summer include getting a second job or starting a side hustle.
Teachers have unique money-making skills that can create a number of work opportunities over the summer months. How much money they can earn depends on how much extra work they're willing to take on and how much time they have until the next school term begins.
And even making an extra $1000 a month could be welcome for a teacher, considering that public education isn't one of the highest-paying professions.
According to the National Education Association, which publishes education statistics, the average teacher salary for 2020-2021 was $41,770. If you compare that to the median U.S. household income of $79,900, it's obvious that teachers probably aren't getting rich quickly.
Average teacher pay varies widely across different public school districts and by degree and years of experience teaching.
In New York City, for example, the pay scale for a full-time teacher with a bachelor's degree and no prior teaching experience is $61,070. The starting salary for a teacher with a master's degree and eight years of teaching experience is $83,972. Both are well above the average salary paid to teachers nationwide.
Meanwhile, a history teacher or high school math teacher working in Gulfport, Mississippi may earn just $41,500 in yearly salary, depending on their years of experience.
It's important to remember that the typical work week for a teacher isn't the same as a typical work week for other occupations. School may be in session from 8:00 am to 3:00 pm but there are plenty of school-related activities teachers have to handle outside those hours.
For example, they may have to attend staff meetings before or after school. Afternoons may be dedicated to overseeing extracurricular programs. Nights and weekends may be blocked off for creating lesson plans or grading assignments.
And many teachers put back some of what they earn into their classrooms by purchasing necessary supplies.
While schools send out a supply list each school year, from my own experience I know that not all parents send back the required items. So many teachers will dip into their own pockets to make sure their students have pencils, paper and other necessities to learn.
While the salary schedule may differ from place to place, one thing remains true: the job of a teacher is hard work.
And it's easy to argue that when it comes to how much teachers get paid, the answer is not enough.
How do teachers survive in the summer?
A lot of teachers take on summer jobs to make it through the summer break when they're not earning money from their regular job. It's not unusual for teachers to use the skills they've learned to work other jobs and get paid in the summer months.
So, just because a teacher isn't getting paid for working in the classroom that doesn't mean they aren't making any money at all. And depending on what kind of work they're doing over the summer, teachers could make quite a bit of extra money!
How Do Teachers Make a Living in the Summer?
Plenty of teachers make a living in the summer with side jobs, using the skills they've learned in the classroom. And even retired teachers may look for ways to supplement Social Security benefits if they're eligible to receive them or teacher pensions after they've put down their chalk for good.
Some of the most popular ways teachers can get paid in the summer are education-related.
For example, teachers might take a summer job teaching in their district's summer school. According to ZipRecruiter, the average teacher salary for summer school jobs is $3,292 per month. So two months of work could put almost $7,000 in extra cash in your pocket.
Many teachers also opt to take jobs at summer camps or day camps or teach summer classes at their local community college. Offering services as a private tutor is also an option since there are many parents willing to pay for a teacher's expertise to help their child avoid the summer slump.
Teaching online is another good way for teachers to make money over the summer. With Outschool, teachers can lead live Zoom classes on just about any subject and make a few hundred or even a few thousand dollars in extra pay each month.
Outschool is great for teachers who have perfected their own teaching styles and/or have a subject they're passionate about. Even a substitute teacher or special education teacher could sign up to teach with Outschool and create a steady stream of income online from the comfort of their own home.
---
Interested in making money as an online teacher? Outschool is a great way for stay-at-home moms, single moms, working moms, and retirees to make extra money, no teaching degree is required! Apply to become an Outschool teacher and make $50+ an hour!
---
Teachers may also make money with a site like Teachers Pay Teachers.
Teachers Pay Teachers is an online marketplace where educators can buy or sell educational materials.
So if you're a history teacher, for example, you might create history lesson plans for elementary students. Or if you teach language arts, you might sell grammar worksheets you create with a tool like Canva.
This can be a great way to create a passive stream of income since you can create your materials once and sell them multiple times to different buyers.
It's possible, however, that you may want to do something that's completely unrelated to working with kids to make extra money over the summer.
In that case, here are a few other summer jobs for teachers you might consider:
Selling printables or other hand-made items on Etsy
Becoming a summer camp counselor
Selling low-content books on Amazon
Tutoring online or offline
Becoming a test prep instructor
Joining an online focus group
Taking surveys for cash
These are all ways to make extra money online. You might also consider offline side hustles, like walking dogs, driving for DoorDash or becoming an Instacart shopper.
---
Make Quick Cash With Survey Junkie
Take surveys. Earn rewards. Get paid.
Making extra money is that easy when you create an account with Survey Junkie. It's free to sign up and you can earn real cash in your PayPal account or free gift cards, just for answering questions and sharing your opinions.
---
What Do Teachers Do Over the Summer?
School pay systems can put pressure on teacher budgets but the good news is that teachers can use the summer as an opportunity to make extra income. (And having worked with a number of teachers who waited tables during the summer, I can safely say that teachers aren't just lounging by the pool while school is out.)
Aside from exploring side hustles for teachers, educators can also spend time getting ready for the upcoming school year. That can include:
Creating lesson plans
Exploring curriculum options
Decorating or rearranging their classrooms
Purchasing any necessary school supplies
Attending staff meetings or seminars
Completing continuing education requirements to maintain their teacher certification license
Again, these are things that teachers don't necessarily get paid for but they're all things a great teacher takes seriously.
And for some teachers, the summer months are also a good time to consider whether a career change is in order. You might be interested in moving into a different education field, for example, or getting out of teaching altogether so you can start your own business.
Related post: 5 Legit Business Ideas for Moms You Can Start to Earn $5,000+ Monthly
Frequently Asked Questions (FAQs)
Do teachers get paid during winter break?
Teachers usually don't get paid for the winter break or spring break, since those periods are included as part of their regularly scheduled time off. Instead, teachers earn an annual salary that's divided up across the school year, either in 9-, 10-, 11- or 12-month installments.
How many weeks do teachers get off?
Teachers usually get two weeks off for winter break, one week off for spring break and anywhere from six to nine works off for the summer break. That assumes that a teacher works in a school system that follows a nine-month school year. Teachers who work at year-round schools may get a different number of weeks off.
What is the best summer job for a teacher?
The best summer job for a teacher can depend on their skills, interests and how much free time they have to work. Some good summer jobs for teachers including tutoring in-person or teaching online through a platform like Outschool, teaching summer school for their current employer or working at a summer camp for kids.
Bottom Line: Do Teachers Get Paid in the Summer?
Do teachers get paid in the summer? Not always. Should they get paid in the summer? Yes, considering the hard work they put in all year long.
If you're a teacher and you're wondering how to stretch your salary over the summer break, getting on a 12-month pay schedule can help. You can also research different side hustles for teachers that you can do during the summer or the entire year to make more money.
Need more money tips? Read these posts next: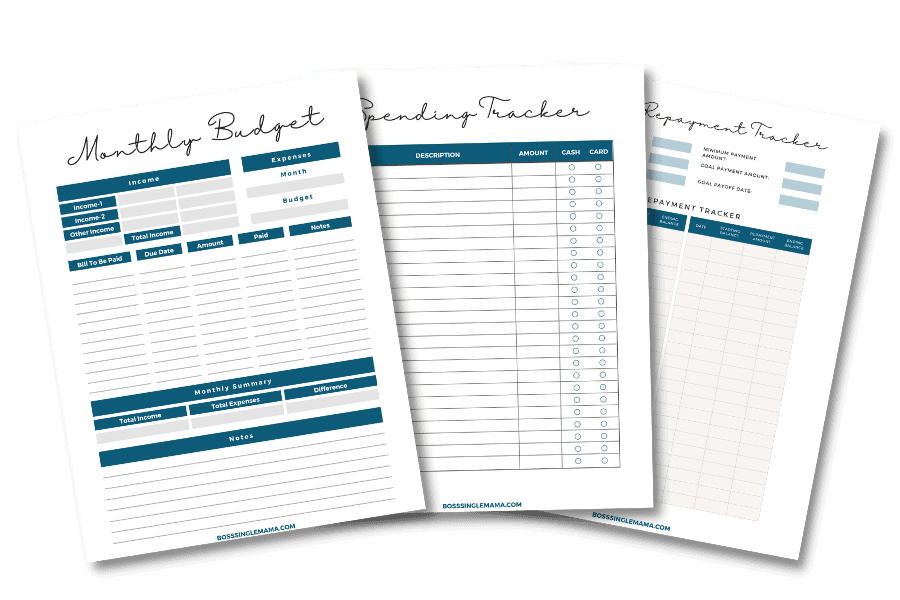 ---
Take Control of Your Budget!
Grab these FREE budgeting printables and get your finances on track when you join the weekly newsletter!
---
Do Teachers Get Paid in the Summer?