Last Updated on November 12, 2022 by Rebecca Lake
Bright Money Review
Bright Money (not to be confused with Bright Money Independent) is a personal finance app that's powered by artificial intelligence (AI) technology.
This unique money app is designed to help you pay down credit card debt, improve your credit score and build wealth. Specifically, Bright Money offers "an AI-driven financial plan with life-changing results."
If you'd like to improve your financial situation, taking small steps could help you to do it without getting overwhelmed. And Bright Money is designed to make financial planning less stressful.
But is Bright Money legit? How does it work to help you reach your financial goals? And who is this financial management app right for?
This Bright Money review answers those questions to help you decide if it's worth it.
What Is Bright Money?
This Bright Money review offers a closer look at how the app works to improve your finances.
What is MoneyScience?
Related post: What Is the Importance of Budgeting?
Is Bright Money Legit?
How Does Bright Money Work?
Goals (increase your credit score, pay off credit card debt, build extra savings)
Gross annual income
Personal information, such as your name and address
You'll also need to provide the routing number and bank account number for the primary checking account you want to link to the Bright app.
Bright studies your information to create your account and open a Bright Stash account. This is an FDIC-insured savings account.
The Bright app transfers money from your checking account balance to your Bright Stash account at Smart Pace intervals. Transfers typically occur every two to three days, based on the amount specified by your Bright Plan.
Once the money is deposited to your Bright Stash' account, the MoneyScience algorithm chooses the best way to use it, based on the goals you set for your personal finances.
If you'd rather not use the Smart Pace plan, you can create your own payment plan by scheduling recurring transfers or manual transfers. For example, you could schedule a deposit to your Bright Stash' account each payday or bimonthly.
Related post: 60+ Sinking Funds Categories to Help You Budget Smarter
How Does Bright Pay Off My Credit Cards?
Bright is designed specifically for paying off credit card debts. It doesn't work for other types of debts, such as auto loans, student loans, a debt consolidation loan, cash advance loan or personal loan.
Here's how a Bright account can help you take control of your debt situation:
Bright analyzes your credit card accounts to collect information on your balances, APRs and minimum payment due
The app also analyzes your spending habits to determine how much you should pay toward each of your credit card debts and in which order those debts should be paid
Bright sets your Smart Pace frequently to determine how often to transfer funds to your Bright Stash account
The app then makes payments to your creditors automatically before the due date, helping you to avoid late fees
Bright Money uses the debt avalanche method by default to simplify credit card management. The debt avalanche advocates paying off debts with the highest interest rate first, while leaving debts with a lower interest rate for last, regardless of the balance owed.
This is the opposite of the Dave Ramsey debt snowball method, which has you pay off the debt with the lowest balance first. The debt avalanche can be a faster way to get out of debt and it could help you save on interest fees and charges.
The debt snowball method, on the other hand, can help you pay off smaller balances right away. That could be a huge help if you need some motivation to stick with your debt repayment plan.
Pro tip: According to Bright, the typical user saves $744 a year in interest charges.
Related post: 21 Dave Ramsey Tips to Help You Master Your Money
Bright Balance Transfer
Bright Balance Transfer is an optional feature you can use to pay off credit card debts.
It's a low-interest line of credit (not a personal loan) that's designed to help you save money on interest charges. This Bright lending option works like a credit card consolidation loan, though it isn't a loan per se.
If you're approved for a Bright Balance Transfer line of credit, those funds are used to pay off high-interest credit cards. Those debts are then moved to a balance transfer program that offers a lower interest rate.
Bright automates your payments so you can save money and pay off debt with minimal hassle. Bright Balance Transfers offers credit lines of up to $10,000 with APRs starting at 9.95%.
Can Bright Help Build Credit?
Bright Money can help make credit card bills more manageable but it can also help you to improve your credit score. Bright Credit Builder works along with Bright Balance Transfer to boost credit scores.
Once you're signed up for Bright Credit Builder, Bright sets up an interest-free, secured line of credit on your behalf. This line of credit is used to make automatic payments to your credit cards.
Paying automatically means you don't have to worry about missing a due date and triggering a late payment on your credit report. Bright Credit Builder can also help you improve your credit utilization over time if your balances steadily decrease.
How Does Bright Money Help You Grow Savings?
Bright can help you save extra money, even if you don't have much money to spare.
You can set up a Bright Savings Account to receive automatic deposits from your linked checking account. It's a virtually painless way to save, even in small amounts.
The default financial goals Bright saves for are an emergency fund and a rainy day fund. But you could also use a Bright Savings account to set aside money for a wedding, vacation or any other savings goal you might have in mind.
Is Bright Money Free?
The Bright app is free to download but there is a monthly subscription fee required to use it.
There are three paid subscription options to choose from:
1-month subscription: $14.99/month
6-month subscription: $8.99/month
12-month subscription: $6.99/month
Each monthly subscription comes with a 10-day free trial period. So you could use this free version temporarily to help you decide if you'd like to move ahead with a paid subscription.
If you're not completely satisfied with Bright, you're covered by a money-back guarantee. There are no long-term contracts required or cancellation fees.
Bright Money Pros
Before paying a monthly fee to use Bright Money, it's important to know if this app is worth it. Looking at the pros and cons can help you to decide if it's right for you.
So to keep this Bright Money review thorough, let's start with what's good about the app:
Easy to get started. Bright Money works with a number of banks, credit unions and other financial institutions and you can get your account set up in minutes. If you don't see your financial institution on the list of supported banks, you can send feedback to Bright Money asking them to add it.
Designed for credit card debts. Credit cards can carry higher interest rates than student loans, auto loans or other types of debt. Bright helps you to save money by paying off those debts faster and more efficiently. And even a small amount saved on interest each month can really add up.
Customizable debt plan. The Bright Plan analyzes spending and debt to help optimize your payments but you can choose a different option. For example, if you'd rather not use the debt avalanche method you could opt for the debt snowball method instead.
Build credit and save money. Bright Credit Builder makes it easier to improve your credit scores while paying down credit card debts and saving money on interest charges. A good credit score can make it easier to get approved for new loans at a lower interest rate.
Good customer service and a money-back guarantee. Bright customer support is available by email, phone or live chat in case you have a problem or need questions answered. The money-back guarantee means you can cancel at any time if you decide Bright Money isn't right for you.
Educational tools. Bright offers a library of personal finance tools online and in the app to help you get smarter about money. If you're ready to take a small step toward improving your personal finances, you can learn how to build savings, grow wealth and manage your money in one place.
Bright Money Cons
There are some good things about using Bright Money to pay off debt, but there are a few disadvantages to keep in mind. So to balance this Bright Money review, here are the main downsides to know about:
Not all banks and cards are supported. Bright connects with a number of financial institutions as mentioned, including banks and credit unions. But it doesn't include all of them so it's possible Bright may not work with your bank.
Credit-card focused. What's arguably one of the best features of the Bright app can also be its biggest drawback. This app is only for paying down credit card debts, so if you're trying to pay off personal loans, car loans, student loans or a home loan instead it's probably not a good fit.
Late payments. Some Bright Money reviews written by consumers suggest that the app doesn't always make credit card payments on time. That can be a pitfall of using any financial management app to pay bills, so it's important to keep track of your due dates.
Not a substitute for professional financial planning. Financial apps like Bright Money can help you get on the right track with your personal finances. But they shouldn't be viewed as a substitute for getting advice from a financial advisor or money management professional.
Bright isn't free. Paying a monthly fee may not be ideal if you don't have much money to spare and want to allocate as much as you can toward debt repayment. If you're trying to get out of debt as cheaply as possible, then you may want to try free financial products instead.
Who Is Bright Money Good For?
Bright Money is suited for people who want a faster way to pay off credit card debts. You might consider using Bright if you:
Only have credit card debts to pay off.
Want to save on interest charges.
Are interested in building your credit score.
Want a simple way to grow savings automatically.
Don't mind paying a monthly fee to use the app.
Bright Money make not work for you if you're not committed to paying off your credit card debts or you don't want to pay a monthly fee to do it.
How to Get Started With Bright Money App
The Bright Money app is available for download in the App Store and the Google Play Store. You can download the mobile app or open an account online through the Bright Money website.
To get started, you'll need to:
Tell Bright what your financial goals are
Share how many credit cards you have
Share your total credit card debt
Tell Bright how much you have in emergency fund savings
Share your annual income range
Bright uses this information to create your Bright Plan. You can then create your account using a special code Bright will send to your phone.
Once you verify your identity, you can add your bank information and activate your Bright Plan to start paying off debt, building credit and saving money.
Bright Money Review FAQs
What is the Bright Stash Account?
The Bright Stash Account (previously the "Bright Account") is a secure financial account that's FDIC-insured and protected by top-grade security, including bank-level encryption. When Bright moves money from your linked bank account, those funds are stored in your Bright Stash account.
Bright uses the money to make automatic credit card payments or build your savings, depending on your financial goals. You can withdraw money from your Bright Stash Account at any time.
Is Bright only for credit cards?
Yes, Bright Money only works to help you pay off credit card debts. If you have other types of debt to pay off, you may want to shop around for a great deal on a debt consolidation loan.
Can I pause Bright's service?
You can pause Bright's service at any time by logging in to your account. During the pause period, Bright will stop moving money into your Stash account. You can withdraw funds in your Bright Stash account at any time.
How do I cancel my Bright Money account?
You can cancel your Bright Money account through the Bright Money app at any time, with no cancellation fees. If you want to completely delete your Bright Money account, you can contact customer support via email at support@brightmoney.co or via live chat support.
What is the best debt payoff app?
The best debt payoff app is the one that allows you to pay off your debts at a pace that's comfortable for you, while also saving you money on interest charges. Bright Money can help you do both, though there are other debt payoff apps like Tally that you might choose instead.
Related post: How to Get Out of Debt on a Low Income
Bright Money review wrap-up
Bright Money can make debt paydown easier if you're struggling to get a grip on credit card debts. If you're looking for smart ways to pay off debt, build credit or save money, the Bright app offers all three.
This Bright Money review is designed to give you a fair look at how the app works, what's good about it and why you may want to think twice before downloading it.
Does that mean you need an app or other financial products to get out of debt?
Not necessarily. Making spending shifts to cut out wasteful expenses and finding ways to make more money could both help you become debt-free faster.
If you're looking for easy ways to make money, here are 50 ways to put an extra $1,000 a month in your pocket.
And be sure to check out my favorite Smart Money Tools for making and saving money!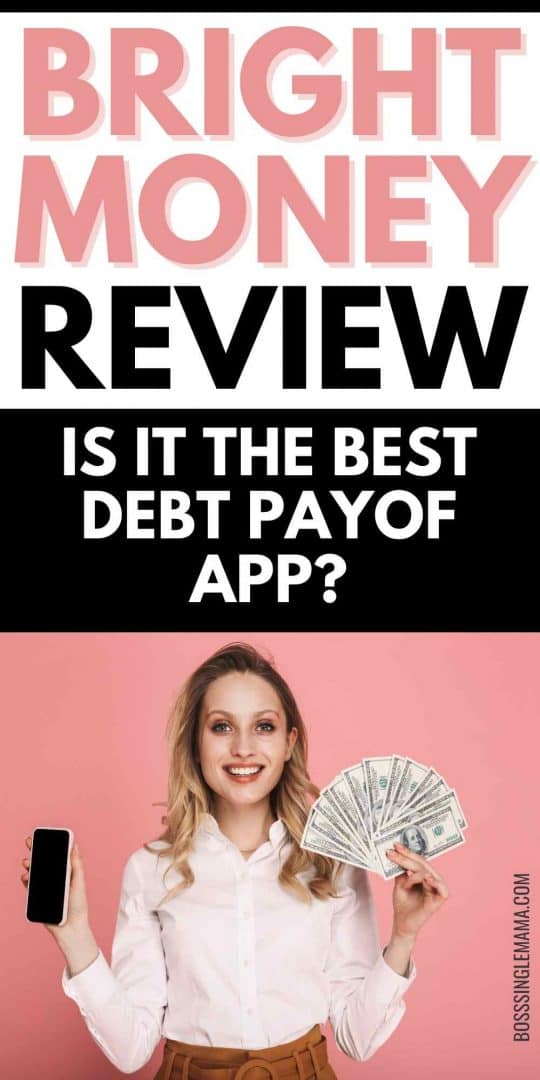 Bright Money Review