Last Updated on October 22, 2022 by Rebecca Lake
If you're looking for a way to give your kids a little financial independence, the FamZoo prepaid debit card could be a great option.
FamZoo is a prepaid debit card and personal finance mobile app that's designed for kids, teens and parents. This FDIC-insured money management tool comes with numerous features to help kids and teens learn good money habits.
But is FamZoo the best prepaid debit card for kids and teens?
This card has a lot of great features and benefits, but there are also some drawbacks that you should consider before signing up. In this FamZoo review, we'll take a look at the pros and cons of the FamZoo debit card for kids, as well as how it works and who it might be right for.
Related post: Budgeting for Kids: How to Teach Kids the Basics of Money Management
What Are Debit Cards for Kids and Teens?
A prepaid debit card is a type of bank account, but without the banks. You can use it like a regular debit card to buy things with real money and withdraw cash at an ATM or at the checkout in-store.
Prepaid debit cards for kids and teens are debit card products that are aimed at younger users.
Kids need to be at least 18 to open a bank account without a parent or legal guardian's help. While you could open a child savings account or teen checking account for your child, a prepaid debit card for kids can offer some unique benefits.
Note: Prepaid debit cards for kids are not the same as gift cards.
Benefits of prepaid debit cards for kids and teens
Giving your child a debit card of their own is a great way to help them learn about money management firsthand. When kids have their own prepaid debit card, it can be easier for them to grasp financial concepts like budgeting, saving and spending wisely.
Here are some of the other benefits of giving kids and teens a prepaid card account:
Parental controls. A prepaid debit card isn't necessarily a free pass for kids to spend. The FamZoo prepaid debit card, for instance, comes with parental controls built-in so you can see where your child is spending money and in what amount.
Track spending. Making purchases with cash can be problematic for kids if they're not keeping track of what they're spending. A prepaid debit card for kids like FamZoo makes it easy for your child or teen to see what they've spent at a glance.
Chore payments. Prepaid debit cards make it easier to pay kids their allowance if they get paid for doing chores around the house. With FamZoo, for example, you can set up an online chore chart and kids can earn an allowance as they check off each chore on the list.
Learn financial responsibility. A prepaid debit card is not a credit card, meaning kids don't have an endless amount of money to spend. Giving them a prepaid debit card like FamZoo can help kids grasp concepts like needs vs. wants and how to budget so they don't run out of money.
What Is FamZoo Prepaid Debit Card and Is FamZoo Legit?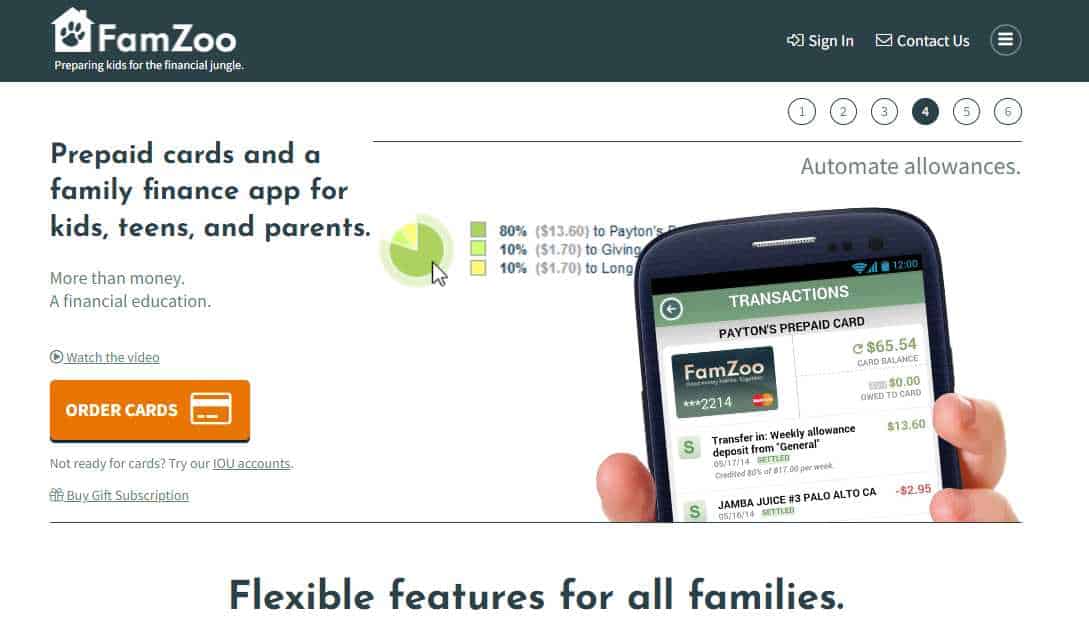 FamZoo is a prepaid debit card that is designed for kids, teens and parents. The company was founded in 2006 and is headquartered in San Mateo, California and bills itself as a "virtual family bank".
CEO Bill Dwight came up with the idea for FamZoo in 2005 when he started building a simple online allowance application for his kids. In the summer of 2006, Dwight started FamZoo as a way to combine three of his personal passions: building software, raising children and promoting the importance of learning from strong role models, i.e. parents.
The company has earned mentions on Headline News, the New York Times, the Wall Street Journal and Money magazine.
An estimated 13,000 families use FamZoo prepaid debit cards for kids and teens, so it's a legitimate personal finance app. FamZoo is not a gift card and it's not a credit card either.
In terms of who can join FamZoo, this financial product is designed for any family who wants a simple online tool for helping kids manage money.
How Does FamZoo Work?
The FamZoo debit card works just like a regular debit card, in that kids and teens can use it to make purchases and withdrawals from ATMs or store tellers. Families can create one FamZoo account and link debit cards for each of their children.
Money held in FamZoo accounts is safe and secure and it's also FDIC-insured. You don't need a bank account from another financial institution to reload funds onto a FamZoo prepaid debit card and kids don't need a smartphone to access their FamZoo accounts online.
FamZoo prepaid debit card key features
Like other prepaid debit cards for kids and teens, FamZoo is designed to meet the needs of young spenders. Some of the card's key features and benefits include:
Instant card-to-card transfers for easy reloading
Cash reload option at participating retailers
Direct deposit reload option for teens who are earning a paycheck
Card activity alerts
Card lock/unlock
Customizable subaccounts
All in one option for tracking family's spending
Automated option for paying each child's allowance
Automated chore charts
Chore penalty option
Savings goal trackers
Parent-paid interest option
Family loan tracking
Automated family billing
Reimbursement requests
Expert help and support
The FamZoo prepaid debit card is designed to let parents act as a virtual bank for kids and teens.
For example, parents can "lend" kids advances against their allowance or paychecks. Kids can then pay back this "loan" through the app, with interest added on.
FamZoo also makes it easier for parents to incentivize kids to save by paying them interest on savings balances. This can be a great way to teach kids about the power of compound interest and get them motivated to set savings goals and achieve them.
FamZoo IOU accounts
FamZoo's IOU accounts allow parents to track money they're holding elsewhere on behalf of their child. The balance in an IOU account represents the amount you "owe" your child.
IOU accounts are designed for kids who may not be ready for their own debit card yet or have much money of their own. When you set up the FamZoo app to pay your child allowance or reward them with other amounts, those amounts are credited to your child's IOU account.
You might consider a FamZoo IOU account if you:
Have younger kids who don't necessarily need a debit card of their own
Want a simple way to track money held for your child outside of the FamZoo app
Need to track chore rewards for review before paying allowance
Want a simple way to track family loans
Once your child is ready, you can transition them to a FamZoo prepaid debit card account.
How do I add money to my FamZoo card?
FamZoo offers multiple ways to reload money onto its prepaid debit cards for kids. Here's how you can add money to your child or teen's FamZoo card:
ACH bank transfer. You can link your checking account at your bank or credit union to your FamZoo account to easily transfer money to your card. You can then transfer money from your FamZoo card to your child's.
Direct deposit. Teens who get a paycheck from working can opt to have it added to their FamZoo card automatically via direct deposit.
Cash reload. FamZoo also allows you to add cash to its prepaid debit cards at partner retailer locations, including those that accept GreenDot transactions. (There is an additional fee for this service.)
Digital wallet. If you use a digital wallet app like Apple Pay or Google Pay, you can also schedule transfers from stored cards to a FamZoo debit card account.
Keep in mind that some options are faster than others. For example, it might take up to five business days for a direct deposit to show up but cash reloads can be completed in minutes.
How to Get a FamZoo Prepaid Debit Card
Any family can create a FamZoo account and set up prepaid debit cards or IOU accounts for their kids. FamZoo cards can be used by family members of all ages, including kids under 13.
To apply for a FamZoo main account, a parent will need to register online or download the app in the App Store or Google Play store. This is necessary to open an account in the parent's name first.
You'll need to share some personal information for each person in your family who's applying for a FamZoo prepaid debit card, including:
Legal name
Date of birth
Social Security Number
U.S. physical residential address
Email address
Telephone number
There has to be at least one adult parent cardholder in each family. New accounts will need to be verified before you can start using your FamZoo debit cards.
There's no credit check to sign up for FamZoo and opening a prepaid debit card account won't affect your credit history. That does mean, however, that a FamZoo prepaid debit card won't help your child to build credit.
FamZoo Prepaid Debit Card Fees
FamZoo prepaid debit cards do have some fees to be aware of. There are two ways to pay: monthly or pay in advance.
If you choose the monthly payment option, you'll pay $5.99/month. This fee covers your entire family and you can switch to prepay at any time.
Note: The $5.99 monthly fee includes a free one-month trial.
If you choose the pay in advance option, you'll make a one-time payment that covers you for a set time period. Paying in advance can save you money since you get a discount on FamZoo fees.
Here's how the pay in advance option works if you want low fees:
The 24-month plan offers the best deal in terms of savings but it also requires the longest time commitment. So if you're only interested in testing the waters with FamZoo, you might be better off signing up for the $5.99 per month plan to get the free one-month trial.
Other FamZoo debit card fees
In addition to the monthly subscription fee, there are some other fees you might pay for a FamZoo account. Those fees include:
$4.95 cash reload fee
$3.00 additional card fee (after the first four cards)
$3.00 card replacement fee (after the first two free replacements)
$25.00 card express delivery fee (optional)
Since this is not a bank account, there are no check fees or overdraft fees. But kids may pay fees for ATM withdrawals.
FamZoo Prepaid Debit Card: Pros and Cons
Should you get a FamZoo prepaid debit card? Considering the pros and cons can help you to decide if it's right for your family.
Here are the pros of FamZoo prepaid debit cards:
No credit check is necessary to sign up
Set up automatic payments for allowance or doing odd jobs
Can be used by family members of all ages, including kids under 13 who might still use piggy banks
Get multiple cards with different card account numbers for each child
Parents can track money they're holding elsewhere on behalf of their child with an IOU account
Parent account access makes it easy to see transactions associated with a child's card
Set up chore charts and automatic allowance payments from the parent card to kids' cards
Make "loans" to kids and pay interest on savings at interest rates you set
Teach kids basic financial literacy, including charitable giving
Free trial offers an opportunity to test FamZoo for free
Initial setup is not difficult
FamZoo takes steps to protect and secure sensitive data
Deposits are insured up to FDIC coverage limits
Customer service gets rave reviews
And here are the cons of FamZoo prepaid debit cards:
All plans have a monthly fee of some kind
FamZoo doesn't charge ATM fees but network operators may
Parents do not have complete control, as there are no merchant- or store-specific transaction controls
FamZoo website and app can sometimes be difficult to navigate
So, should you get a FamZoo prepaid debit card for your kids? It depends on what kind of features and benefits you're looking for in a debit card for kids.
One of the biggest complaints about FamZoo is that the website and app are a bit clunky and outdated. And parents are not able to filter out specific merchants or types of transactions, which is something you might be concerned about.
For example, you may not want your son or daughter blowing money on in-game purchases. With other prepaid debit cards, you can block those purchases through parental controls. FamZoo, however, doesn't offer that functionality.
Overall, however, the FamZoo debit card can give kids a good financial education as they practice managing their own money. Kids can learn how to set financial goals and work toward them while also learning the rewards of hard work through allowance payments.
Which is better, FamZoo vs Greenlight debit card?
FamZoo is just one prepaid debit card option parents might consider. Greenlight is another debit card for kids.
Overall, FamZoo and Greenlight have similar features in terms of how parents and kids can use the prepaid debit cards to manage money. Both charge fees, both are FDIC-insured and both require an account in the parent's name.
One big difference, however, is that Greenlight offers an investing option for kids. Parents can set up a custodial account and trade stocks on behalf of the children. Once they become adults, the account transfers to their own name.
Those could be great family finance features to have if you're interested in helping your kids get a head start on building wealth. But if you're looking for a more basic prepaid debit card option, then FamZoo could meet your needs.
Final thoughts on FamZoo prepaid debit card
Debit card accounts can help kids learn good personal finance habits at an early age. And they can keep teens from racking up credit card debt.
Is FamZoo the best debit card for kids? The answer can depend on what best fits your family's spending habits and needs.
The FamZoo prepaid debit card for kids could be a good option to consider if you want to give your children a way to have some control over their money with a Mastercard-network certified and PCI DSS compliant card. Before opening any prepaid debit card account for kids, it's important to consider the features and benefits as well as the fees you might pay.
When talking with kids about money, start with the basics. That includes budgeting and saving. As kids get older, you can explore more complex topics together, like investing, credit and debit.
The more often you have money conversations with your kids, the stronger their financial foundation will be when they become adults. And if you're ready to give them their first debit card, sign up with FamZoo today!
Before you go, be sure to check out my favorite Smart Money Tools for making and saving money!
FamZoo Prepaid Debit Card Review