Are you a mom who's interested in starting an online business?
I mean, you see people making money left and right from freelancing or blogging and you think, hey, I can do that too.
But you want to know a secret?
Starting a business–online or otherwise–is hard.
Building my freelance writing business and now trying to do the same thing with blogging are hands-down the hardest things I've ever done.
Seriously. It even tops being a single parent and all the struggles that go along with that.
So, you might be thinking, well why would anyone want to start a business online if it's so hard?
And here's the answer: because even though it's a constant challenge, it's awesome.
The freedom, flexibility and of course, the money-making potential are all serious motivators to be your own boss.
Sounds good, right?
So, I want to give you some tips that can help you succeed, whether you're blogging, freelancing, starting a virtual assistant business or doing something totally different online.
Here ya go!
7 Rules for Starting an Online Business (You Absolutely Need to Know)
Rule #1: Know Your Value
"Know thyself" is a bit of ancient wisdom (thanks, Socrates) and it's super helpful if you're trying to build a business online.
Because here's the thing: you really need to know exactly what you bring to the table.
When you don't know your value or what makes you unique, you're going to have a hard time selling it to other people. This is where figuring out your niche or specialty matters.
My niche is writing but yours might be proofreading or selling LulaRoe or making handcrafted greeting cards. Figuring out what you're going to do and how you're going to do it matters if you're serious about working from home.
But what if you don't have a clue what kind of business you want to start? Well, then you start asking questions.
Is there something I'm really good at?

What do I like to do?

What am I really interested in? What do I know a lot about?

Do I have skills that someone else would find valuable?

Is there a specific problem I've been able to solve that I could help other people figure?
These questions can help you figure out what you can and should be doing online to make money.
Rule #2: Know Your Audience
Understanding what you have to offer is important for starting an online business. But there's another side to the coin.
You also need to know who your people are. In other words:
Who needs your help?
Why do they need it and what are they struggling with?
Where can you fill in a knowledge gap for them?
The sooner you can figure this out, the better. Because then you can start molding your business products or services to fit exactly what your audience needs.
So, how do you find your audience?
Well, you can just throw things out there and see what sticks. That's one way.
I tried that when I started this blog and…it didn't work. So now I'm having to completely revamp my strategy.
The easier way to figure out who you can help and how is to just ask.
For example, if you have a blog for your business and you've started your email list, you can send your subscribers a quick survey. Or you can post in Facebook groups asking for feedback on the kind of products or services people need.
Sasha at Everyday She's Sparkling has an even better tip: create an interactive quiz.
It's a simple way to get results you can use to fine-tune your business.
Rule #3: Get the Right Mindset
Here's a basic truth about starting an online business when you're also a mom: you've got to have your head in the game from day one. 
If you don't have the right mindset, it's easy to get bogged down or burned out. Do you know what happens then? You give up.
It's exactly what happened to me the first time I tried starting a blog.
I had unrealistic goals and was looking for quick wins. And when what I wanted to happen didn't happen, I bailed out.
I also let comparisons get to me, which is the worst. What I should have done, and what I'm doing this time around with blogging, is staying in my own lane. 
Before you get too far into starting your business, really think about what you hope to get out of it.
Set some realistic and achievable business goals. Visualize yourself reaching them.
Create some positive affirmations. Find other mompreneurs who can offer motivation and encouragement.
When you do these things, it's much easier to stay focused and keep your mind on growing your business.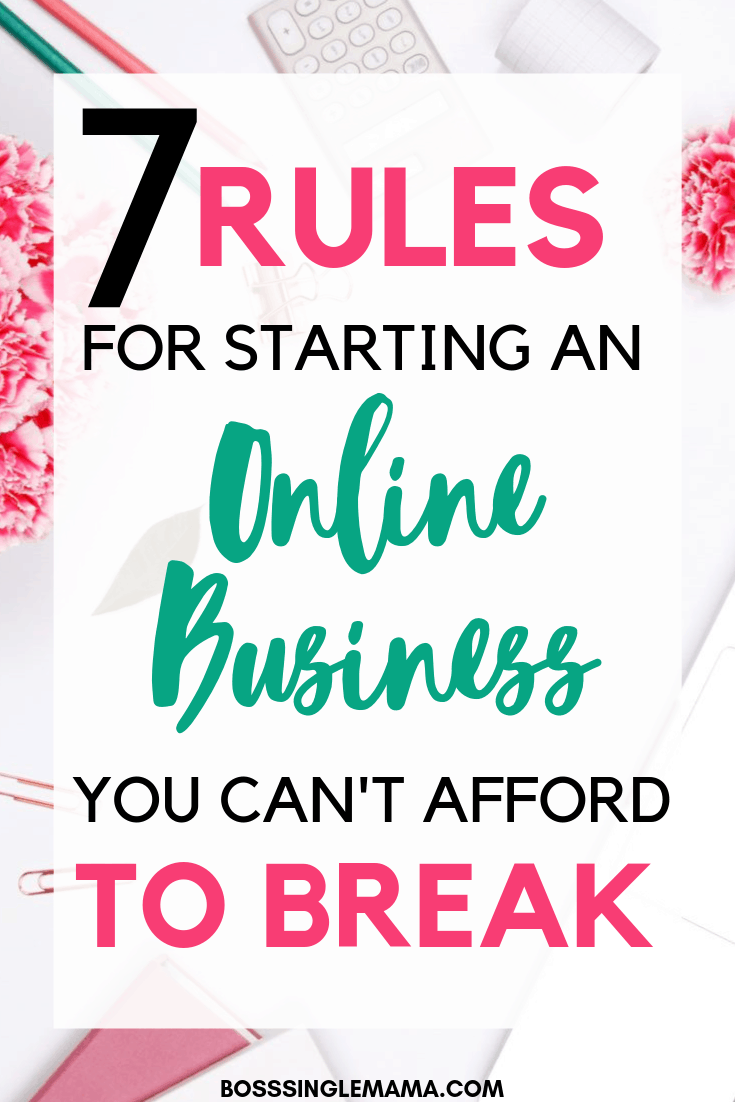 Rule #4: Give It Time
If you're starting a business online, don't get hypnotized by the unicorns.
Unicorns are those bloggers or biz owners who have overnight success and are making six figures within the first two months.
While that can and does happen, it's not the norm.
The reality is, building a business online can be a slow process sometimes.
I spent a lot of time in the first year or being a full-time freelancer in the trenches making contacts, researching potential clients and pitching every day to grow my business. 
It honestly felt like it was never going to happen some days.
And then, just when I was about to give up, I had a complete turnaround and my business hasn't stopped growing since.
The other thing about time is that you get what you put in.
If you're only working on your business an hour a day, then you can't expect lightning-fast results. 
So, look at your schedule and your daily routine.
Figure out how many hours you can work on your business each day or each week. This is the hardest part of trying to start an online business as a mom.
You're only one person and you've got one or more kids depending on you. And you might have a spouse or pets or an aging parent you're taking care of. Not to mention, cleaning and cooking and everything else that makes mom life so glamorous.
So really think about when you can work on your business. Then commit to showing up.
Rule #5: Never Stop Learning
I have learned so much as a freelance writer and as a beginning blogger.
And there's still much that I don't know yet. But that's the thing about starting an online business–you never really stop learning.
Here's an example from my own business experience.
When I started freelancing, I wrote about personal finance, specifically, credit and debt. That's what I knew about and what interested me. 
But the thing about personal finance is that it's hard sometimes to come up with something new that hasn't been said 100 times before. So I decided to branch out.
I spent time learning about real estate, investing, insurance, home buying, small business.
When a client asked me to tackle a project I'd never done, like an ebook or a white paper, I took it on. I figured even if they told me the finished product was terrible, I'd at least learn something by writing it.
Now my client base is much more diverse, which is a good thing.
So, be on the lookout for any and every opportunity to learn.
Some of my favorite ways to do that are:
Reading blog posts and articles online.
Following influencers in my niche on social media.
Spending time in Facebook groups relevant to your niche.
Taking online courses. (And if you're looking for a blogging course, I highly recommend Elna Cain's Ready, Set, Blog for Traffic–she's amazing!)
Downloading free tools I come across that look helpful.
Remember, though, that at some point you have to put the things you're learning to work. James Clear has a great post that explains why this is so important for making progress.
Rule #6: Be Flexible
Here's the thing about running a business online: things are always changing.
For example, here's a fun fact that scares the living hell out of me. By 2021, around 80% of online traffic will be video. 
Video? But I'm still trying to figure out this whole writing-blog-posts thing.
And did I mention, I'm a freelance writer, not a videographer?
So, yeah. Things are changing, evolving, moving around all the time.
And if you want your business to keep up, you have to be able to evolve and adapt too.
You have to be open to new ideas, test your boundaries, face challenges with confidence instead of fear. Otherwise, you may get left behind. 
Rule #7: Embrace Your Screw-Ups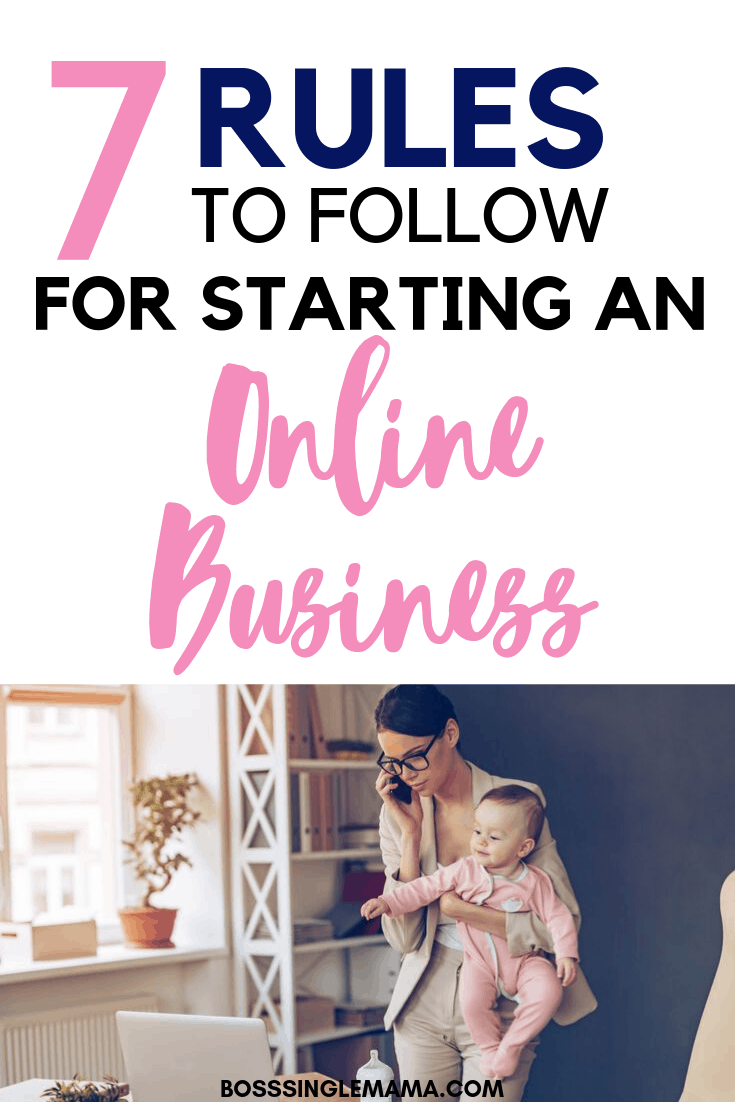 I cannot tell you how many things I've done wrong as a blogger or as a freelance writer. Like, it's seriously an embarrassing number.
But building a business isn't perfect, any more than being a mom is perfect. 
You will get things wrong.
You will embarrass yourself.
And you will make mistakes.
But those mistakes don't define you. It's how you handle them that matters. 
I can't tell you how many times I beat myself up over seemingly trivial things in the early stages of building my business.
But these days if I make a mistake, my first instinct isn't to don a cone of shame and hang my head. Instead, I figure out what I can learn from it and move on. 
When you make mistakes, don't let yourself get in your feelings too much about it.
Take a day to wallow in your misery if you need to. Then focus on what you can do better the next time so history doesn't repeat itself.
What Have You Learned From Starting an Online Business?
So hopefully, you're still super excited at the idea of having your own business online.
Because really, it's great. If you're already running a business from home, head to the comments and tell me your number one rule for success.
And please pin and share this post if it helped you!