Last Updated on July 24, 2020 by Rebecca Lake
Learn why you should be thinking about your holiday spending budget and how you can get a head start on planning it.
Need to make quick and easy cash for the holidays? Sign up for free to start earning money taking surveys with Survey Junkie!
Are you thinking about holiday spending yet?
I know, I know. It doesn't seem like it's time for that yet but if you haven't noticed, the stores seem to get a jump start on it earlier and earlier each year.
For example, come September our local Walmart will have fall decor and Halloween costumes jostling for space with Christmas decorations and wrapping paper.
I love the holiday season–the food, spending time with family, doing fun things with my kids. It really is the most wonderful time of the year.
But the spending that often goes along with it? Not so much.
And maybe you feel the same way. But one thing that can be a huge help for avoiding money headaches at the holidays is having a budget.
So, that's what I'm going to help you with today. This guide breaks down everything you need to know to plan the perfect holiday spending budget so you don't go broke!
Why It Pays to Plan Early for Holiday Spending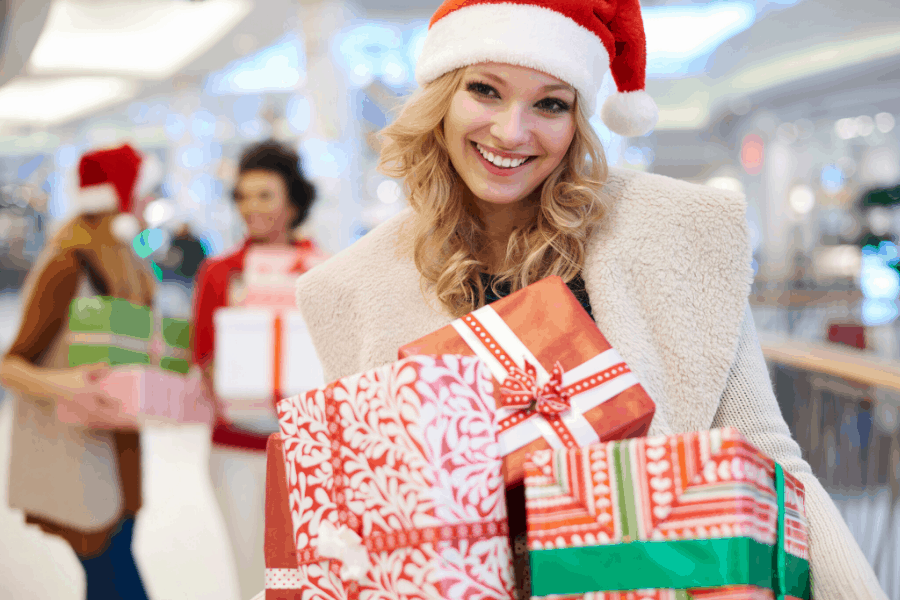 There's a very simple reason why you should be thinking about your holiday budget well before the holidays roll around.
It can save you huge headaches.
Bottom line? The end of the year is already stressful enough. You don't need to add to that stress by scrambling to figure out what you can afford to spend on gifts, food and other holiday purchases.
Planning your holiday or Christmas budget a few months in advance is great for a few reasons:
It gives you time to save up money so you don't have to put the holidays on a credit card.
You have time to start a side hustle to make extra cash if you need it. (And if you're thinking of starting a side job, here are 27 awesome ideas to try!)
It leaves you room to adjust in case last-minute expenses pop up.
Say your next-door neighbor or the mom of one of your kids' friends surprises you with a thoughtful gift. If you've budgeted properly and you know how much room you have left to spend, you can reciprocate without it causing major money stress.
And having time to save up money is also huge because who wants to be paying off credit card debt for Christmas or holiday purchases months into the new year? Not me.
So I have a dedicated savings account that I add money to all year for Christmas, based on the previous year's spending.
By the time I'm ready to start shopping in November, I've got most (or all) of what I need to cover my budget.
Feel free to steal that tip and start a savings account right now for next year's holiday budget. And if you're looking for a high-yield account to stash your savings, try CIT Bank.
CIT Bank is an online bank that offers several savings options, including a Savings Builder Account that earns an amazing interest rate. Check out my full review of CIT Bank to learn more about their savings accounts.
You might also like:
How to Get Out of Debt on a Low Income When It Feels Impossible

How to Plan Your Holiday Spending Budget Early
Now that you know why it's so important to get a jump on planning holiday spending, the next step is putting together a holiday budget.
Here's how to create your budget for the holidays so you can enjoy them with minimal financial headaches.
1. Review what you spent last year
The first step in making a Christmas budget is going back to what you spent last year.
If you didn't keep all your receipts, don't worry. Look back through your bank and credit card statements for last year's holiday season and try to estimate as closely as possible what you spent.
Got a number? Good. Now, look at where that money went.
For example, you might have spent money on:
Gifts
Wrapping paper
Decorations and lights
Food and drinks
Holiday cards and postage
Holiday travel
Entertainment or fun activities with the kids
Charitable donations
These categories are typical for my holiday spending budget but yours might include something else. The point is to figure out what you spent money on last year so you can use that as a guide for this year's budget.
2. Estimate what you can afford to spend this year
If you've reviewed last year's spending, ask yourself this question: will you spend the same, more or less money on the holidays this year?
I find that the holidays get more expensive each year, the older my kids get. But part of it is also now that I can afford to spend more money on the holidays, I do. (Bad habit, I know.)
What you have to do is figure out a holiday spending amount that works for your budget.
So, pull out your monthly budget. (And if you don't have one, go read this ultimate guide to making a budget right now!)
Compare your regular monthly expenses to your monthly income. Then, look at how much income you have left over each month that you could earmark for Christmas spending.
This can tell you what you can reasonably afford to spend on the holidays.
So, say you're reading this on October 1st. Your family gets paid biweekly and you have four paydays until the December holidays.
You estimate that you can set aside $200 out of each of those paydays for holiday expenses. That gives you $800 to work with.
Your holiday budget number might be higher or lower than that. But what I want you to figure out is how much you can spend so you don't have to take on any debt for the holidays.
You might also like:
How to Afford Christmas When You're Totally Broke
3. Assign a dollar amount to every holiday spending category
Okay, so by now you should have a good idea of what you can afford to spend for the holidays. Now, I want you to make a list of everything you think you'll spend money on during the season.
The list I gave you under Step 1 is a good place to start. So, let's use that, along with the $800 spending limit I mentioned in Step 2.
Your holiday budgeting breakdown might look something like this:
Gifts = $400
Wrapping paper = $50
Decorations and lights = $50
Food and drinks = $100
Holiday cards and postage = $25
Holiday travel = $0
Entertainment or fun activities with the kids = $75
Charitable donations = $100
Now, your budget breakdown might look totally different and that's fine. The goal here is to divvy up your budget so you know exactly where every dollar is going to go.
But what if you don't have a lot of money to work with?
I've lived paycheck to paycheck and I know what it's like to try and plan a super-frugal Christmas. And believe me, it's not easy with kids.
So, here's what I suggest if you're planning holiday spending on a tiny budget:
Take advantage of free holiday events.
We do all kinds of free things at the holidays, from movie nights at the park with hot cocoa to our local holiday farmer's market.
Check around in your area to see what kind of memories you can make for free. Your kids have fun and you're not sweating bullets over your budget
Consider selling things around the house you don't need.
Unwanted items can make great gifts for someone else and add a little cash to your holiday budget. So go through your home, room by room to see what you can declutter and sell to make money.
Start a side hustle or a part-time job.
There are so many ways to make money from home, so consider what you could do to earn extra money on the side.
For example, the holidays are a great time to try your hand at being a pet-sitter since people are traveling. You can sign up to become a sitter with Rover here!
And if you need a few more easy side hustle ideas for the holidays, you could try:
DIY as much as possible.
Gift-giving doesn't have to be about what you buy. Homemade gifts can be thoughtful and beautiful, without costing a ton of cash.
Here's a list of 200+ cheap and easy DIY gifts if you need some inspiration. And remember, grandparents just love kid-made crafts, cards and gift wrap, too!
Shop strategically.
If you're buying gifts, decorations, gift wrap, cards or other holiday-related items, consider what you can pick up at consignment stores, thrift shops or the dollar store. Heck, Dollar Tree even offers free shipping now so you don't even have to leave the house to get holiday necessities for a buck.
And last but not least, shop with a list. This one little step can help you keep from blowing your Christmas budget.
You might also like:
7 Essential Holiday Shopping Tips for Black Friday and Beyond
Other Ways to Save Money on Holiday Spending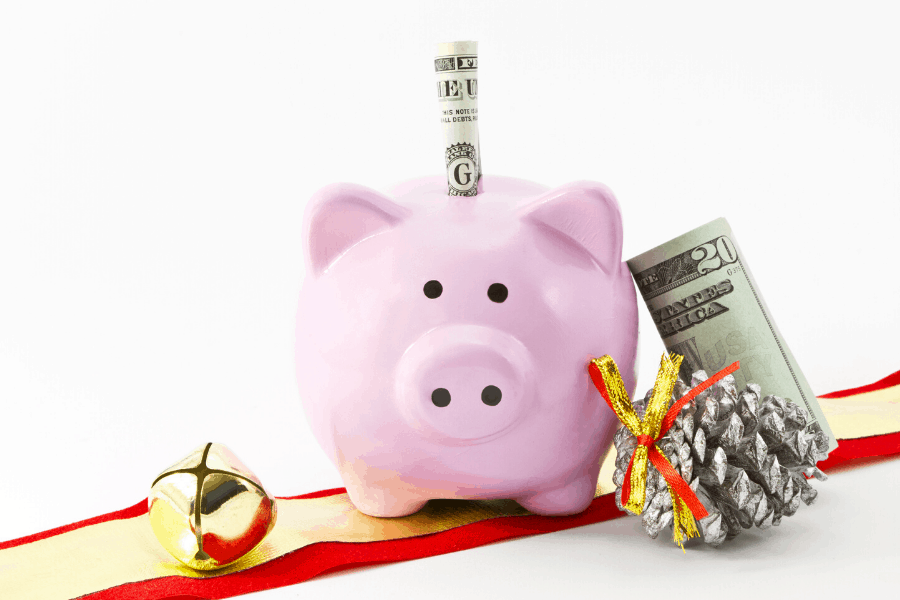 Making a budget for the holidays gives you a plan for spending. But you might want to save money while you're at it.
So, here are a few pointers for hanging on to more of your cash at the holidays.
1. Take advantage of free shipping deals
Shopping online can keep you from having to fight holiday crowds in the stores. But what you save in time you might lose in money if you have to pay shipping fees.
Stick to stores that offer free online shipping during the holidays as much as possible. Just watch out for the minimum purchase trick.
Stores might require you to spend $50, $75 or $100 to qualify for free shipping. But don't feel pressured to spend more than you planned if it's not in your budget.
Look around to see if you can the same or a similar item somewhere else online without having to spend a certain amount to qualify for free shipping.
My personal favorite for this is buying as much as possible from Amazon Prime. The annual fee is well worth it to get free 2-day shipping on almost everything.
If you don't have Amazon Prime, sign up now for a free 30-day trial!
2. Repurpose free gifts
So, I will admit to being a total cheapskate. And one money-saving trick I use at the holidays is snagging those "free gift with purchase" deals a lot of department stores offer.
The beauty counter is great for this. You can buy something like perfume, men's cologne or makeup and get a free shaving kit or a full-size bottle of moisturizer.
The free gifts usually require you to make a minimum purchase, so keep that in mind. But the freebies can make excellent stocking stuffers or small gifts for some of the people on your list.
Also, look out for gift card promotions during the holidays. Restaurants and department stores often run deals where you buy $50 in gift cards and get $10 free.
You can give the bonus gift cards away or keep them for yourself as a discount for the next time you go out to eat.
Just remember the golden rule for taking advantage of free gifts at the holidays: only spend what you budgeted. 
You might also like:
MyPoints Review: A Legit Way to Get Free Gift Cards?
3. Use cashback apps and browser extensions to find savings
Cashback apps can save you money all year-long but they're especially great during the holidays.
They work like this:
You create a free account with the app.
Link your debit card (or credit card) to the app.
Browse for cashback deals.
Make a purchase through the app.
Earn cashback.
It's stupid simple and an easy way to save money on holiday spending. If you're looking for some apps to try, here are my favorites for earning cashback:
Ibotta
The Ibotta app pays you cash when you shop at partner stores. You shop, snap a photo of your receipt, upload it to the app. It's a fast and easy option for saving.
Rakuten
Rakuten lets you can earn cashback when you shop in-store or online. You can download the Rakuten Chrome browser extension to get exclusive coupon codes to go along with your cashback to save even more!
TopCashback
TopCashback is another cashback site. You shop deals through the site and earn back a percentage of what you spend. It's a hassle-free way to get extra cash for purchases you were already planning to make.
Dosh
The Dosh app is an easy way to earn cashback. You link a debit or credit card to the app, spend at partner stores and restaurants and get up to 10% back.
Honey
Honey is a browser extension that finds deals and savings for you, then applies them automatically. You won't earn cash back but you can unlock hidden coupon codes and make sure you get the lowest price possible when shopping on Amazon.
The best part about these apps is that they're all free to use. As a bonus, Rakuten will even give you an extra $10 right now just for signing up and shopping!
If You Do Decide to Use a Credit Card for Holiday Spending…
Now, I don't recommend this because I've lived that credit card debt life. At its highest point, my credit card balance was around $35,000.
So, I don't love debt. But I do know that it's not the end of the world if you charge holiday purchases, as long as you have a plan for doing so.
With that in mind, here are a few things to consider if you're contemplating using a card for holiday spending:
Check your credit score to see which cards you might qualify for. You can check your score for free with Credit Karma. (Bonus tip: Credit Karma also gives you credit card recommendations, based on your credit history.)
Be smart about new account bonuses. Some cards offer a large points, miles or cash back bonus when you hit a minimum spending requirement. That's tempting but don't overspend just to chase down a bonus.
Read the fine print on store credit cards. You might be asked if you want to open a store card at checkout but do your research. These cards can come with a hefty annual percentage rate.
STICK TO YOUR BUDGET. This one's in all caps because it really is the most important tip. Don't let the spirit of holiday giving dig you into a debt hole.
Lastly, have a plan for paying off the balance once the holidays are over. Ideally, you can pay it off in full once you get your statement in January. But if not, pay it off as quickly as possible to minimize interest charges.
Are You Planning Your Holiday Spending Budget Yet?
I've got my holiday account topped up and ready to go but if you don't yet, you still have time to work out your holiday budget.
If you've got an awesome money-saving tip for the holidays to share, drop it in the comments!
And I'd love you to pin and share this post if it helped you!