Learn the best fun and frugal family holiday traditions to start this year if you're doing Christmas on a budget!
And if you need to make a little extra cash for Christmas, get paid to take surveys with Swagbucks and Survey Junkie!
Are you looking for some fun (and low-cost) holiday traditions you can start this year?
I love the holiday season. As soon as the clock winds down on Halloween, I'm ready to break out the decorations and start watching Christmas movies.
Having holiday traditions you can lean into as a family is great for so many reasons. You're making memories and spending time together, which is always a plus if you're a busy mom like me.
And the great thing is that there are so many Christmas traditions you can try that are fun and super cheap!
That's a huge plus when planning a fun and frugal Christmas on a budget is the goal.
Because really, the holidays shouldn't be about spending money. So I try to come up with ideas for holiday traditions that are more about memories than anything else.
And if you feel the same way about it, then you will definitely want to read this post. I've rounded up 50 of the best Christmas traditions you can start this year, many of which are free or low-cost.
Many of these are things we do now or have done in the past; the rest are things I'd love to try. 🙂
But I guarantee you'll find a few holiday traditions here that can make your time together as a family more enjoyable (and memorable!)
50 Family Holiday Traditions That Are Frugal (and Fun!)
1. Host a holiday movie marathon
Did I mention I LOVE Christmas movies?
If you do too, schedule one night a week (or every night!) to get together as a family and watch your favorite holiday flicks. (This one is my personal favorite!)
2. Try some easy (and delicious!) holiday recipes
One of my favorite Christmas traditions is making all the foods we don't normally eat the rest of the year.
If you don't have any traditional holiday foods yet, get together as a family and choose a few recipes to try.
3. Perform a random act of kindness for the 12 days of Christmas
A little kindness can go a long way. Doing some good deeds as a family can help kids get in the habit of being in the holiday spirit all year-long.
4. Attend your local Christmas parade or tree lighting
This is one of the family holiday traditions that's on our to-do list every year.
We go to our town's tree lighting on Friday, followed by the Christmas parade on Saturday morning. It's fun, festive and best of all, free!
5. Make homemade cinnamon ornaments
Our past Christmas traditions included making salt dough ornaments but those things can be tricky if your dough isn't just right.
These cinnamon ornaments, on the other hand, are easy to make and they smell great!
6. Play Christmas bingo
I love bingo any time but it's extra fun when it has a holiday spin!
This printable is free to download and can keep kids busy for hours.
7. Start a Christmas countdown
This is something my kids loved to do when they were little.
If you have smaller kids, you could add making paper chains or a Christmas countdown clock to your list of holiday traditions.
8. Set up a hot chocolate bar
Who doesn't love hot cocoa?
It's cheap and easy to make, which are both things I appreciate. This is one of those frugal holiday traditions you can carry on through the winter when you need a warm-up on cold nights.
9. Choose one special ornament to add to your tree for each family member
This is one of the Christmas traditions we still follow, even now that my kids are tweens. We pick ornaments that reflect things that reflect their personalities.
It's fun to look back each year and see how their interests have evolved as they've gotten older.
10. Have regular Christmas read-alouds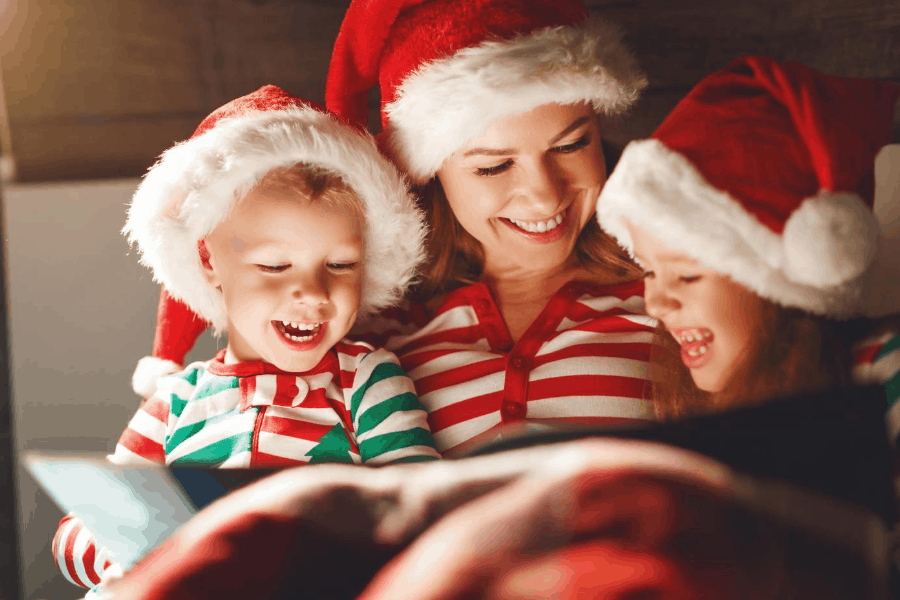 I still read aloud to my kids and while we've shifted from picture books to novels, it's a family tradition I won't give up any time soon.
Starting in December each year, we read a holiday-themed book. This year, our pick is this one by Charles Dickens.)
11. Make your own eco-friendly gift wrap
I'm all about using less paper so this is one of the frugal holiday traditions that's on my "to try" list for this year.
If you don't feel crafty enough to make your own wrap from fabric, you could also try upcycling old newspapers or paper bags.
12. Try the "3-gift challenge" to save money
If your kids are anything like my kids, they probably have more stuff than they know what to do with.
Starting a 3-gift or 4-gift rule can cut down on the "stuff" and it's one of the best holiday traditions for saving money.
It works like this: you limit each child to three gifts only. They can be something they want, something they need, something to wear – you get the idea.
13. Roast marshmallows in the backyard under the stars
It really doesn't feel like the holidays for my kids until they've burned a bunch of marshmallows to a crisp.
Grab some graham crackers and chocolate and you've got the perfect recipe for s'mores–and a little family togetherness.
14. Host an indoor snowball fight
We live at the beach so a white Christmas is pretty much impossible for us.
But we can (and do) still pretend by having indoor snowball fights over the holidays.
15. Make a DIY Christmas angel ornament
We love making Christmas ornaments at my house.
This DIY Christmas angel ornament is a good one to try if you want to create a memory ornament for lost loved ones.
16. Create felt photo ornaments for everyone in the family
Photo ornaments don't cost a lot of money to make and it's almost like creating a holiday time capsule.
Each year, you can pull your ornaments out from the year before to see just how much your kids have grown.
17. Make DIY Christmas stockings
We hang Christmas stockings but buying them new every year can get expensive, quick.
Making your stockings is a low-cost way to keep this holiday tradition alive.
18. Build a gingerbread house
This is one of the funniest holiday traditions at my house.
Every year I buy a gingerbread kit for my kids and my daughter's best friend to work on together. These things always end up in a collapsed heap of broken gingerbread and icing but it's hilarious watching them try to put them together.
19. Or try a candy cabin instead
This idea was too cute for me not to include it.
While it isn't one of our Christmas traditions, it's tempting to see if we could do better building houses out of Kit-Kat bars instead of gingerbread.
20. Cruise your neighborhood and enjoy the free holiday light show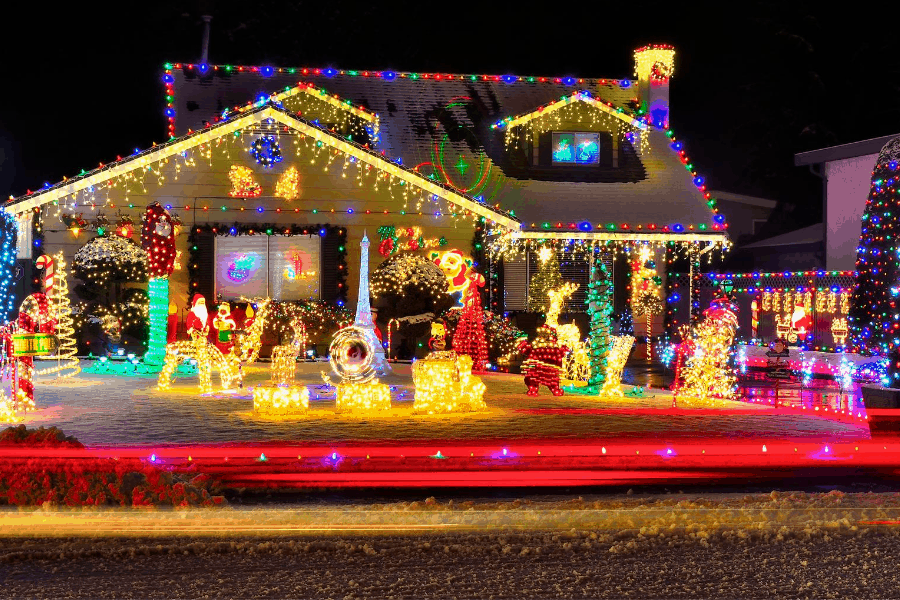 If you don't want to pay to go somewhere to see holiday lights, check out what's on display in your neighborhood or the one next door.
It won't cost you anything besides your time and gas but the memories can be priceless.
21. Make a family Advent calendar
We celebrate Advent at our house and every year, we do something different.
This DIY version is great for saving money and working on a family project together.
22. Hit the dollar store to do some low-cost shopping as a family
Planning a special shopping trip is a good way to have some quality time and you don't have to spend a lot.
Give each of your kids a $5 budget and spend an hour at the dollar store picking out gifts to exchange.
23. Make ornaments out of old Christmas cards
I'm not the sending Christmas cards type but I always get them.
I hate to throw them away so repurposing them into Christmas ornaments is just plain genius!
24. Head back to the Dollar Tree to get goodies to fill a shoebox for Operation Christmas Child
Our church does this every year and we always get in on the fun.
The best time to do this is in November when they have a national collection week but it's not too late to get your box packed and mailed out in December.
25. Play Secret Santa to save on gifts
Secret Santa is something we did when I was a kid and it's still a fun holiday tradition.
Everybody takes turns drawing names and then gets a small amount of money to spend on a gift. Or better yet, you could encourage everyone to draw names and make gifts instead!
26. Organize a candy cane hunt
Scavenger hunts are fun any time of year if you ask me. But you can add a holiday twist by creating a candy cane hunt around the house.
27. Mix up some winter slime
My son is obsessed with slime, he could make this stuff all day if I'd let him.
I always try to find seasonal recipes that tie in whatever holiday is going on and winter slime is perfect for Christmas and into spring.
28. Play holiday charades
I like playing charades with my kids but I guess I'm terrible at it because they can never figure out what I'm trying to act out.
If you're better at acting than I am, you could try a round of holiday charades using your favorite Christmas movies, books or songs.
29. Try some holiday-themed STEM activities
Anything science-related is a hit with my kids and if yours are the same way, you'll want to try these holiday STEM activities for sure.
30. Make your own holiday cards with washi tape
Washi tape is pretty to look at and it doesn't cost a lot of money.
Grab a few rolls, some card stock and a few holiday stickers and let your kids go at it with making their own holiday cards.
31. Whip up some magical reindeer food
We normally leave out carrots for the reindeer but I'm thinking this year, we'll add making reindeer food into our holiday traditions routine.
32. Write a letter to a solider for Operation Gratitude
Your kids might write letters to Santa but you could put a new spin on it by writing to a soldier.
A little holiday cheer can go a long way for a soldier who's far from home during the Christmas season.
33. Make gingerbread pancakes for Christmas morning
Normally I make a breakfast casserole for Christmas morning, but I'm thinking it's a good year to try these gingerbread pancakes.
And if you try them and doesn't work out, you can whip up a regular batch and make them Christmas-y with some green food coloring.
34. Track Santa's progress on Christmas Eve
This is a Christmas tradition we've done ever since my kids were teeny.
I'm a little dubious on whether they still believe in Santa but we still check the Norad tracker each year on Christmas Eve.
35. Buy some matching holiday pajamas for the whole family
I always give my kids pajamas on Christmas Eve and these matching ones are great for the entire family.
You can get together in your PJs and snap a family holiday photo around the Christmas tree.
36. Visit a thrift store to find some ugly holiday sweaters, then have an ugliest sweater contest
Ugly Christmas sweaters are one of my favorite things ever. The other day I begged my daughter to let me buy her one that had cats in Santa hats all over it but she bah humbug-ed me and said no.
If your kids aren't as Grinch-y as mine, round them up and head to the thrift store. Get the ugliest Christmas sweaters you can find, then have a fashion show/contest to see which one is the worst.
37. Check to see if your local aquarium or museum sponsors a free Festival of Trees event
We like going to the aquarium most any time but it's especially nice at the holidays.
Both our local aquariums and one of the museums has a Festival of Trees each year. You can walk through and check out all the beautifully decorated trees, plus getting a little learning in on the side.
38. Make a meal and deliver it to a neighbor in need
Chances are, you have at least one neighbor who's spending the holidays alone. Making them a nice meal or some holiday baked goods and hand-delivering them is a good way to check in and let them know they're not forgotten.
If you want to go a step further, you could invite them to share in your family's holiday dinner.
39. Have Santa send your kids a personalized video message
Video messages from Santa weren't a thing when I was a kid so this is one of the holiday traditions I came to once I had kids of my own.
I love doing this every year just to see the look on my son's face when he's worried about whether he's on the naughty or nice list. (And of course, it's always nice.)
40. Create a family newsletter to send to relatives who live far away
When your family is spread out everywhere, it can be hard to stay up to date on what's happening with everyone.
Sending out a family newsletter is a nice way to keep in touch and let them know you're thinking of them over the holidays.
41. Donate a gift or two to a local Giving Tree
Our local family services agency sponsors a Giving Tree each year. If you don't know what it is, it's a tree that has tags with a person's age, gender and one item that's on their Christmas wish list.
Our tree is set up in Walmart so at least once a year, we make sure to grab a few tags and pick up some gifts.
42. Schedule a once-a-week holiday family game night
I love playing board games with my kids, even though I always lose without fail.
Holiday-themed games are a great way to mix up your regular family game night.
43. Attend a candlelight service on Christmas Eve
If you've never been to a candlelight service on Christmas, it's something special.
At our church, they sing carols by candlelight and say a special prayer at the end of the service. It's very calming and a nice reminder of the true meaning of Christmas.
44. Declutter the house and donate gently used items to families in need
If the holiday season means a pile of gifts coming into your home, why not declutter and get rid of some of the things you don't need?
Instead of tossing them out, you can donate items that are still in good shape to another family that could use them.
(Bonus points if you can make extra cash for Christmas by selling your clutter!)
45. Have a contest to see who can find the Christmas pickle
Okay, so I had never heard of the Christmas pickle until I got married but I assure you, this is a real thing.
It's one of those holiday traditions that no one really knows exactly how it got started but once you get into it, you'll wonder how you ever did Christmas without it.
46. Pop open some Christmas crackers
Christmas crackers look like so much fun and you don't have to live in the UK to enjoy them.
You can take turns popping them on Christmas Eve but remember, wearing the hat isn't optional!
47. Make New Year's resolutions as a family
Setting New Year's resolutions or goals is a great way to reflect on the year gone by.
Spend some time on New Year's Eve mapping out what you hope to achieve as a family in the coming year.
48. Donate food, bedding and other needed items to your local animal shelter
Every year we donate food, chew toys and other pet-related items to our animal shelter.
Since two of our three pets are rescues, it's our way of giving back to organizations that foster fur babies until they can find homes.
49. Create a holiday playlist and sing along to your favorite Christmas carols
I don't know about you but I start playing Christmas music on November 1.
If your family has some favorite holiday tunes, create a playlist for the road and have your own version of carpool karaoke.
50. Put together a holiday puzzle as a family
I'm including this last holiday tradition idea because my mom is a puzzle nut. They are literally all over her house.
Puzzles can be fun to do as a family on Christmas Eve or any time during the holiday season when you'd rather have a cozy night at home!
Which Frugal Holiday Traditions Will You Try?
There are so many great Christmas traditions you can start as a family and they don't have to cost a lot of money. I hope I've given you some ideas here to add to your holiday traditions list for this year and years to come!
Do you have a favorite holiday activity that your family enjoys every year? Head to the comments and tell me about it!
And of course, I'd love for you to pin and share this post!