Last Updated on October 9, 2021 by Rebecca
It seems like everyone (57 million Americans, at least) is trying to be a freelancer these days and why not?
And the benefits of freelancing are obvious if you're looking for a way to make money from home.
As a stay at home mom with a toddler and a newborn, I wanted to stay busy and make some extra cash. So I started a side hustle as a freelance writer.
And what a life-changer that turned out to be.
If you're a stay home mom looking for money-making ideas, then it's freelancing for the win every time. (At least in my opinion.)
What Is Freelancing Anyway?
Freelancing simply means you work for yourself.
The word 'freelance' dates back to the 18th century to refer to mercenary soldiers for hire. The Truelancer blog has a fun little history lesson on that.
These days, freelancers brandish laptops instead of swords but you get the picture.
Being a freelancer means you're not an employee of any company. Instead, you're an independent contractor.
So, you don't get employee benefits like paid time off or a 401(k). But you do get to take advantage of plenty of other benefits of freelancing that can be even better.
9 Benefits of Freelancing for Moms Who Want to Work From Home
1. Freelancing is flexible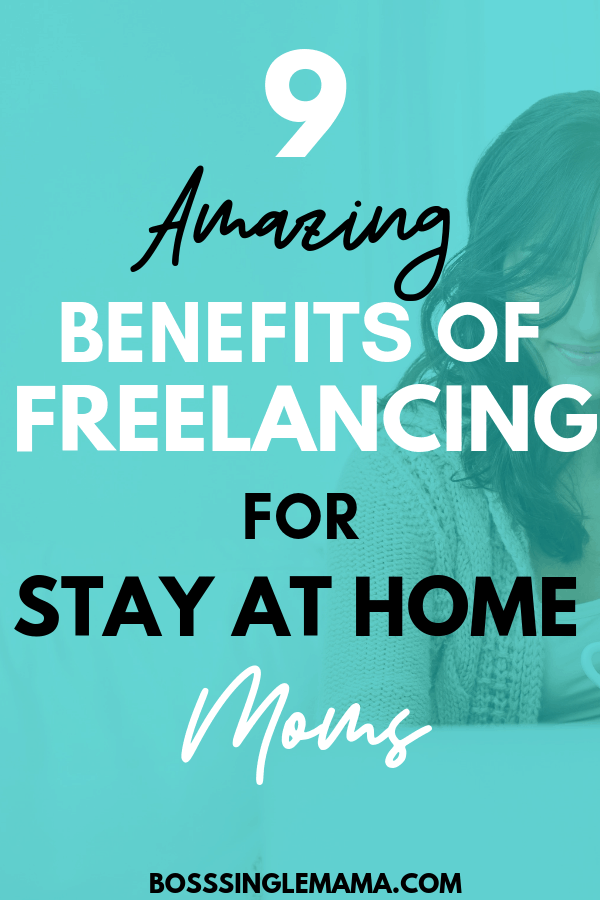 Working a regular 9 to 5 job doesn't always make for a flexible lifestyle.
Your boss expects you to show up to work at certain hours. If you want time off, you have to plan and ask for it in advance. Or take a sick day, of which you may not have many.
Freelancing isn't like that.
As a freelancing mom, you set your schedule. You decide when you want to work and what projects you want to work on.
If your kid gets sick and needs to stay home from school, or you get sick, guess what? You can choose not to work that day.
Now, not working means you're not earning any money. That's probably the biggest downside of freelancing so let's put that out there right now.
But if you want to run a business or a side hustle from home that doesn't require you to fit into a traditional 9 to 5 mold, then freelancing can give you that.
2. You don't need experience to get started
You know what I had when I started writing online for money?
A laptop and internet connection.
That's it. No degree in writing, no certification from an online writing course, no writer connections. Nothing.
And none of that stopped me from starting my side gig and then growing it into a six-figure business.
That's one of the best benefits of freelancing. If you're determined and you know what you want to do to make money, then you don't need years and years of experience.
Now, experience does help if you have it.
For example, taking a freelance writing course early on probably could have saved me from a lot of the mistakes I made as a new writer.
But it's not an absolute requirement for moms to be successful as freelancers.
3. Startup costs are low
Here's something else that's awesome about becoming a freelancer as a mom: you don't need a lot of cash to do it.
Remember I just said all I had to start was an internet and a laptop? Those were things I had already.
I didn't spend a dime to start my freelancing hustle and depending on what kind of freelance work you want to do, you may not need to either.
That's huge if you're trying to keep your family budget in check because you're a one-income household.
Being able to make money without having to spend money is pretty dang sweet. And then once you do start making money from freelancing you can go back and invest some of it in your side hustle or business to help it grow.
4. The money-making potential is crazy good
So, I've discussed what I make as a freelancer here before.
You can read more about it in this interview I did with Jade @ Live a Blissful Life but bottom line, I make a very good living from freelancing.
Can every freelancing mom make six figures?
I think the potential is there, for sure. But there are a few things you need to have to do it, like:
A profitable freelancing niche.
Stellar work ethic and a commitment to hustling hard, at least in the beginning.
Excellent time management skills.
Clear goals for growing your freelance business.
Now, maybe you don't want to make $100,000+ a year freelancing. That's cool.
I can tell you that when I was side hustling as a freelancer, I made around $1,500 a month consistently. And maybe your target for making extra money is somewhere in that range, too.
However much you want to make, one of the benefits of freelancing is that you're in control of it.
You can decide who you want to work with, what you want to charge and how often you want to work.
In other words, you can mold freelancing to fit your stay at home lifestyle.
5. Freelancing is a creative outlet
My kids were babies when I started freelancing as a stay at home mom. My husband was only home 7 days out of the month so I was doing all the things, all the time.
And you might be wondering why I would even try to start a business when I was always ready crazy busy.
The answer is, I needed it. I needed something creative that I could do just for myself, outside of being a mom all day.
Writing was a natural fit for me. And personal finance (my writing niche) was something I'd been learning about for years and was interested in.
So writing about money met a creative need for me. It didn't hurt that I was also getting paid to do it.
And if you're a stay at home mom who worked outside the home before or just needs a creative outlet, that's one of the benefits of freelancing. It can fill your cup in more ways than one.
6. Freelancing is great for introverts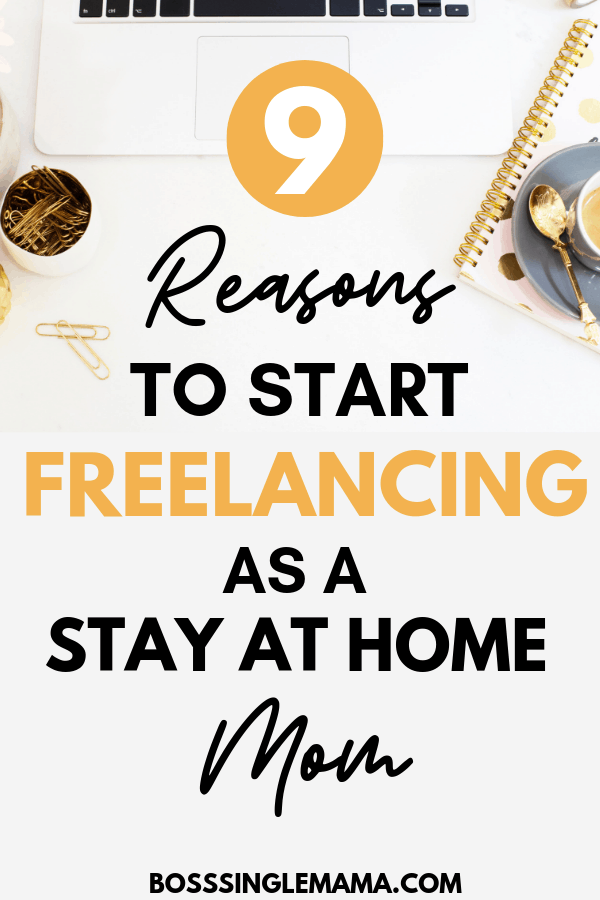 One of the less-talked-about benefits of freelancing is that working from home is perfect for introverted moms.
If you are not an introverted mom, here's a quick rundown of why it's a good thing.
Being an introvert means that social interaction, even just talking on the phone, can be mentally and physically exhausting.
You get tongue-tied and feel awkward because you don't know what to say. So you end up saying nothing, then the people who are trying to have a conversation with you end up thinking you're a total weirdo.
Introvert life is hard. My daughter and I are both introverts and the struggle is real.
And if you identify with any of that, then freelancing could be an ideal choice for making money from home.
I'm not saying you'll never have to interact with other humans. You may have to come out from behind your laptop now and then to talk to a client via video chat or interview a source over the phone.
But for the most part, freelancing takes the pressure of being an introvert off so you can focus on growing your business.
7. You can be home with your kids
This might be one of the most important benefits of freelancing as a mom.
It's the reason I still freelance, even after becoming a single mom.
I had been homeschooling my kids for a couple of years and didn't want to stop. So I decided to turn my freelancing side job into a real business and never looked back.
Being a freelancing, stay at home mom means you can choose to send your kids to school or school them at home.
It means if one of them gets sick you don't have to deal with a snotty boss grumping about you needing a sick day.
Freelancing means you can be your own boss while still doing all the mom things. Because you can set your hours and schedule, you can work from home without totally neglecting your kids, which is a great feeling.
8. You're not tied down in one spot
One of my dreams is to sell everything we own and live in an RV, just traveling around the country.
We know a homeschooling family that's doing this right now, but my kids won't bite. At least, not yet.
The only reason I even consider it is because freelancing is something I can do anywhere, as long as I have a computer and internet.
For example, last year we had to evacuate to another state for two weeks because a hurricane plowed through our hometown. I didn't miss a beat with my business because I was able to take it with me.
Now hopefully, you never have to flee from a hurricane or any other natural disaster. But maybe your spouse's company transfers them to another city.
You could make the move without having to give up your freelancing clients. The same goes if you have to move closer to your parents to take care of them as they get older.
This is one of the benefits of freelancing that's priceless. You can make it work for you from wherever you are at the time.
9. You can do work you love
I saved this one for last because I think a lot of people look at freelancing just as a way to make money online.
And it's a great one but that's not the only reason to choose a freelance lifestyle.
If you want to be a successful freelancing mom, then you have to care about what you're doing.
You should be excited about working with your clients and motivated to do your best every day.
If you don't love the work you're doing or the people you work with, then what's the point of freelancing?
Sure, you'll make money but eventually, you'll get to a point where you feel burned out or worse, start to resent it.
So if you want to try freelancing as a stay at home mom, don't jump in without thinking about what you want to get out of it.
How to Start Freelancing as a Stay at Home Mom
If all the benefits of freelancing sound good to you, then the next question is how do you start freelancing?
There are lots of ways to make money freelancing and what works for one mom may not work for another.
So the first thing to do is to decide what kind of freelance services you want to offer. Here are four of my favorite options:
1. Freelance writing
I'm a freelance writing mom so of course, this one's on the list. Freelance writing just means writing content for other websites.
To be a freelance writer, you need to know what kind of things you want to write and who you want to write for.
For example, I write articles and whitepapers for finance websites, banks and insurance companies. But you might want to write about parenting or natural living or something totally different.
It all depends on what you're interested in and knowledgeable about. Check out these posts to learn more about how to make money freelancing writing:
The Quickest Way to Become an Expert Freelance Writer
How to Get Freelance Writing Jobs With Zero Experience

2. Freelance proofreading
Proofreading is a great way to make money as a stay at home mom if you want to do something writing-related that isn't writing.
As a general proofreader, you review written works (blog posts, articles, etc.) to check them for grammar mistakes, typos, spelling errors–you get the picture.
One of the benefits of freelancing as a proofreader is that you don't need to have a proofreading background. You can learn everything you need to know online.
Caitlin Pyle is a proofreader and an expert at running online businesses for profit. She offers a free webinar you can take to learn the basics of general proofreading and decide if it's right for you.
Caitlin's the real deal so believe me when I say you can trust her advice. If you're interested in learning how to proofread for money, sign up for the webinar now!

3. Virtual assistant
Before I started freelance writing, I freelanced at home as a virtual assistant.
Being a virtual assistant means helping other people run their business. I got paid $15 an hour to do things like entering data into spreadsheets and writing copy for PowerPoint presentations.
The benefits of freelancing as a VA are the same as being a writer or proofreader: great earning potential, flexibility and a chance to do work you enjoy.
I have a guide you can check out on how to start a virtual assistant business from home. (There's also a free checklist you can download.)
But if you want to learn from a VA guru, then Gina Horkey is your girl.
She is the go-to source for all things virtual assistant-related. And like Caitlin Pyle, she also has some great free resources to check out, including:
Gina also offers an in-depth course on how to become a virtual assistant in 30 days or less. Check out what some of her students have to say if you're wondering whether to sign up.
4. Freelance blogging
Starting your own mom blog is something you might have considered to earn an income at home.
While you can make money with your blog, it can take time to get there. (Check out my last blogging income report if you don't believe me.)
The benefits of freelancing as a blogger include making cash from your writing faster because you're writing for an established site, versus trying to grow yours.
What is freelance blogging?
It's simple. It just means getting paid to blog for other websites.
So what do you need to be a freelance blogger?
First, it helps to have a blog of your own.
Starting a blog is a way to create writing samples and establish yourself as an expert in your niche. And it looks more professional when you're ready to start pitching clients.
If you're ready to start a blog, check out this simple to follow tutorial on how to blog with Siteground. It explains everything you need to know to get your blog up and running in minutes.
Once you have your blog set up, you can start adding posts to use as writing samples. From there, you can start looking for paid blog writing gigs.
Are You Ready to Reap the Benefits of Freelancing as a Stay at Home Mom?
Hopefully, I've sold you on what's great about freelancing if you want to make extra money while being home with your kids.
If you need more ideas for making money, check out this post on 23 freelance services moms can offer from home.
Do you have a question about freelancing? Head to the comments and tell me about it!
And please pin and share this post it if helped you!